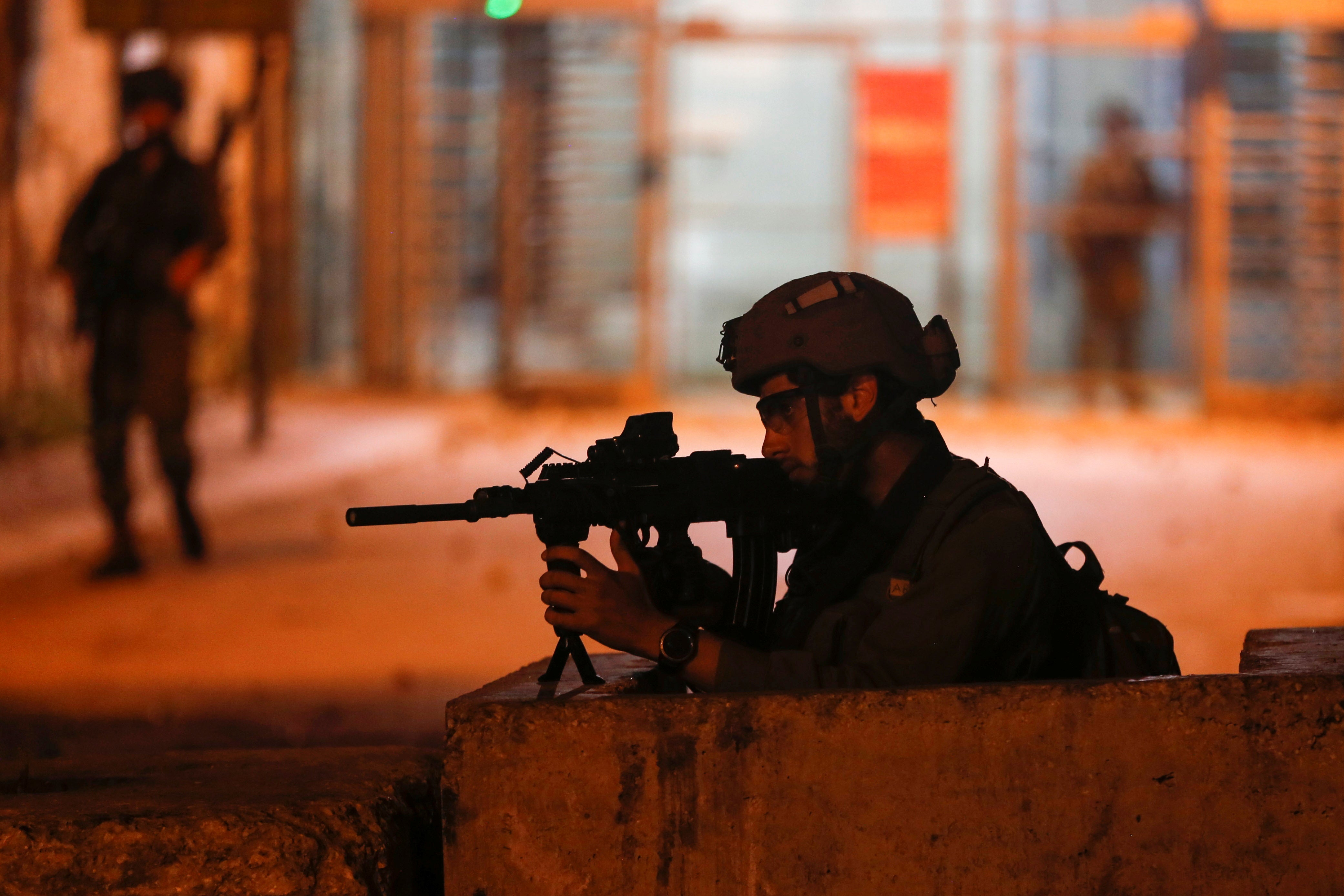 US criticizes Israeli order on West Bank settler outpost
Illustrative photo — A member of Israeli forces aims his weapon as Palestinians take part in an anti-Israel protest over tension in Jerusalem, in Hebron in the Israeli-occupied West Bank April 24, 2021. REUTERS/Mussa Qawasma
WASHINGTON (Reuters) -The Biden administration rebuked Israel on Sunday over an order that allows Jewish settlers to establish a permanent presence in a West Bank outpost that Washington has warned Jerusalem it should avoid legitimizing.
The chief of the Israeli military's Central Command signed an order on Thursday that allows Israelis to enter the Homesh outpost area, paving the way for a formal settlement to be built there.
The State Department has repeatedly called on Israel to refrain from any moves that escalate tensions with Palestinians, like formalizing settler outposts, and specifically warned it over Homesh.
"We are deeply troubled by the Israeli government's order that allows its citizens to establish a permanent presence in the Homesh outpost in the northern West Bank, which according to Israeli law was illegally built on private Palestinian land," State Department spokesperson Matthew Miller said in a statement.
The order is inconsistent with Israeli government commitments made in 2004 and more recently to Biden administration officials, Miller said.
The French foreign ministry also criticized the move, which it said was contrary to international law and breached commitments made by Israel at regional meetings this year in Aqaba and Sharm el-Sheikh.
Israel's embassy in Washington did not immediately respond to a request for comment.
An Israeli official, speaking on condition of anonymity, said the order in question was intended to allow Israelis to keep attending an existing religious school in Homesh, and that the government has no intention of rebuilding the settlement or allowing an Israeli presence on private Palestinian land.
"We made a promise to normalize the continued Torah study at the Homesh seminary and we are keeping it," Finance Minister Bezalel Smotrich said in a tweet at the weekend.
The reproach by the U.S. comes after months of escalating violence between Israelis and Palestinians that have tested ties between Washington and its main ally in the Middle East.
Earlier on Sunday, Israeli Security Minister Itamar Ben-Gvir, part of a far-right government that came to power in December, visited the Al-Aqsa mosque compound, sacred to both Muslims and Jews, who know it as Temple Mount, and declared Israel was "in charge."
Miller said Washington was also concerned about the "provocative visit" and "accompanying inflammatory rhetoric."
"This holy space should not be used for political purposes, and we call on all parties to respect its sanctity," he said, also reaffirming the U.S. position that the status quo should be maintained at Jerusalem's holy sites.
(Reporting by Simon Lewis and Costas Pitas; Editing by Lisa Shumaker, Lincoln Feast, William Maclean)
MORE FROM THE
OAF NATION NEWSROOM