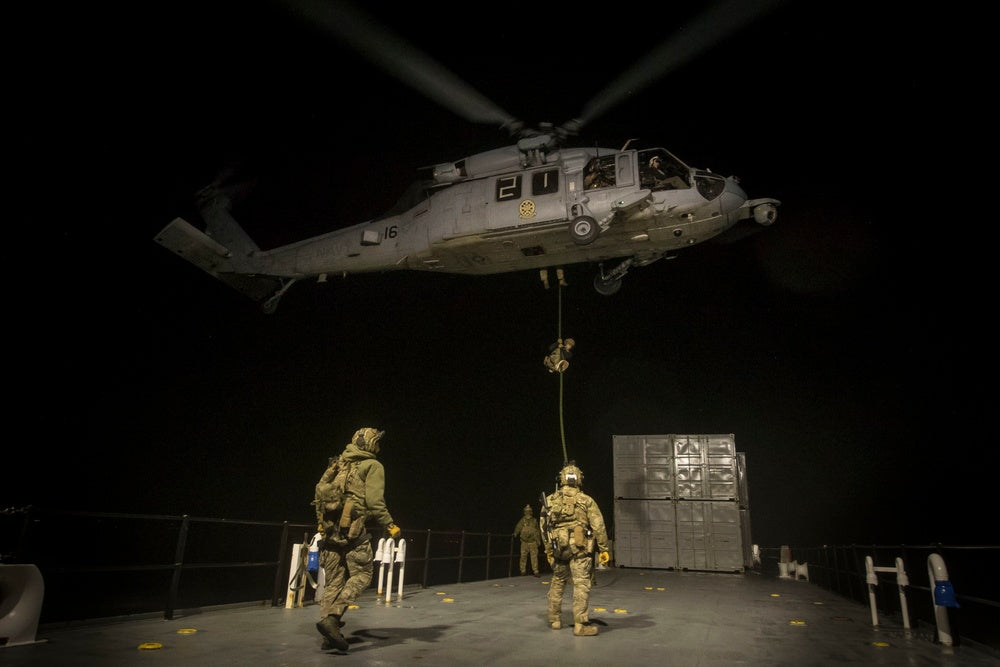 US Coast Guard to search, board for Papua New Guinea amid Pacific role expansion
PHOTO CAPTION: U.S. Coast Guardsmen from Maritime Safety Response Team (MSRT) West fast rope onto the deck of aerial target launch ship (ATLS 9701) from an MH-60S Sea Hawk helicopter assigned to the "Black Knights" of Helicopter Sea Combat Squadron 4 while conducting helicopter visit, board, search and seizure (VBSS) training operations off the coast of San Diego, Calif. Feb. 12, 2020. (U.S. Navy photo by Mass Communication Specialist 2nd Class Morgan K. Nall via U.S. Defense Visual Information Distribution Service)
By Kirsty Needham

SYDNEY (Reuters) -U.S. Coast Guard officers patrolling Papua New Guinea (PNG) waters will have authority to board foreign vessels suspected of illegal activity in its economic zone without a PNG officer on board, under an agreement giving the force more powers, it said.

The U.S. Coast Guard is getting the broader role to boost maritime security in a region in which China operates large distant water fishing fleets, and is also seeking a security presence.

Chinese naval vessels regularly transit a narrow strait between Australia and its northern neighbour, PNG, moving between Asia and the Pacific. Chinese vessels also sit off the Australian coast.

U.S. and Australian defence and foreign ministers, at an annual meeting on Saturday, said the U.S. Coast Guard would take on a bigger maritime security role across the Pacific Islands.

U.S. Coast Guard officials told Reuters a maritime law enforcement agreement between the U.S. and PNG includes a new provision to allow U.S. Coast Guard officers to board and search a suspect vessel on PNG's behalf, without the requirement for a PNG law officer to be present as a "ship rider".

"Operationalizing that provision will take work – creation of standard forms and ... effecting lines of communication between our nation's command centers, but when that work is done, yes, the mechanism for expedited consent to board (without a ship rider) is there," a U.S. Coast Guard spokeswoman said in a statement to Reuters.


Although the U.S. Coast Guard has ship rider deals with a dozen Pacific Island countries, periodically used to patrol for illegal fishing, the PNG agreement is the first with the ship boarding provision for a nation with which the U.S. does not have full defence responsibility.

PNG has become a focus for the United States after China struck a security pact with Solomon Islands last year.

PNG signed a defence cooperation agreement with the U.S. in May and U.S. Secretary of Defence Lloyd Austin announced the August deployment of a U.S. Coast Guard cutter during a visit to PNG last week.

PNG Prime Minister James Marape has said his country had been unable to patrol its 2.7 million square kilometre exclusive economic zone for illegal activity ranging from drug trafficking to illegal fishing. His office did not immediately respond to a request for comment.

"Any fishing vessel fishing in the nation's (Exclusive Economic Zone) may be boarded – that is any flagged vessel – including Chinese flagged," the U.S. Coast Guard spokeswoman said in the statement.

The Federated States of Micronesia, administered by the U.S. in the post-war period before entering a compact of free association with the U.S. four decades ago, struck a similar ship boarding provision deal last year.

In Australia on Saturday, Austin, U.S. Secretary of State Antony Blinken, and their Australian counterparts said the permanent deployment of a U.S. Coast Guard cutter next year to the region would assist maritime law enforcement.

French President Emmanuel Macron, in a speech in Vanuatu on Thursday, said illegal activity by foreign fishing fleets threatened the maritime sovereignty of small states and was part of a "new imperialism", comments seen as referring to China.

China respected the sovereignty of Pacific Island countries, which were not the 'backyard' of any country, Chinese foreign ministry spokeswoman Mao Ning said on Thursday.

(Reporting by Kirsty Needham; editing by Robert Birsel)
MORE FROM THE
OAF NATION NEWSROOM