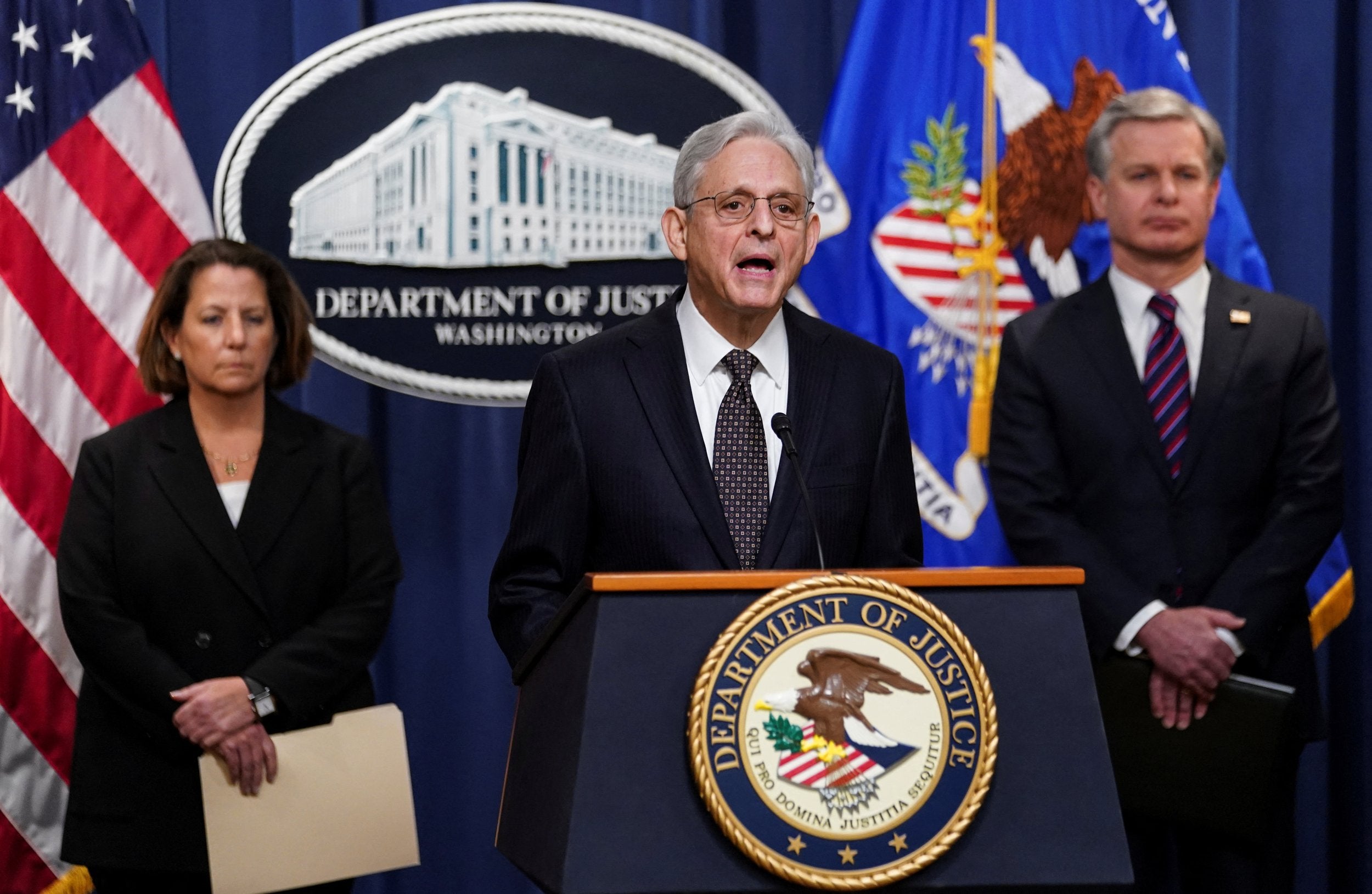 US charges three in Iran-backed effort to assassinate journalist
NEW YORK (Reuters) -U.S. prosecutors have charged three men with attempting to assassinate a prominent critic of Iran's government who was previously the target of a failed Tehran-backed kidnapping plot, Attorney General Merrick Garland said on Friday,
Rafat Amirov, Polad Omarov and Khalid Mehdiyev were charged with murder-for-hire and money laundering for their role in the thwarted Tehran-backed assassination attempt of the journalist and activist, who is a U.S. citizen and lives in Brooklyn.
Garland did not name the alleged victim, but Mehdiyev was arrested last year in New York for having a rifle outside the Brooklyn home of journalist Masih Alinejad, a longtime critic of Iran's head-covering laws who has promoted videos of women violating those laws to her millions of social media followers.
In an interview with Reuters, Alinejad said she was invited to the FBI headquarters in Manhattan this morning where a dozen agents described to her the details of the plot.
In July, the men had planned to get Alinejad out of her house by asking her for flowers from her garden, and then gun her down, authorities said.
Her elaborate garden is well known in the neighborhood: Each section is dedicated to family in Iran from who she has been separated for 13 years. The assailants had been monitoring the property and may have observed that she often shares flowers with her neighbors, she said.
But she spotted the assailants surveilling her house and fled, authorities said. "Imagine they had opened fire," she said, "How many of my beautiful neighbors would have died. My stepchildren?"
Alinejad said the assassination attempt shows that Iran is terrified of Iranian women demanding their rights, which she often promotes through social media. "They are scared of their own people," she said. "Like millions of others I want freedom for my country. I don't deserve to die for that."
Mehdiyev, 24, pleaded not guilty to one count of possessing a firearm with an obliterated serial number. He is being held at the federal Metropolitan Detention Center in Brooklyn pending trial.
Iran's mission to the United Nations did not immediately respond to a request for comment.
U.S. prosecutors in 2021 charged four Iranians alleged to be intelligence operatives for Tehran with plotting to kidnap a New York-based journalist and activist. While the target of that plot was not named, Reuters confirmed she was Alinejad.
Garland said the victim of the assassination plot and the attempted kidnapping were the same person.
U.S. national security adviser Jake Sullivan said Friday's charges followed "a disturbing pattern of Iranian government-sponsored efforts to kill, torture, and intimidate into silence activists for speaking out for the fundamental rights and freedoms of Iranians around the world."
After the 2021 kidnapping plot failed, Amirov - a resident of Iran - sent information about the target to Omarov, a resident of the Czech Republic and Slovenia, prosecutors said on Friday. Omarov then sent those details to Mehdiyev, who lived in Yonkers, New York, prosecutors said.
Amirov and Omarov then arranged for Mehdiyev to get $30,000 in cash, which he used to buy an assault rifle and ammunition, prosecutors said. He then staked out the target's neighborhood for several days in July 2022, but was stopped for a traffic violation and arrested when police found his weapon.
Amirov, 43, was arrested outside the United States, Garland said. He was taken into U.S. custody on Thursday and pleaded not guilty through a defense lawyer at an arraignment in federal court in Manhattan on Friday afternoon.
U.S. Magistrate Judge Sarah Cave ordered Amirov detained pending trial after his lawyer did not object to prosecutors' request that he be denied bail.
Omarov, 38, was arrested in the Czech Republic earlier this month, and the United States is seeking his extradition.
    In recent years, the United States and Iran have been at loggerheads over Iran's nuclear program, its support for proxy forces in the region, and its deadly clampdown on unrest after the death of a young Iranian Kurdish woman in morality police custody.
    Iran accuses Western powers of fomenting the unrest, which security forces have met with deadly violence.
(Reporting by Luc Cohen in New York; Additional reporting by Susan Heavey and Arshad Mohammed in WashingonEditing by Jonathan Oatis and Alistair Bell)
MORE FROM THE
OAF NATION NEWSROOM