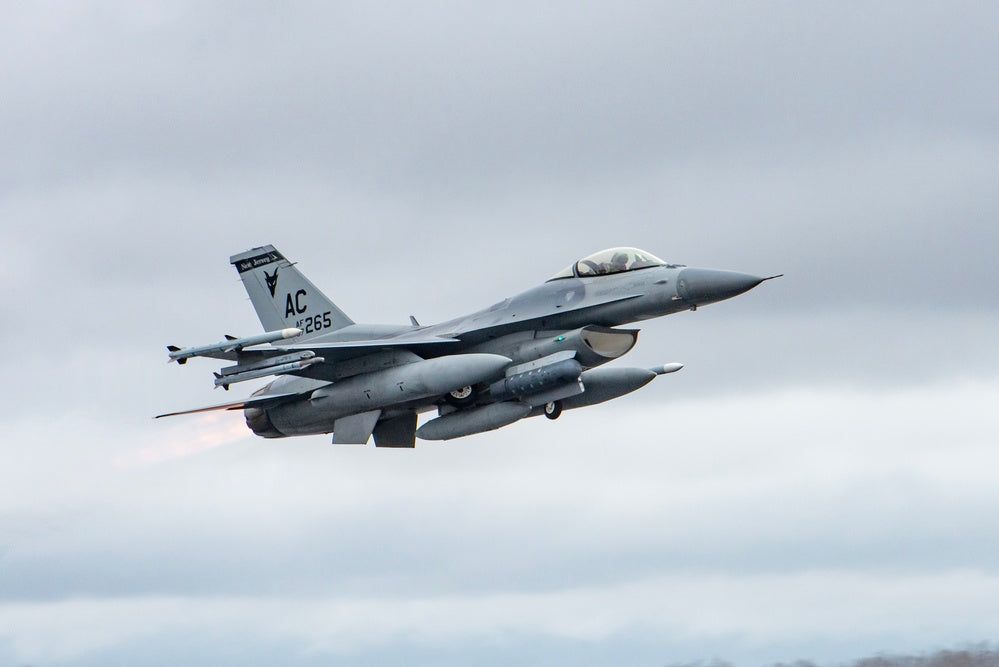 US approves sending F-16s to Ukraine from Denmark and Netherlands
PHOTO CAPTION: A U.S. Air Force F-16C Fighting Falcon takes off from the 177th Fighter Wing at the Atlantic City Air National Guard Base, New Jersey, Jan. 13, 2023. (U.S. Air National Guard photo by Senior Airman Hunter Hires)
By Steve Holland and Idrees Ali

WASHINGTON (Reuters) -The United States has approved sending F-16 fighter jets to Ukraine from Denmark and the Netherlands to defend against Russian invaders as soon as pilot training is completed, a U.S. official said on Thursday.

Ukraine has actively sought the U.S.-made F-16 fighter jets to help it counter Russian air superiority.

Washington gave Denmark and the Netherlands official assurances that the United States will expedite approval of transfer requests for F-16s to go to Ukraine when the pilots are trained, the official said.

"We welcome Washington's decision to pave the way for sending F-16 fighter jets to Ukraine," Dutch Foreign Minister Wopke Hoekstra said on messaging platform X, formerly known as Twitter.

"Now, we will further discuss the subject with our European partners."

Denmark also said providing Ukraine with the jets would now be discussed.

"The government has said several times that a donation is a natural next step after training. We are discussing it with close allies, and I expect we will soon be able to be more concrete about that," Danish defence minister Jakob Ellemann-Jensen told news agency Ritzau on Friday.


A coalition of 11 countries will start training Ukrainian pilots to fly the F-16 fighter jets later this month in Denmark, the Danish defence ministry said on Friday.

The country's acting Defense Minister Troels Poulsen said in July that the country hoped to see "results" from the training in early 2024.

NATO members Denmark and the Netherlands have been leading international efforts to train pilots as well as support staff, maintain aircraft and ultimately enable Ukraine to obtain F-16s for use in its war with Russia.

Dutch Prime Minister Mark Rutte in May said the Netherlands was seriously considering providing Ukraine with F-16s, as it is currently phasing out the fighter jets from its own armed forces.


According to figures from the Dutch defence ministry, the Netherlands currently has 24 operational F-16s which will be phased out by mid-2024. Another 18 of the jets are currently available for sale, of which 12 have been provisionally sold.

Secretary of State Antony Blinken sent letters to his Danish and Dutch counterparts assuring them that the requests would be approved, the U.S. official said.

"I am writing to express the United States' full support for both the transfer of F-16 fighter aircraft to Ukraine and for the training of Ukrainian pilots by qualified F-16 instructors," Blinken said in a letter to the two officials, a copy of which was seen by Reuters.

Blinken said, "It remains critical that Ukraine is able to defend itself against ongoing Russian aggression and violation of its sovereignty."

He said the approval of the requests would allow Ukraine to take "full advantage of its new capabilities as soon as the first set of pilots complete their training."

U.S. President Joe Biden endorsed training programs for Ukrainian pilots on F-16s in May. In addition to training in Denmark, a training center was to be set up in Romania.

Kyiv will not be able to operate U.S.-built F-16 fighter jets this coming autumn and winter, Ukraine air force spokesperson Yuriy Ihnat told Ukrainian television late on Wednesday.

U.S. officials have privately said that F-16 jets would have been of little help to Ukraine in its current counteroffensive and will not be a game changer when they eventually arrive given Russian air defense systems and contested skies over Ukraine.

The F-16 is made by Lockheed Martin.

(Reporting By Steve Holland; additional reporting by Idrees Ali and Bart Meijer, Louise Rasmussen in Copenhagen; Editing by Cynthia Osterman and Toby Chopra)
MORE FROM THE
OAF NATION NEWSROOM