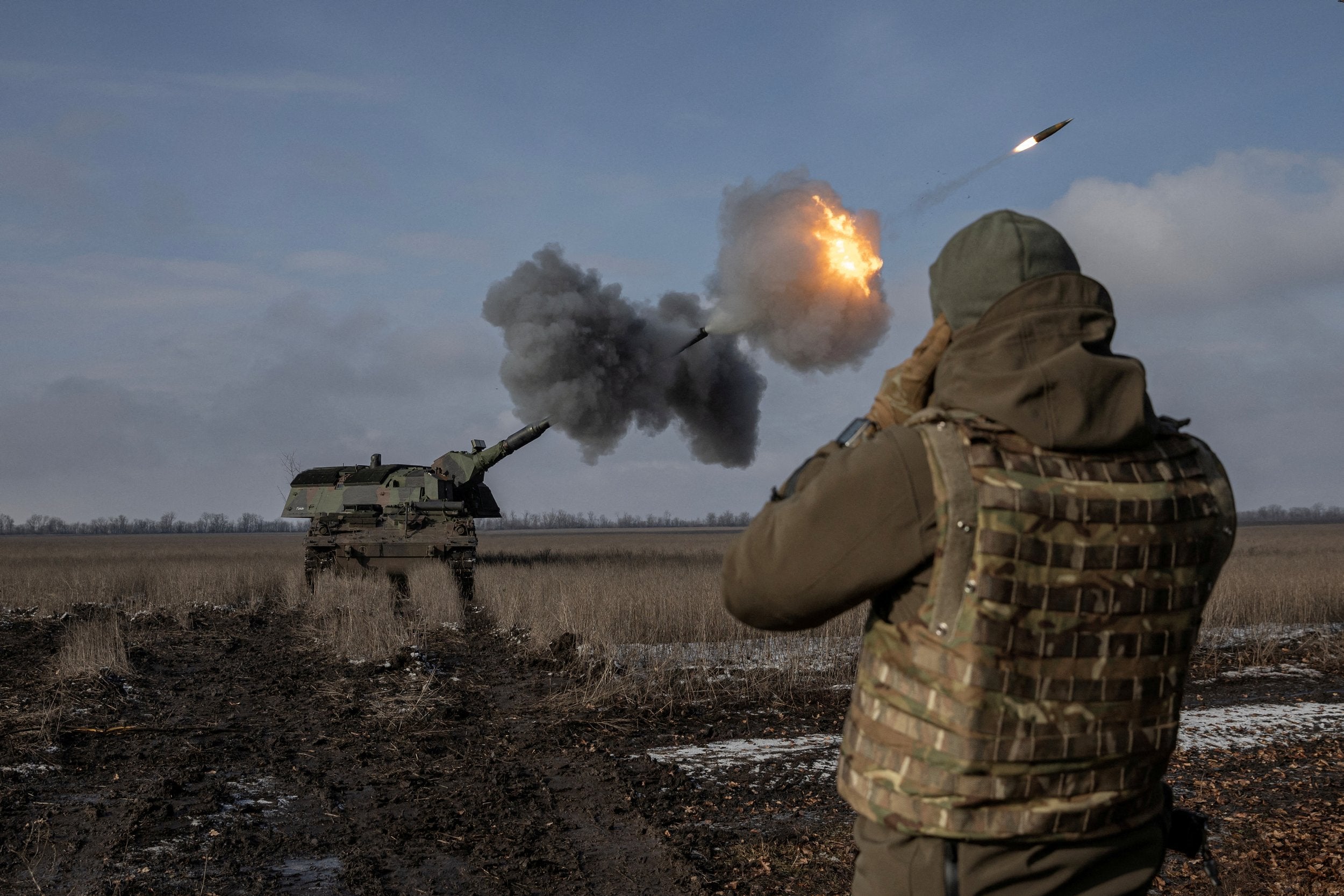 Ukraine says record Russian deaths as Moscow presses offensive in east
KYIV (Reuters) -Ukraine said on Tuesday the last 24 hours were the deadliest of the war so far for Russian troops, as Moscow hurls tens of thousands of freshly mobilised soldiers and mercenaries into relentless winter assaults in the east.
The Ukrainian military increased its running tally of Russian military dead by 1,030 overnight to 133,190, and described the increase as the highest of the war so far. It also said its troops destroyed 25 Russian tanks in the last two days.
The report of enemy dead could not be independently confirmed, and Moscow denies its forces have suffered losses on such a scale while also claiming to have killed huge numbers of Ukrainians.
But the unprecedented scale of reported casualties fits accounts from both sides that describe battles in snow-covered trenches as the deadliest combat of the war, despite little progress by either side at the front.
The war is soon entering its second year at a pivotal juncture, with Moscow attempting to regain the initiative, while Kyiv is holding out for Western tanks for a counter-offensive.
After failing to capture Kyiv last year and losing ground through the second half of 2022, Moscow is now making full use of hundreds of thousands of troops called up over the past few months in its first mobilisation since World War Two.
Kyiv and the West say Russia has been pouring additional troops into eastern Ukraine in recent weeks in hopes of being able to claim new gains around the time of the first anniversary of its full-scale invasion later this month.
The last few weeks have seen Russia boast its first gains for half a year. But the progress has still been incremental, with Moscow yet to capture a single major population centre in its winter campaign despite thousands of dead.
Fighting has focused for months around the Ukrainian-held city of Bakhmut in eastern Donetsk province, a city with a pre-war population of around 75,000, which Russia has been trying to encircle.
Moscow has also launched an assault further south against Vuhledar, a Ukrainian-held bastion on high ground at the strategic intersection between the eastern and southern front lines.
NO WORD FROM ZELENSKIY ON DEFENCE MINISTER
In a daily intelligence update, Britain's Defence Ministry said Russia's military had been attempting since early January to restart major offensive operations to capture Ukraine-held parts of Donetsk region, but had gained little ground so far.
The Russians "lack munitions and manoeuvre units required for a successful offensive", it said.
"Russian leaders will likely continue to demand sweeping advances. It remains unlikely that Russia can build up the forces needed to substantially affect the outcome of the war within the coming weeks."
Ukrainian officials say Moscow could be accumulating weapons and reserves for an even bigger push in coming weeks. The Ukrainian governor of Luhansk province predicted a big Russian offensive there that could begin around Feb. 15.
The past few weeks meanwhile have seen a purge of Ukrainian officials in an anti-corruption campaign, the first big shakeup of Ukraine's leadership since the war began.
In his Monday evening address, Ukrainian President Volodymyr Zelenskiy said personnel changes on the border and frontline would bolster Ukraine's military efforts.
However, he gave no indication about the fate of his defence minister, Oleksii Reznikov. The head of Zelenskiy's party's parliamentary faction had said on Sunday that Reznikov would be replaced, but appeared to row back for now on Monday, saying no changes would be made this week.
Since the New Year, Western countries have pledged hundreds of tanks and armoured vehicles to Ukraine to give it the firepower and mobility to push through Russian lines and recapture occupied territory later this year.
A new U.S. package of weapons is expected to include longer-range rockets, which would give Ukraine the ability to hit Russian supply lines in all of the territory it occupies in Ukraine's mainland and parts of the Crimea peninsula.
But Ukraine will not receive the new capabilities for months, and meanwhile it faces a Russian force with its manpower replenished by Moscow's call-up of reservists.
The European Union said Zelenskiy has been invited to take part in a summit of EU leaders. They are gathering in Brussels later this week. Should Zelenskiy attend, it would be only his second foreign trip since the invasion began, after he visited Washington in December.
Zelenskiy's office did not respond to a request for comment.
(Additional reporting by Max Hunder, Ron Popeski, Nick Starkov and Lidia Kelly; Writing by Costas Pitas and Michael Perry; editing by Simon Cameron-Moore and Andrew Cawthorne)
MORE FROM THE
OAF NATION NEWSROOM