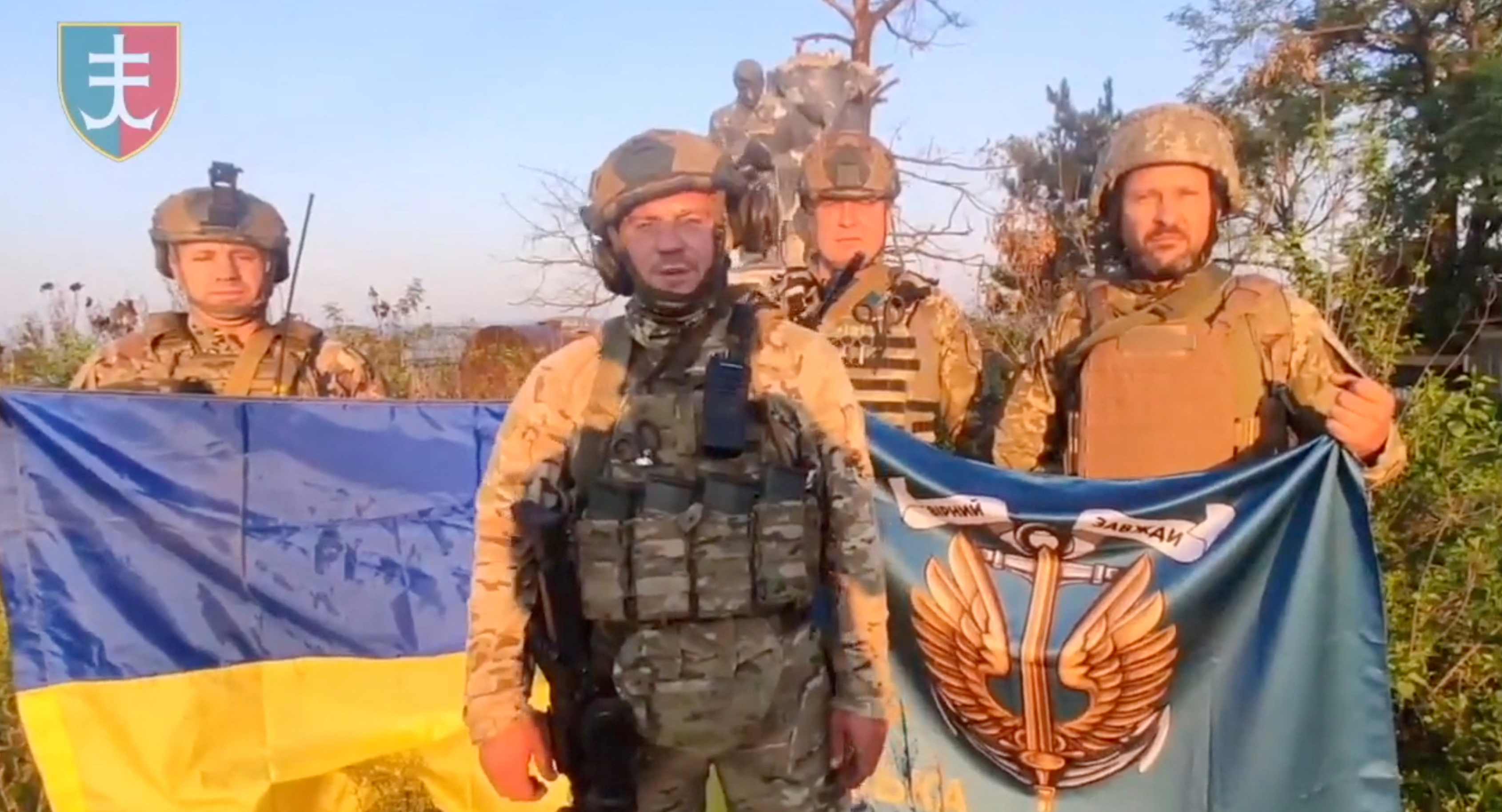 Ukraine retakes southeast village of Urozhaine from Russian forces, Kyiv says
PHOTO CAPTION: Ukrainian soldiers stand with Ukrainian flag in Urozhaine, Donetsk Region, Ukraine in this screen grab obtained from a handout video released on August 16, 2023. 35th Separate Marines Brigade of the Ukrainian Armed Forces/via REUTERS
KYIV (Reuters) -Ukrainian forces have recaptured the village of Urozhaine from Russian troops in the southeast and dug in on its outskirts, Kyiv's deputy defence minister said on Wednesday.

"Urozhaine liberated," Hanna Maliar said on the Telegram messaging app. "Our defenders are entrenched on the outskirts."

The village in Donetsk region is part of a cluster of small rural settlements that Ukraine has declared liberated since early June when it started a push against Russian troops who control swathes of the south and east.

Russia's defence ministry did not confirm losing the settlement in a statement on Telegram but said its artillery and warplanes were attacking Ukrainian forces in the Urozhaine area.


The village's recapture would indicate Ukraine is pressing ahead with an offensive drive south towards the Sea of Azov that aims to cut Russian occupying forces in half. Urozhaine lies just over 90 km (55 miles) from the Sea of Azov.

In a sign of the difficulty of the battlefield operations, Urozhaine is the first village Ukraine says it has retaken since July 27 when it announced the recapture of neighbouring Staromaiorske.

Kyiv says its counteroffensive push is progressing slower than it wanted because of vast Russian minefields and prepared Russian defensive lines.

The recapture of Urozhaine would bring Ukraine closer to threatening the village of Staromlynivka, several kilometres to the south, which military analysts say serves as a Russian stronghold in the area.

Russia controls nearly a fifth of Ukraine, including the peninsula of Crimea, most of Luhansk region and large tracts of the regions of Donetsk, Zaporizhzhia and Kherson.

Reuters could not independently verify the battlefield reports.

(Reporting by Pavel Polityuk in Kyiv; additional reporting by Lidia Kelly in Warsaw; Writing by Tom Balmforth; Editing by Angus MacSwan)
MORE FROM THE
OAF NATION NEWSROOM