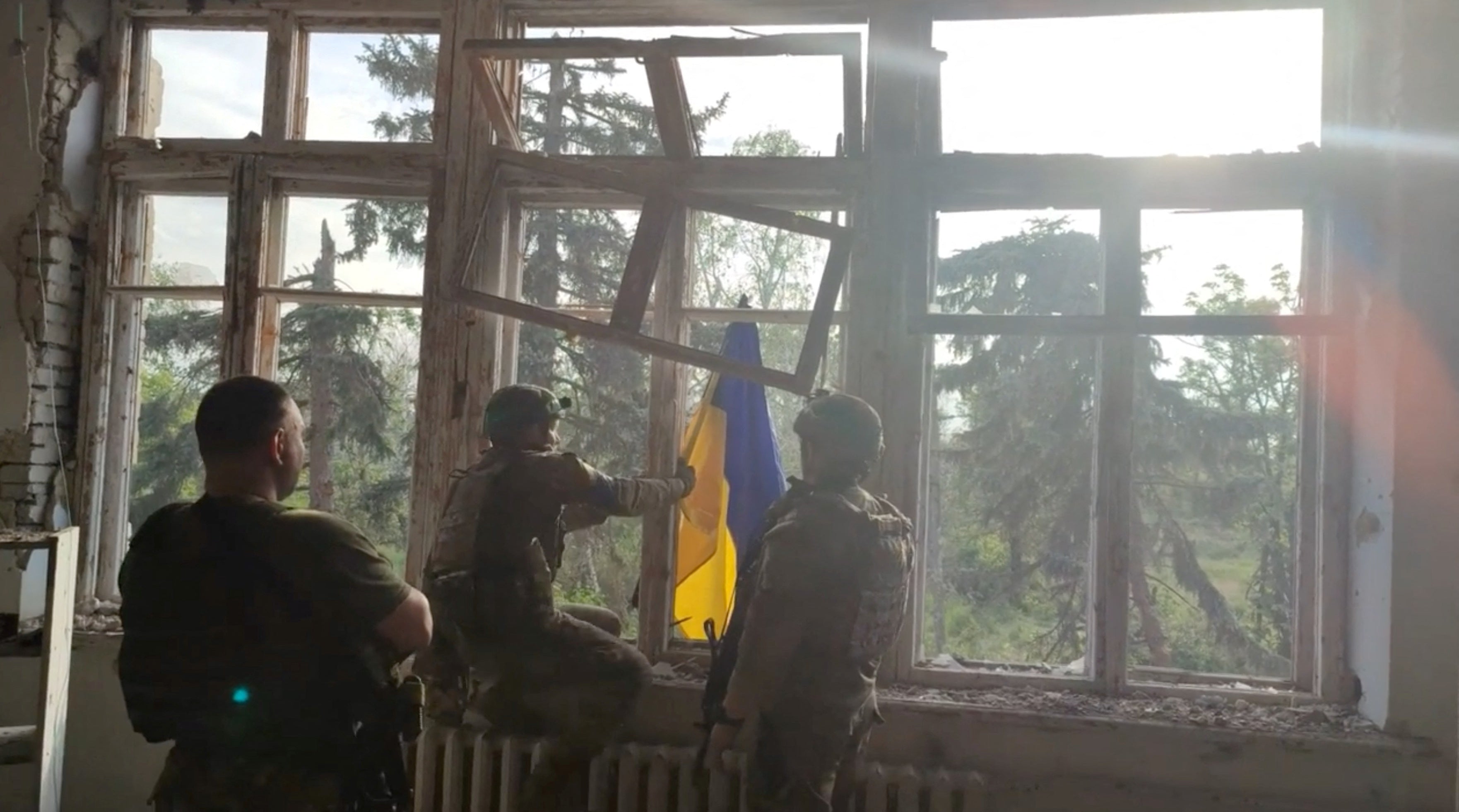 Ukraine reports small gains amid counteroffensive
PHOTO CAPTION: Ukrainian soldiers place a Ukrainian flag at a building, during an operation that claims to liberate the first village amid a counter-offensive, in a location given as Blahodatne, Donetsk Region, Ukraine, in this screengrab taken from a handout video released on June 11, 2023. 68th Separate Hunting Brigade 'Oleksy Dovbusha'/Handout via REUTERS
By Tom Balmforth
KYIV (Reuters) - Ukraine said on Monday its troops had recaptured a fourth village from Russian forces in a cluster of settlements in the southeast, a day after reporting the first small gains of its long-anticipated counteroffensive.
The task of ending Moscow's occupation of southern and eastern Ukraine is daunting, given Russia's numerical superiority in men, ammunition and air power, and the many months it has had to build defensive fortifications.
Kyiv said on Sunday its forces had liberated three villages - Blahodatne, Neskuchne and Makarivka - and on Monday, soldiers were seen in video holding up the Ukrainian flag in nearby Storozheve. Reuters confirmed the location of the footage.
The defence minister thanked the 35th Separate Brigade of Marines for regaining control of the village.
Ukraine's capture of the four villages in a matter of days is already its most rapid advance for seven months, though still short of a major breakthrough of Russia's deep defensive lines.
The claimed advance adds up to just five km (three miles) in total, still some 90 km (55 miles) from the Azov Sea coast and the interim prize of cutting Russia's "land bridge" to Crimea, the peninsula Moscow seized from Ukraine in 2014.
Ukraine is banking on the tens of billions of dollars' worth of weaponry, training and intelligence it has received from the West, combined with its own battlefield resolve, tactical nous and the motivation of driving an invader from its own land, to give it the edge.
It also knows it may have to show significant progress over the summer to maintain the same level of Western military, financial and moral support.
Ukraine's armed forces general staff said its forces had engaged in two dozen heavy battles in the previous 24 hours on the eastern front, near the town of Bakhmut, further south near Avdiivka and Maryinka, and further north near Bilohorivka. It does not provide similar detail about fighting on the southern front where the main counteroffensive is expected.
Moscow has yet to officially acknowledge any Ukrainian advances, saying last week that it had repelled numerous attacks and inflicted heavy casualties on Ukraine's forces. Unverified footage has circulated on social media of destroyed American and German armoured vehicles.
However, some prominent Russian military bloggers indicated that Ukrainian forces had taken Blahodatne and Neskuchne, although they said fighting for Makarivka was continuing.
It is almost certainly far too early to draw conclusions about the fate of the counteroffensive from early skirmishes that may be more about testing Russian defences than pursuing a major advance.
The U.S.-based Institute for the Study of War said Ukraine was attempting "an extraordinarily difficult tactical operation – a frontal assault against prepared defensive positions, further complicated by a lack of air superiority – and these initial assaults should not be extrapolated to predict all Ukrainian operations".
Ben Hodges, a former commander of U.S. forces in Europe, wrote that the main attack, when it came, would be expected to feature several hundred tanks and infantry fighting vehicles.
"The offensive has clearly started, but not I think the main attack," he wrote in an article for the Washington-based Center for European Policy Analysis.
"When we see large, armoured formations join the assault, then I think we'll know the main attack has really begun."
Russia has yet to face this kind of onslaught, but its unconvincing battlefield performance in the 15 months since its full-scale invasion has led to frequent changes of command and public arguments with the private militias called in to fight alongside regular soldiers.
There are signs that Moscow is now seeking to impose stronger central control, with an order that all so-called "volunteer units" should sign contracts by July 1 bringing them under the Defence Ministry.
It said on Monday it has signed such a contract with the Akhmat paramilitary force, one of the armed units that help to keep President Vladimir Putin's appointee Ramzan Kadyrov in power in the Chechnya region of the northern Caucasus.
Moscow said on Friday that Akhmat was conducting an offensive near Maryinka.
But Yevgeny Prigozhin, the increasing recalcitrant and voluble leader of the Wagner militia, which captured Bakhmut from Ukrainian forces after almost a year of attritional fighting, said on Sunday he would refuse to sign.
Prigozhin, who has repeatedly accused Moscow in public of failing to provide enough support or ammunition to his fighters, said Defence Minister Sergei Shoigu "cannot manage military formations properly".
(Reporting by Pavel Polityuk and Tom Balmforth in Kyiv, Anna Pruchnicka in Gdansk and Lidia Kelly in Melbourne; Writing by Kevin Liffey; Editing by Peter Graff)
MORE FROM THE
OAF NATION NEWSROOM