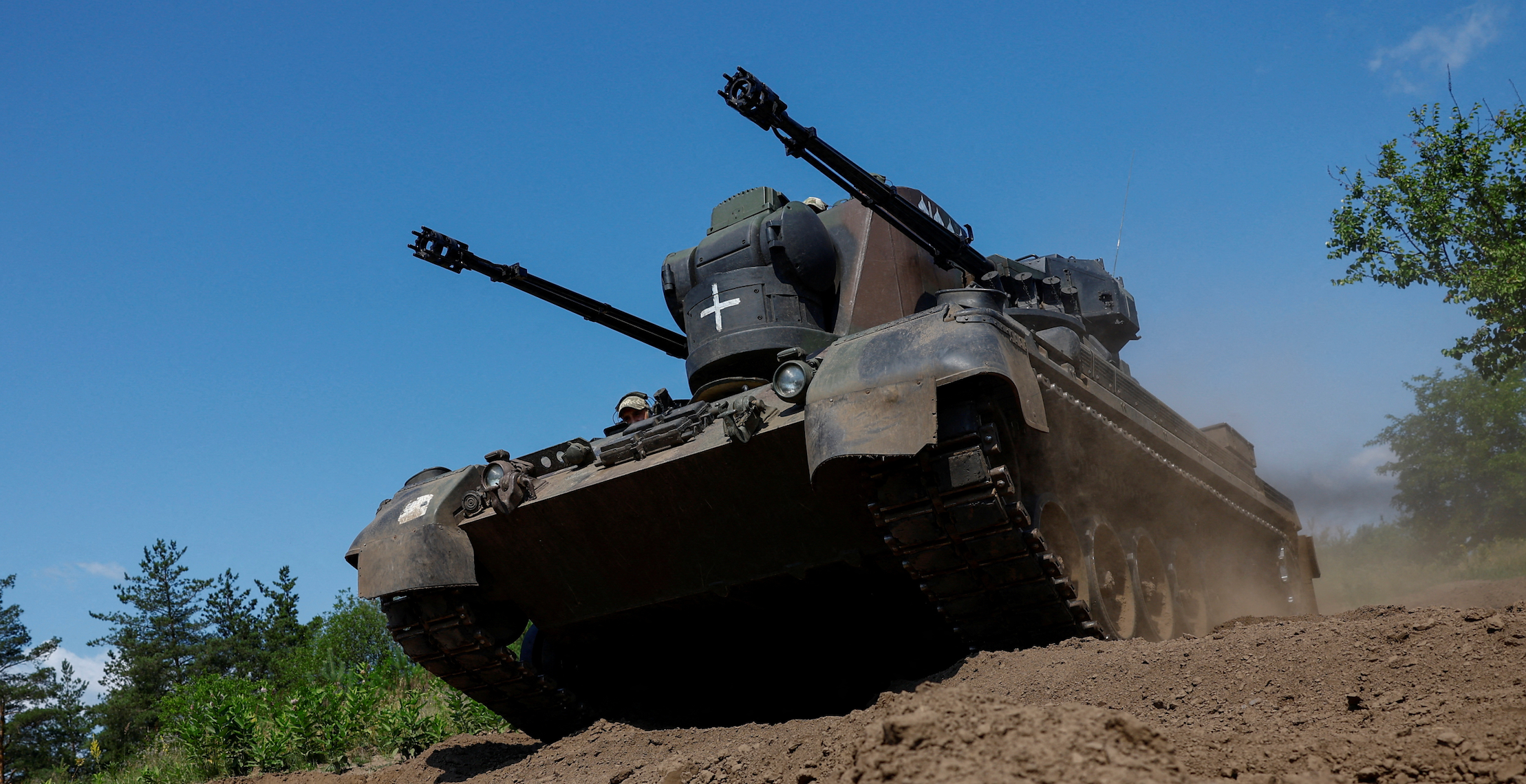 Ukraine reports progress after "difficult" week of fighting
PHOTO CAPTION: Ukrainian servicemen operate a Gepard self-propelled anti-aircraft gun during their combat shift, amid Russia's attack on Ukraine, in Kyiv region, Ukraine June 30, 2023. REUTERS/Valentyn Ogirenko/File Photo
By Pavel Polityuk
KYIV (Reuters) -Ukraine said on Monday its troops had regained more ground along eastern and southern fronts in what President Volodymyr Zelenskiy described as progress in a "difficult" week for Kyiv's counteroffensive against Russian forces.
The Ukrainian military took back 37.4 square kilometres (14.4 square miles) of territory in heavy fighting in the past week, Deputy Defence Minister Hanna Maliar said.
She said Kyiv's troops were advancing in the Bakhmut direction of eastern Ukraine and that Russian forces were attacking in the Lyman, Avdiivka and Mariinka directions in the Donetsk region in the east.
Ukraine had reclaimed nine square km over the past week along the eastern front "as a result of improving the operational (tactical) position and aligning the front line", Maliar said.
In the south, Ukraine has regained 28.4 square km of territory, bringing the total area of recaptured territory along that front to 158.4 square km, Maliar added.
"Last week was difficult on the front line. But we are making progress," Zelenskiy wrote on the Telegram messaging app.
"We are moving forward, step by step! I thank everyone who is defending Ukraine, everyone who is leading this war to Ukraine's victory!"
Russia, which began its full-scale invasion in February 2022, said at the weekend its forces had repelled Ukrainian attacks near villages ringing Bakhmut and in areas further south, particularly near the hilltop town of Vuhledar. It also reported success in containing Ukrainian troops in the northeast.
Russian Defence Minister Sergei Shoigu said on Monday that a brief mutiny by the Wagner mercenary group last month had not affected Russia's "special military operation" in Ukraine.
"The provocation did not affect the actions of army groups (involved in the operation)," he told a ministry meeting.
Reuters could not confirm the battlefield accounts.
(Additional reporting by Lidia Kelly in Melbourne, Writing by Dan Peleschuk, Editing by Robert Birsel and Timothy Heritage)
MORE FROM THE
OAF NATION NEWSROOM