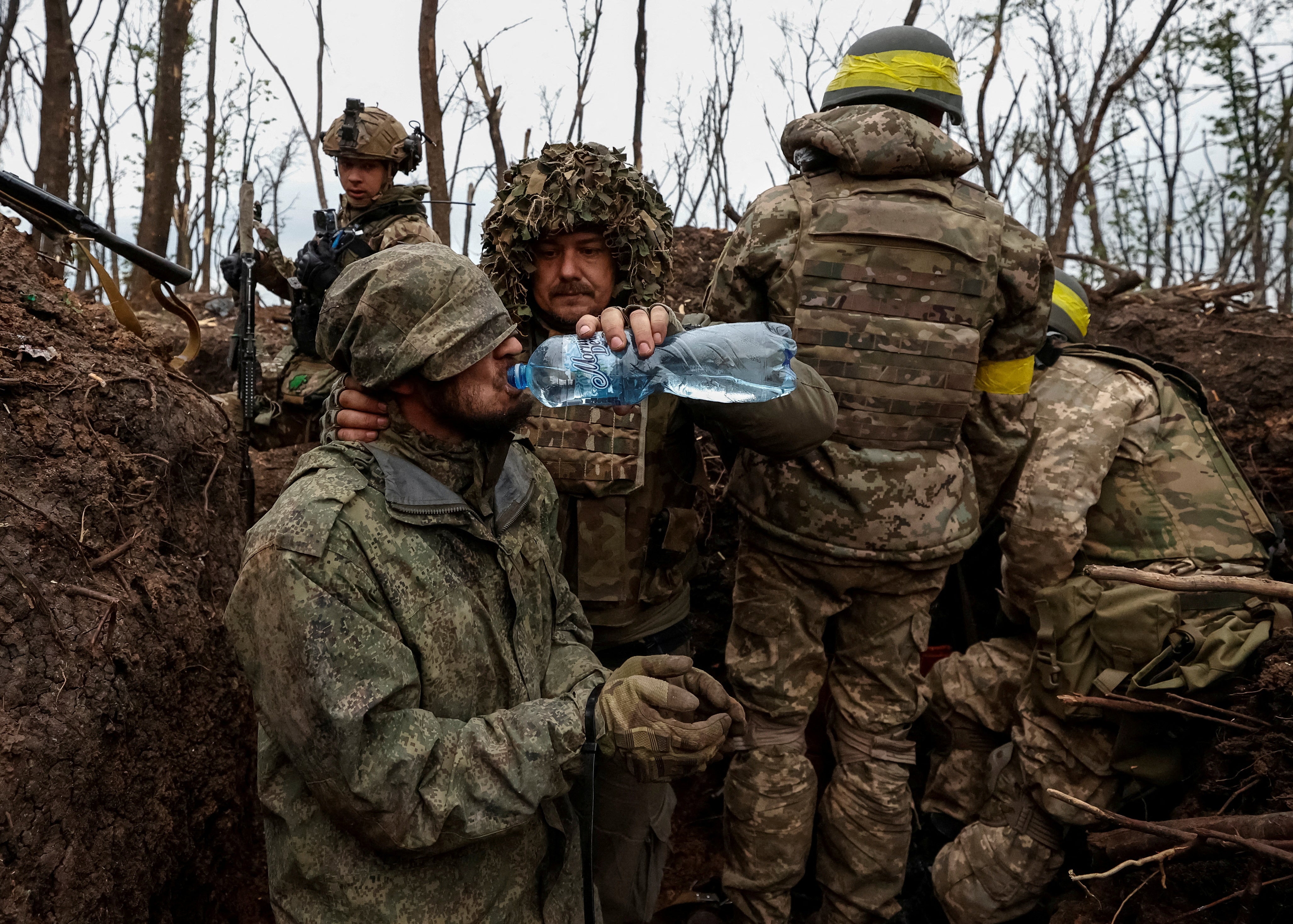 Ukraine reports gains around Bakhmut, fighting continues
PHOTO CAPTION: A Ukrainian soldier gives water to a captured Russian army serviceman, according to them, on a position recently gained in offensive, as Russia's attack on Ukraine continues, near the front line city of Bakhmut, in Donetsk region, Ukraine May 11, 2023. Radio Free Europe/Radio Liberty/Serhii Nuzhnenko via REUTERS
KYIV (Reuters) - Ukrainian troops have made gains around Bakhmut in recent days but Russian forces have advanced slightly in the eastern city itself, Deputy Defence Minister Hanna Maliar said on Tuesday.
She said the Ukrainian military had reclaimed about 20 square kilometers (7.5 square miles) or territory from the Russian forces in the past few days around Bakhmut, a small city where fighting has been fierce for months.
Maliar, who has indicated previously that the Ukrainian advances around Bakhmut are not part of a broader counteroffensive planned by Kyiv, said developments there "should not be taken out of context".
"For example, within a few days, our troops liberated about 20 square kilometers from the enemy in the north and south of the suburbs of Bakhmut," she wrote on the Telegram messaging app. "At the same time, the enemy is advancing somewhat in Bakhmut itself, completely destroying the city with artillery."
She reiterated that Russia was sending in new paratroopers and added: "Heavy battles continue with different results."
Reuters was unable to verify the battlefield situation.
The Ukrainian military said last week it had started to push Russian forces back around Bakhmut after months of heavy fighting, and Moscow acknowledged that its forces had fallen back north of the city.
Moscow sees Bakhmut, a city of about 70,000 before Russia's full-scale invasion nearly 15 months ago, as a stepping stone towards capturing the rest of the eastern Donbas region.
(Reporting by Dan Peleschuk, Editing by Timothy Heritage)
MORE FROM THE
OAF NATION NEWSROOM