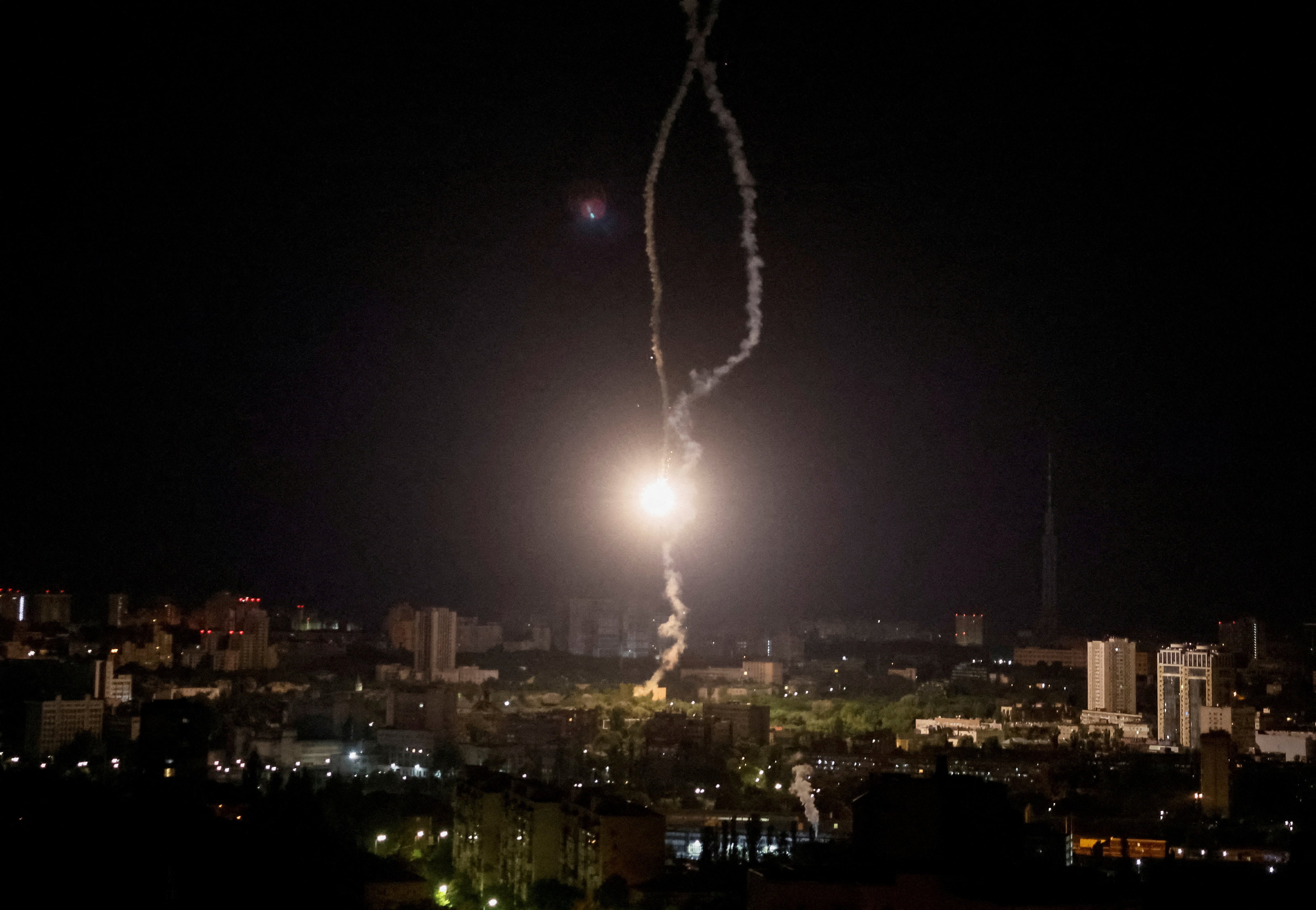 Ukraine denies Russia destroyed Patriot missile defense system
FILE PHOTO: Explosion of a missile is seen in the sky over the Kyiv during a Russian missile strike, amid Russia's attack on Ukraine, in Kyiv, Ukraine May 16, 2023. REUTERS/Gleb Garanich/File Photo
KYIV (Reuters) - Ukraine denied on Wednesday that a Russian hypersonic missile had destroyed a U.S.-made Patriot missile defence system during an air strike on Kyiv.
Russia's defence ministry made the assertion on Tuesday after an overnight air attack on the Ukrainian capital. Two U.S. officials later said a Patriot system had probably suffered damage but that it did not appear to have been destroyed.
"I want to say: do not worry about the fate of the Patriot," Ukrainian air force spokesperson Yuriy Ihnat told Ukrainian television.
He ruled out the possibility of a Russian "Kinzhal" missile knocking out a Patriot system.
"Destroying the system with some kind of 'Kinzhal', it's impossible. Everything that they say there, it can remain in their propaganda archive," he said.
The Patriot system is one of an array of sophisticated air defence units supplied by the West to help Ukraine repel Russian air strikes following Moscow's invasion last year.
It is considered one of the most advanced U.S. air defence systems, including against aircraft, cruise missiles and ballistic missiles, and typically includes launchers along with radar and other support vehicles.
Russian President Vladimir Putin has touted the Kinzhal missile as proof that his country has world-beating military hardware.
Ukraine said it had shot down six Kinzhal missiles on Tuesday, but Russia denied this. It was not clear which Western weapon Ukraine used, and the Pentagon had no immediate comment.
(Reporting by Olena Harmash, Editing by Timothy Heritage and Nick Macfie)
MORE FROM THE
OAF NATION NEWSROOM