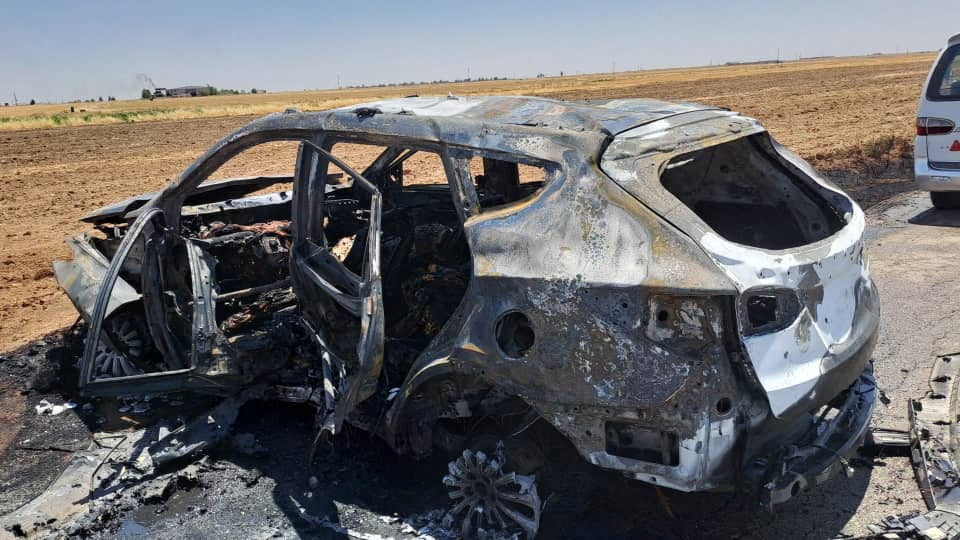 Two local officials in northeast Syria killed by Turkish drone, Kurdish authorities say
PHOTO CAPTION: A burnt vehicle is pictured after, what medical and security sources say, was targeted by a Turkish drone strike in the village of Tal Shaeer, Syria June 20, 2023. HAWARNEWS/Handout via REUTERS
QAMISHLI, Syria (Reuters) - Two local civilian officials and their driver were killed in Syria's Kurdish-run northeast on Tuesday when their car was targeted by a Turkish drone strike, regional Kurdish authorities said.
In a statement, they named the dead as Yusra Darwish, co-chair of the Qamishli canton's administrative council; Liman Shawish, an adviser to the Kurdish-led autonomous administration, and their driver. The Syriac co-chair of the Qamishli council, Gabriel Chamoun, was wounded.
Kurdish medical sources and a security source said a Turkish drone had targeted their car in the village of Tal Shaeer in northeast Syria.
The Turkish defence ministry did not immediately respond to a request for comment.
Turkish state media on Tuesday cited security sources saying Turkey's MIT intelligence agency had "neutralised" a senior figure in the Kurdish YPG, or People's Protection Units, in the area of Tal Rifaat some 27 km northwest of Tal Shaeer.
It named the figure as Ridvan Ulugana and said he had been active in operations targeting the Turkish military. It did not say that any civilians were killed, or mention Tal Shaeer.
Turkey is fiercely opposed to the YPG and the Kurdish-led autonomous zone in Syria's northeast, accusing them of links to the Kurdistan Workers' Party (PKK), designated a terrorist group by Ankara, the United States and the European Union. YPG officials have said it operates separately from the PKK.
Turkey has used ground artillery and unmanned drones to target Kurdish militants, including last week.
That has caused tensions with the United States, which has allied with the Syrian Democratic Forces (SDF), spearheaded by the YPG, in the fight against Islamic State in Syria.
(This story has been corrected to fix Chamoun's first name and job title in paragraph 2)
(Reporting by Orhan Qereman in Qamishli, Syria; Daren Butler and Huseyin Hayatsever in Turkey; writing by Maya Gebeily; editing by Mark Heinrich)
MORE FROM THE
OAF NATION NEWSROOM