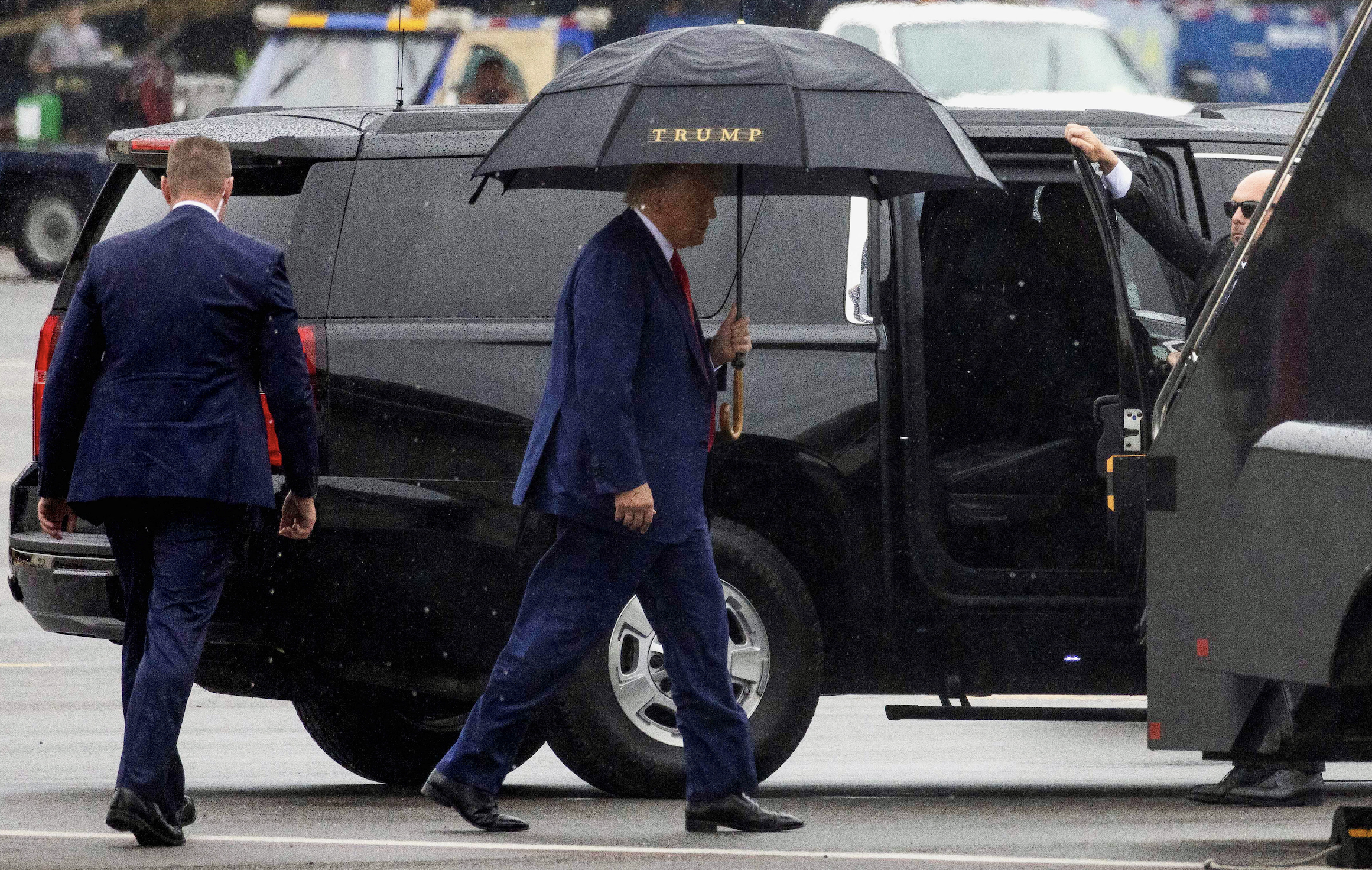 Trump pleads not guilty of plotting to overturn election loss
PHOTO CAPTION: Former U.S. President Donald Trump, who was arraigned on federal charges related to attempts to overturn his 2020 election defeat, prepares to depart Washington at Reagan Washington National Airport in nearby Arlington, Virginia, U.S., August 3, 2023. REUTERS/Amanda Andrade Rhoades
By Andrew Goudsward, Sarah N. Lynch and Jacqueline Thomsen

WASHINGTON (Reuters) -Donald Trump pleaded not guilty on Thursday to charges he orchestrated a plot to try to overturn his 2020 election loss in what U.S. prosecutors call an unprecedented effort by the then-president to undermine the pillars of American democracy.

Special Counsel Jack Smith, who has overseen the federal investigation, looked on from the courtroom's front row as Trump entered his plea before U.S. Magistrate Judge Moxila Upadhyaya.

"Not guilty," Trump said, emphasizing the first word.

The arraignment, lasting about half an hour, took place in a Washington courthouse half a mile (1 km) from the U.S. Capitol, the building Trump's supporters stormed on Jan. 6, 2021, to try to stop Congress from certifying his defeat.

It was the third time Trump has pleaded not guilty since April, with months of pretrial legal wrangling expected against the backdrop of the 2024 presidential campaign, in which Trump is the front-runner for the Republican nomination to take on Democratic President Joe Biden.

In a 45-page indictment on Tuesday, Smith accused Trump and his allies of promoting false claims the election was rigged, pressuring state and federal officials to alter the results and assembling fake slates of electors to try to wrest electoral votes from Biden.

Trump, 77, faces four counts, including conspiracy to defraud the U.S., to deprive citizens of their voting rights and to obstruct an official proceeding. The most serious charge carries a maximum prison sentence of 20 years.

The next court date in the case will be Aug. 28 before U.S. District Judge Tanya Chutkan, though Upadhyaya said Trump would not be required to attend. Chutkan intends to set a trial date at that time, Upadhyaya said.

Trump's lawyer, John Lauro, registered an early objection, arguing that the magnitude of the case and the amount of materials involved could require a lot of time.

Prosecutor Thomas Windom countered that the case should proceed as normal, including with a speedy trial.

Trump was released without travel restrictions. One of his conditions of release is that he not discuss the case with any witnesses unless accompanied by his lawyers.

Trump has portrayed the indictment, as well as the other criminal cases against him, as a "witch hunt" intended to derail his White House campaign.


'SAD DAY FOR AMERICA'

"This is a very sad day for America," Trump told reporters after the hearing before boarding his private plane to return to his Bedminster, New Jersey, golf club. "This is a persecution of a political opponent."

Trump's first of two impeachments, in 2019, was for pressuring Ukraine to investigate Biden, his Democratic rival. Senate Republicans acquitted him of those charges.

Trump walked into the courtroom wearing a red tie and navy blue suit with an American flag lapel pin. About 10 Secret Service agents stood against the wall behind him.

He appeared to glance occasionally at Smith, who entered with his own security detail and the prosecutors assigned to the case.

When the court deputy read aloud the name of the case - "United States of America v. Donald J. Trump" - the former president shook his head in disapproval.

Trump previously pleaded not guilty to federal charges that he retained classified documents after leaving office and New York state charges that he falsified documents in connection with hush money payments to a porn star.

He may soon face more charges in Georgia, where a state prosecutor is investigating his attempts to overturn the election there. The Atlanta-area prosecutor, Fani Willis, has said she will file indictments by mid-August.


TRUMP STILL THE REPUBLICAN FRONT-RUNNER
Trump's legal woes have done little to damage his status as Republican front-runner. Forty-seven percent of Republican voters said they would support him in a new Reuters/Ipsos poll taken after Tuesday's indictment, extending his lead over second-place Florida Governor Ron DeSantis at 13%.

Three-quarters of Republicans said they agreed that the charges were "politically motivated," showing that Trump's claim that he is the victim of political persecution resonates with his base.

That said, the same poll found about half of Republicans said they would not vote for Trump if he were convicted of a felony, according to a new Reuters/Ipsos poll, underscoring the potential risks his legal entanglements pose for his candidacy.

Most prominent Republicans, including several competing with Trump for the White House, have either defended him or offered muted criticism, instead accusing the Biden administration of weaponizing the Justice Department against a campaign foe.

Biden declined to comment on the arraignment.

Many of the allegations in Tuesday's indictment had been well-documented in media reports and the investigation conducted by a U.S. House of Representatives select committee.

But the indictment featured some details that were not widely known, including several based on grand jury testimony and contemporaneous notes from former Vice President Mike Pence, who is also running for the Republican presidential nomination.

The indictment describes a phone call in which Pence told Trump there was no legal basis for the theory that Pence could block certification of the election.

"You're too honest," Trump responded, according to prosecutors.

Although Pence repeatedly told Trump he lacked the authority to reject electoral votes from certain states, Trump kept repeating the claim.

On Jan. 6, as he spoke to his supporters before they attacked the Capitol, Trump said: "If Mike Pence does the right thing, we win the election." Some rioters at the Capitol later chanted, "Hang Mike Pence!"

Far from deterred by the violence, Trump and his associates kept calling Republican members of Congress hours after the riot had ended, still intent on blocking certification, the indictment said.

Pence was one of the few Republicans to criticize Trump on Tuesday, saying that "anyone who puts himself over the Constitution should never be president."

(Reporting by Sarah N. Lynch, Jacqueline Thomsen and Andrew Goudsward; Additional reporting by Luc Cohen, Jason Lange, Tim Reid, John O'Connell, Jeff Mason and Patrick McFarland; Writing by Joseph Ax; Editing by Scott Malone, Daniel Wallis and Howard Goller)
MORE FROM THE
OAF NATION NEWSROOM