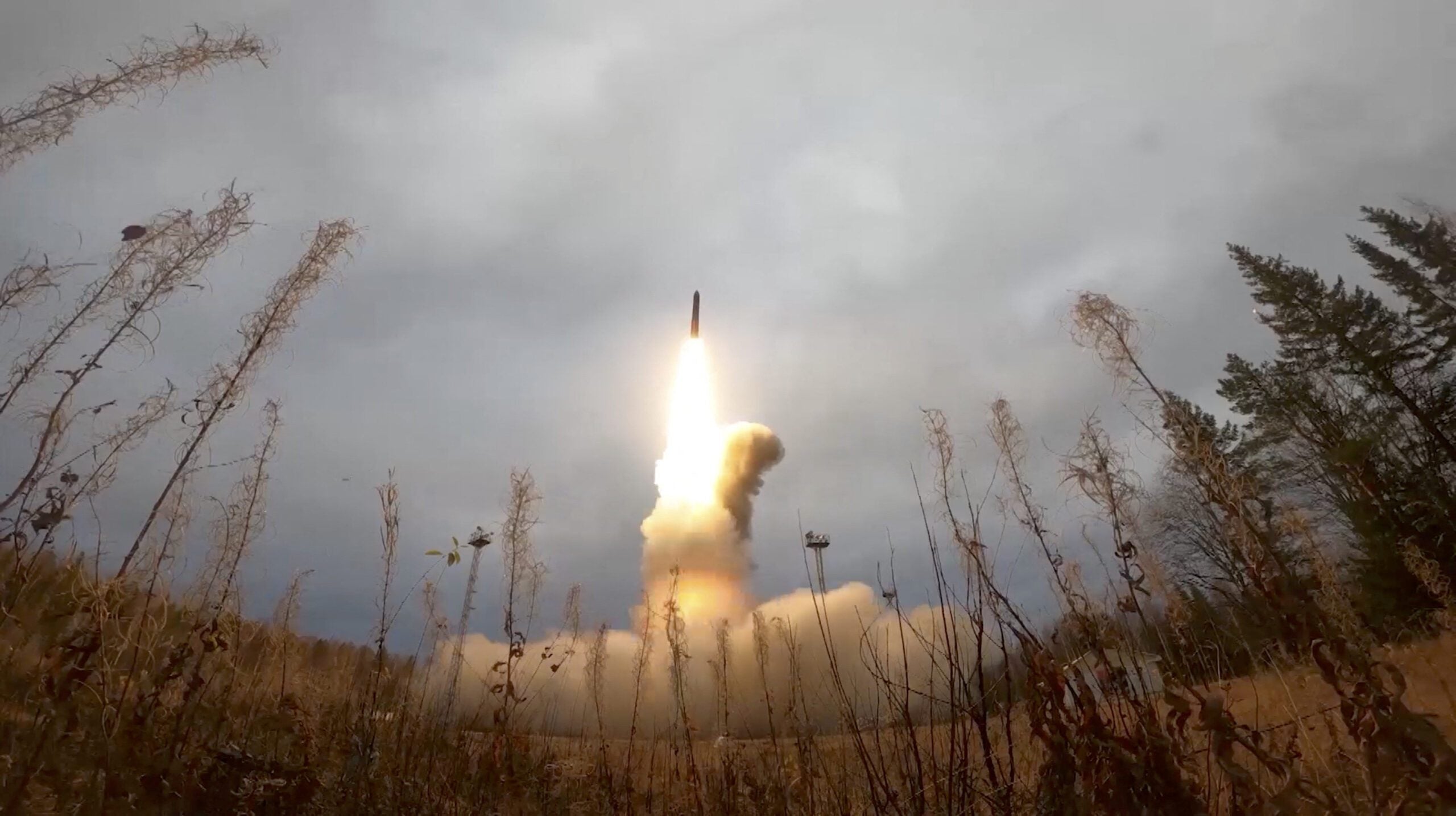 The global nuclear arsenal grew last year, SIPRI says
PHOTO CAPTION: A still image from video, released by the Russian Defense Ministry, shows what it said to be Russia's Yars intercontinental ballistic missile launched during exercises held by the country's strategic nuclear forces at the Plesetsk Cosmodrome, Russia, in this image taken from handout footage released October 26, 2022
STOCKHOLM (Reuters) -The number of operational nuclear weapons rose slightly in 2022 as countries implemented long-term force modernisation and expansion plans, a leading conflict think-tank said on Monday, warning that the world was entering a dangerous phase.
The estimated number of warheads in military stockpiles for potential use rose by 86 to 9,576, the Stockholm International Peace Research Institute (SIPRI) said in a statement, continuing a trend seen in the last few years.
"We are drifting into one of the most dangerous periods in human history," said Dan Smith, SIPRI Director.
"It is imperative that the world's governments find ways to cooperate in order to calm geopolitical tensions, slow arms races and deal with the worsening consequences of environmental breakdown and rising world hunger."
Russia and the United States together possess almost 90% of all nuclear weapons, but the think tank said the sizes of their respective arsenals appeared to have remained relatively stable in 2022.
Overall, the number of nuclear warheads in the world continued to decline, primarily due to the USA and Russia dismantling retired warheads.
In a separate report published on Monday, the Geneva-based International Campaign to Abolish Nuclear Weapons (ICAN) said the world's nine nuclear countries spent a combined $82.9 billion on modernising and expanding their arsenals last year.
ICAN's report said the United States spent $43.7 billion, more than all of the other nuclear-armed states combined.
China and Russia were the second- and third-biggest spenders on nuclear weapons, with $11.7 billion and $9.6 billion in expenditures, respectively.
(Reporting by Johan Ahlander in Stockholm; additional reporting by Gabrielle Tétrault-Farber in Geneva; editing by Philippa Fletcher)
MORE FROM THE
OAF NATION NEWSROOM