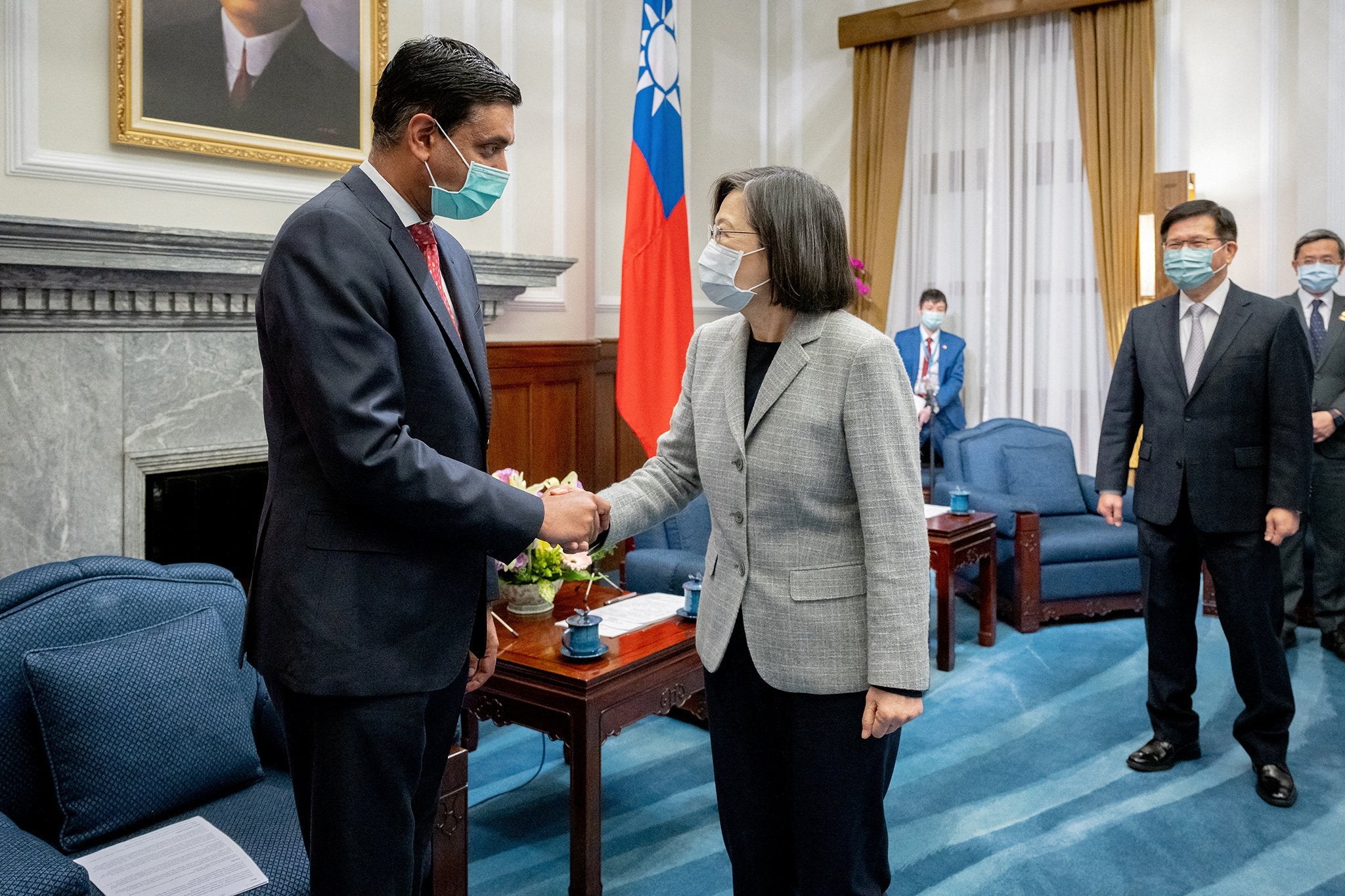 Taiwan bolstering military ties with US more, President Tsai says
TAIPEI (Reuters) - Taiwan is bolstering its military ties with the United States and will cooperate even more closely with it and other friendly nations to deal with "authoritarian expansionism", President Tsai Ing-wen told visiting U.S. lawmakers on Tuesday.
The United States, like most countries, has no formal diplomatic ties with Chinese-claimed Taiwan but is the island's most important international backer and arms supplier, a consistent source of friction in Sino-U.S. relations.
While the United States no longer maintains military bases in Taiwan, the two have a good military relationship that has become closer as China steps up pressure to try and force Taiwan to accept Chinese sovereignty.
"Taiwan and the United States continue to bolster military exchanges, and going forward Taiwan will cooperate even more actively with the United States and other democratic partners to confront such global challenges as authoritarian expansionism and climate change," Tsai told the lawmakers at her office in Taipei.
She gave no details.
Illustrating those close military ties with the United States, U.S. Deputy Assistant Secretary of Defense for China Michael Chase, arrived in Taiwan last week for a visit, two sources familiar with matter said earlier. It was not clear if he was still in Taiwan.
Ro Khanna, a member of the U.S. House China Select Committee and who is leading the U.S. bipartisan delegation, told Tsai the group was there to strengthen both security and economic ties.
"We come here to strengthen the economic relationship. Representing Silicon Valley I particularly appreciated the meeting with Dr Morris Chang," he said, referring to the founder of Taiwan Semiconductor Manufacturing Co Ltd, the world's largest contract chipmaker.
"How we can continue to build the economic partnership on technology and also of course the partnership on military and defence," Khanna added.
In August, China staged military exercises near Taiwan to express anger at then-U.S. House Speaker Nancy Pelosi's visit to Taipei.
Taiwan's democratically elected government rejects China's sovereignty claims and says only the Taiwanese people can decide their future.
(Reporting by Sarah Wu; Writing by Ben Blanchard; Editing by Robert Birsel)
MORE FROM THE
OAF NATION NEWSROOM