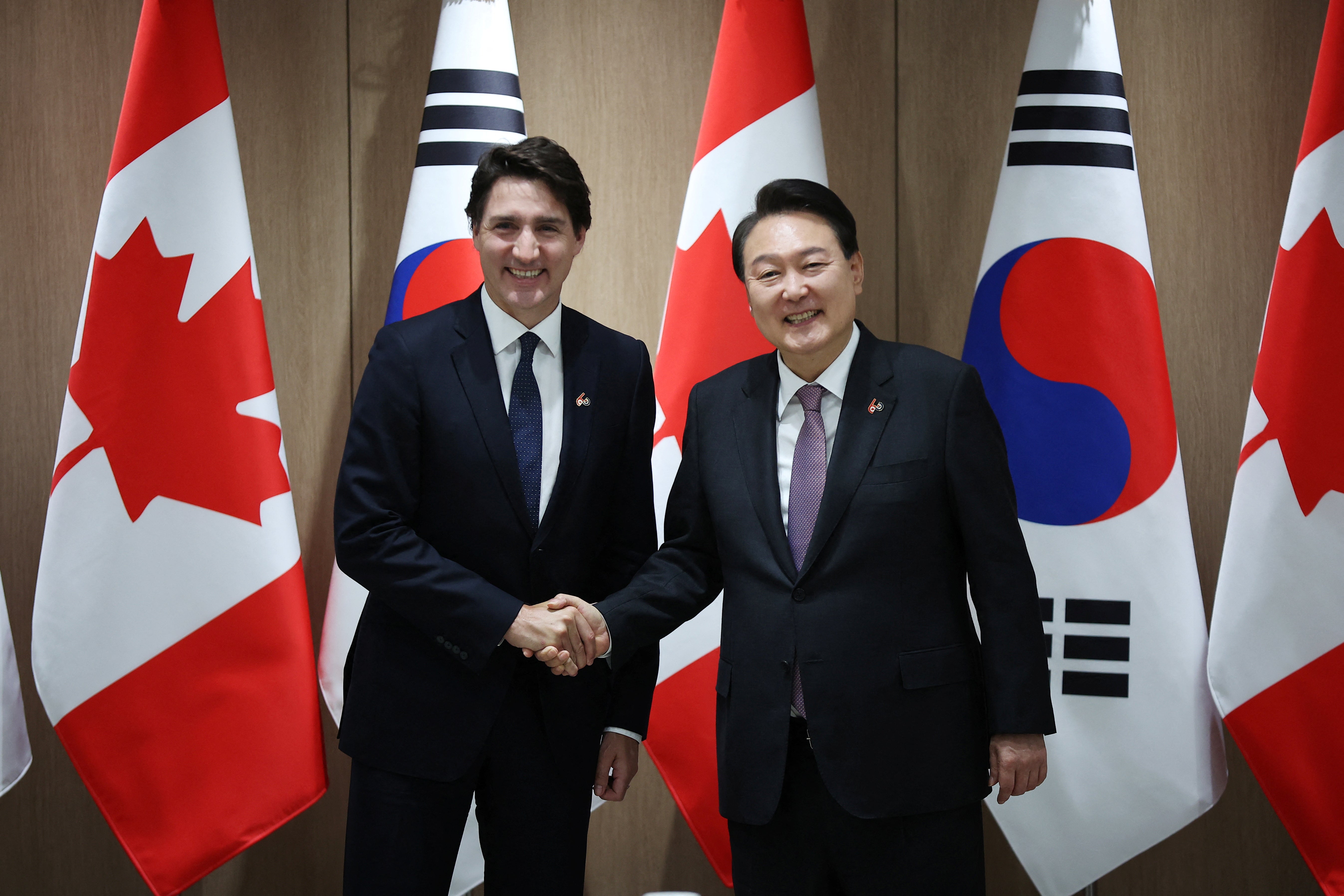 South Korea, Canada agree to step up cooperation on critical minerals, security
Canada's Prime Minister Justin Trudeau shakes hands with South Korea's President Yoon Suk Yeol during their meeting at the Presidential Office in Seoul, South Korea, May 17, 2023. REUTERS/Kim Hong-Ji/Pool
SEOUL (Reuters) - South Korean President Yoon Suk Yeol and Canadian Prime Minister Justin Trudeau agreed on Wednesday to enhance cooperation on critical minerals and continue joint efforts to fend off North Korea's nuclear and missile threats.
Trudeau arrived in Seoul on Tuesday in the first visit in nine years by a Canadian leader as the two countries explore ways to expand security ties, while navigating a rivalry between the United States and China.
After a summit, the leaders signed a memorandum of understanding on critical mineral supply chains, the clean energy transition and energy security, which they said would help position the countries as "globally competitive players in areas including batteries and zero-emission vehicles."
"This will support the development of clean technologies that will power green and sustainable economic growth," they said in a joint statement issued after their meeting. 
Canada has many of the critical minerals - like lithium, cobalt and nickel - that are now used to make batteries for electric vehicles (EVs), and the government is in the process of seeking to help producers and processors scale up production.
The agreement to further cooperate on clean energy minerals will help South Korea diversify sourcing of minerals and better cope with the U.S. inflation reduction act (IRA), the South Korean industry ministry said in a separate statement.
The IRA requires 40% of the value of EV battery components to be sourced from the United States or a free trade partner like Canada for a $3,750 credit for electric vehicles.
China currently dominates the market for critical minerals for electric vehicle batteries, central to developed nation goals to decarbonise, and Russia is also a major player.
In the joint statement, the two countries, which mark the 60th anniversary of bilateral relations this year, also condemned North Korea's ballistic missile and nuclear programmes and urged Pyongyang to return to dialogue.
Addressing South Korea's parliament earlier, Trudeau said Canada was committed to increasing military engagement to mitigate threats to regional security.
"Canada is committed to increase not just our trade, but also our military engagement as a means of mitigating threats to regional security," Trudeau said, adding that the stability in the Indo-Pacific and North Pacific is essential to global security.
"We will continue to call on North Korea to return to dialogue and diplomacy," he said, vowing support for efforts to build "a denuclearised, peaceful and prosperous Korean Peninsula."
(This story has been refiled to remove extraneous text at the top)
(Reporting by Hyonhee Shin, Ju-min Park and Soo-hyang Choi; Writing by Ed Davies and Hyonhee Shin; Editing by Tom Hogue, Michael Perry and Chizu Nomiyama)
MORE FROM THE
OAF NATION NEWSROOM