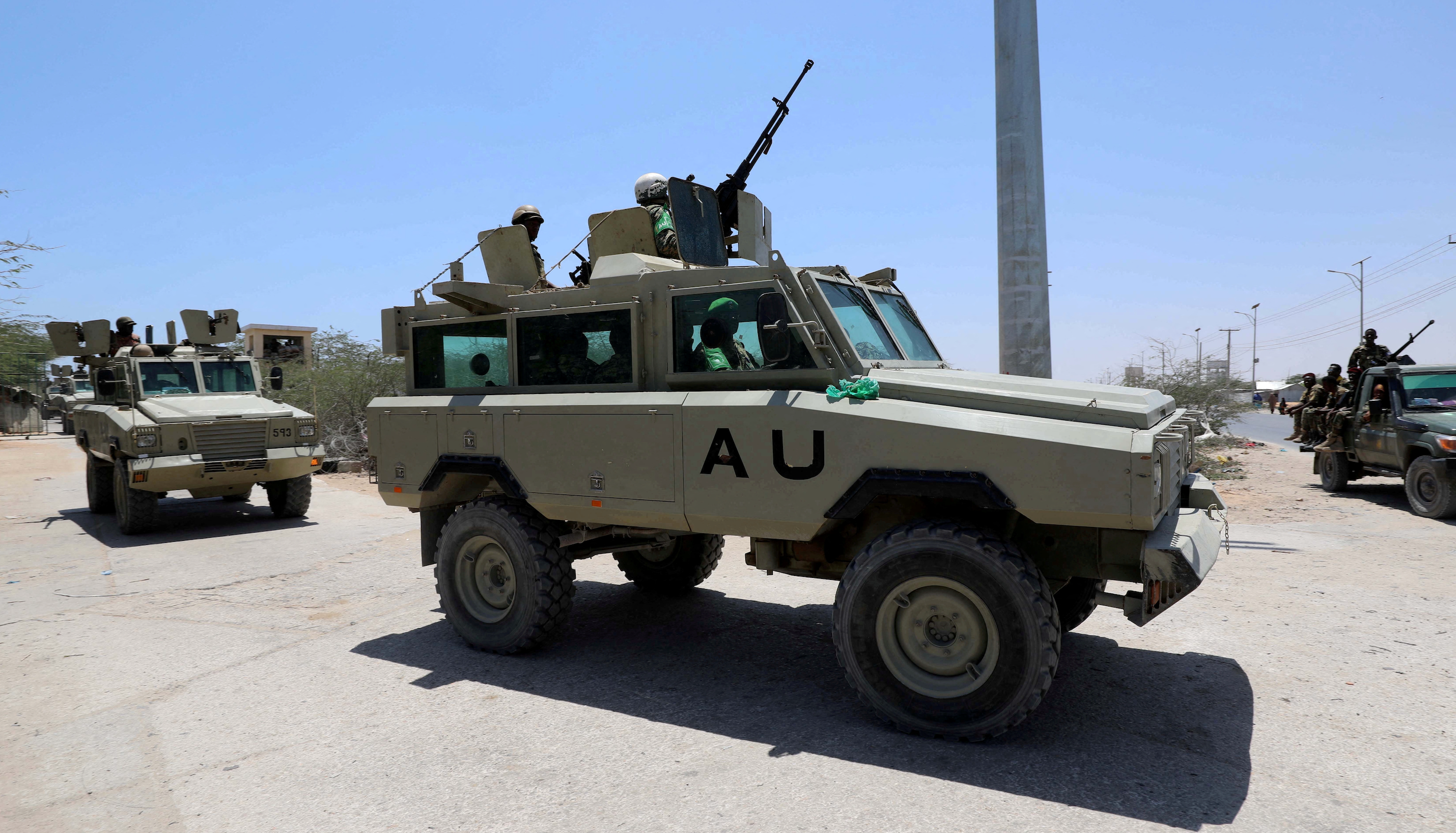 Somalia asks UN to delay peacekeeper drawdown after "significant setbacks" in fighting Islamists
PHOTO CAPTION: Representational photo — Burundian African Union peacekeepers in Somalia travel in armoured vehicle as they leave the Jaale Siad Military academy after being replaced by the Somali military in Mogadishu, Somalia. February 28, 2019. REUTERS/Feisal Omar
By Michelle Nichols

UNITED NATIONS (Reuters) - Somalia has asked the United Nations to pause a planned drawdown of 3,000 African Union peacekeepers for three months to allow its security forces time to regroup after a militant attack forced them to withdraw from several recently captured towns.

The African Union Transition Mission in Somalia (ATMIS), which is mandated by the U.N. Security Council, took over from another AU mission in April last year.

On June 30 ATMIS concluded the first phase of the drawdown of 2,000 troops and was due to enact a second troop withdrawal by Sept. 30, reducing its military personnel to 14,626.

In a Sept. 19 letter to the U.N. Security Council seen by Reuters, National Security Adviser Hussein Sheikh Ali said the government's year-long campaign to liberate areas from al Shabaab militants in the central regions of the country had suffered "several significant setbacks" in recent weeks.

Ali said an attack by the Islamist militants on Aug. 26 in Cosweyn in Galgaduud region had triggered the retreat of government forces from several newly captured towns.


Somalia's government has not provided a death toll for the attack, but one former official, citing military officers in Cosweyn, said as many as 130 soldiers may have been killed.

"This unforeseen turn of events has stretched our military forces thin, exposed vulnerabilities in our front lines, and necessitated a thorough reorganization to ensure we maintain our momentum in countering the al Shabaab threat," Ali wrote.

"Our forces require a period of respite for recuperation while we continue our advance."

Somalia's information and interior ministers did not respond to requests for comment.

Al Shabaab has killed tens of thousands since 2006 in its fight to overthrow Somalia's Western-backed central government and implement its interpretation of Islamic law.

ATMIS is due to fully withdraw and hand over security responsibilities to the Somali state by the end of 2024. Somalia remains committed to that date, Ali wrote.



(Reporting by Michelle Nichols; Writing by Hereward Holland; Editing by Aaron Ross and Howard Goller)
MORE FROM THE
OAF NATION NEWSROOM