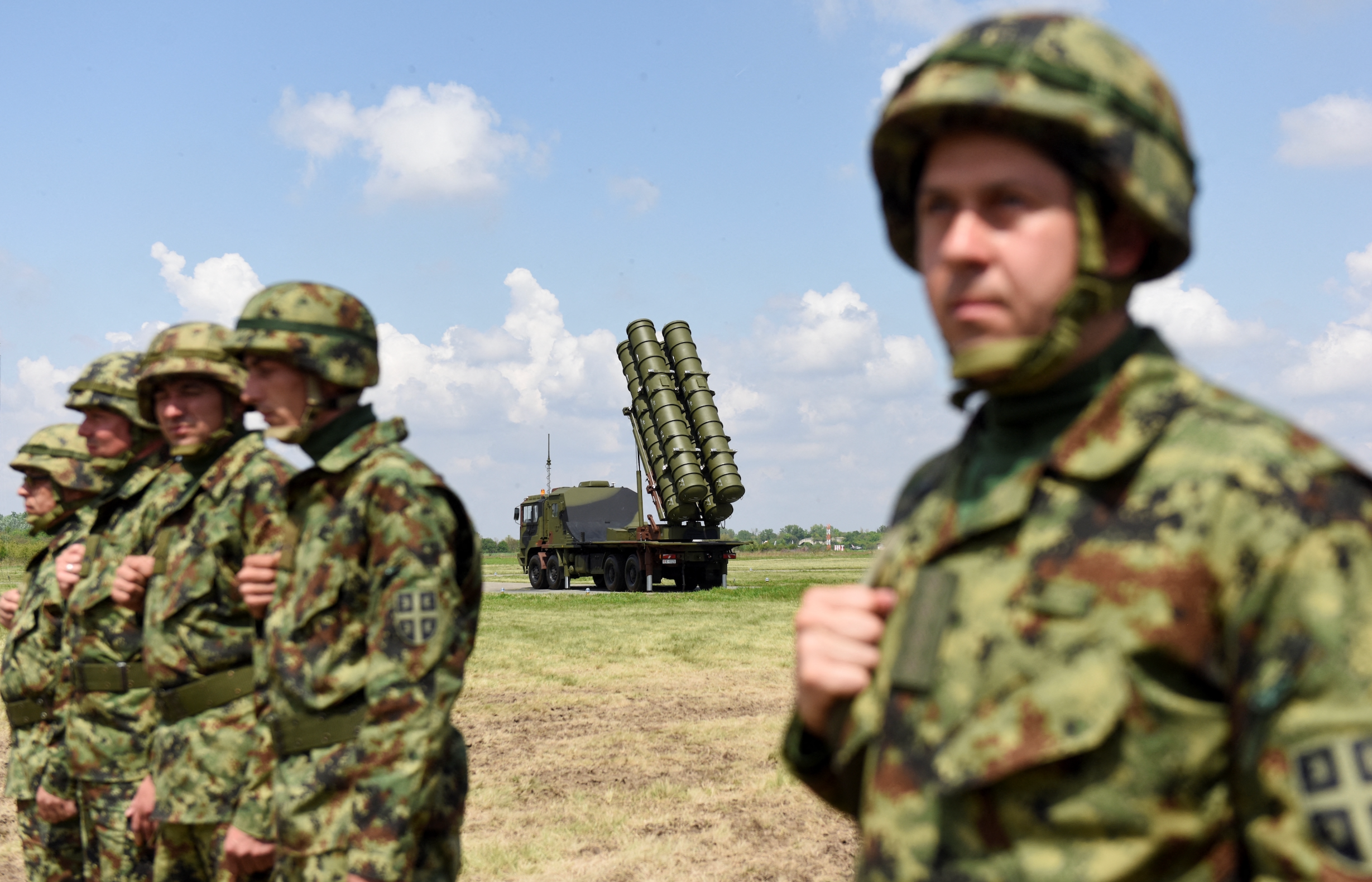 Serbia orders army to Kosovo border after protest clashes
PHOTO CAPTION: Serbian Army soldiers stand near the Chinese medium-range missile system FK-3 at the military airport "Colonel-pilot Milenko Pavlovic" in Batajnica, near Belgrade, Serbia, April 30, 2022. REUTERS/Zorana Jevtic
By Fatos Bytyci
ZVECAN, Kosovo (Reuters) - Serbian President Aleksandar Vucic placed the country's army on full combat alert and ordered its units to move closer to the border with Kosovo on Friday, after protesters and police clashed in a majority Serb town in Kosovo.
"An urgent movement (of troops) to the Kosovo border has been ordered," defence minister Milos Vucevic said in a live TV broadcast. "It is clear that the terror against the Serb community in Kosovo is happening," he said.
Police and protesters clashed in the town of Zvecan in Kosovo after a crowd gathered in front of the municipality building, trying to prevent a newly-elected ethnic Albanian mayor from entering his office. Police fired teargas to disperse protestors.
A police car was later set ablaze, a Reuters reporters said.
The protests follow widely-boycotted local elections.
Some 50,000 Serbs living in four north Kosovo municipalities, including Zvecan, shunned the April 23 vote in protest that their demands for more autonomy had not been met - a new setback for a March peace deal between Kosovo and Serbia.
The election turnout was 3.47% and local Serbs said they would not work with the new mayors in the four municipalities - all from ethnic Albanian parties - because they do not represent them.
Earlier, police in Pristina issued a statement saying that they were assisting the newly-elected mayors so they could enter municipal offices in the four northern municipalities.
The mayor in Zvecan was successfully escorted into his office, a Reuters reporters heard on a police radio.
Serbs in Kosovo's northern region do not accept Kosovo's 2008 declaration of independence from Serbia, almost a decade after the end of a war there, and still see Belgrade as their capital.
Ethnic Albanians form more than 90% of the population in Kosovo, with Serbs only the majority in the northern region.
The Western-backed plan verbally agreed to by the Kosovo and Serbian governments in March aimed to defuse tensions by granting local Serbs more autonomy, with the government in Pristina retaining ultimate authority.
(Reporting by Reuters TV, Fatos Bytyci, Aleksandar Vasovic and Ivana Sekularac; Editing by Frank Jack Daniel)
MORE FROM THE
OAF NATION NEWSROOM