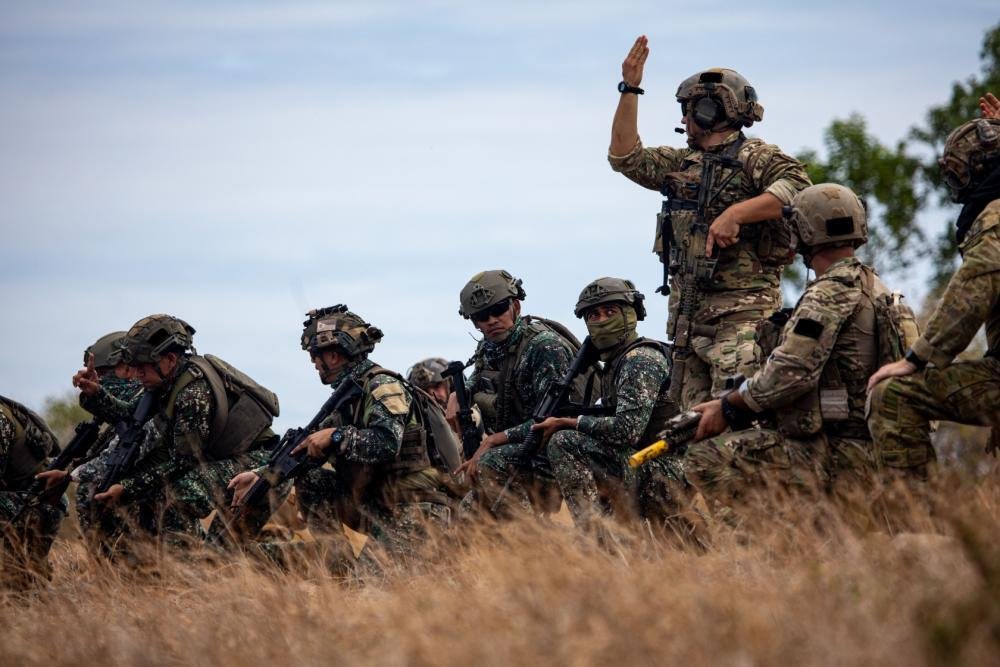 SECDEF's Manila visit to bring deal on expanded base access, Philippine official says
WASHINGTON/MANILA (Reuters) - U.S. Defense Secretary Lloyd Austin's visit to the Philippines this week is expected to bring an announcement of expanded U.S. access to military bases in the country, a senior Philippines official said on Wednesday.
Washington is eager to extend its security options in the Philippines as part of efforts to deter any move by China against self-ruled Taiwan, while Manila wants to bolster defense of its territorial claims in the disputed South China Sea.
Austin arrived in Manila on Tuesday night, and will meet his Philippine counterpart and other officials on Thursday "to build on our strong bilateral relationship, discuss a range of security initiatives, and advance our shared vision of a free and open Pacific," he said on Twitter.
On Wednesday morning, Austin visited U.S. troops stationed at a Philippine military camp in the southern city of Zamboanga, according to Roy Galido, commander of the Western Mindanao Command.
"Our working relationship to them is very strong," Galido told reporters, adding that U.S. troops help in counter terrorism, and humanitarian and disaster response missions.
U.S. officials have said Washington hopes for an access agreement during Austin's visit, which began on Tuesday, and that Washington has proposed additional sites under an Enhanced Defense Cooperation Agreement (EDCA) dating back to 2014.
"There's a push for another four or five of these EDCA sites," the a senior Philippines official said. "We are going to have definitely an announcement of some sort. I just don't know how many would be the final outcome of that."
The official declined to be named because of the sensitivity of the matter.
Manila and Washington have a mutual defense treaty and have been discussing U.S. access to four additional bases on the northern land mass of Luzon, the closest part of the Philippines to Taiwan, as well as another on the island of Palawan, facing the disputed Spratly Islands in the South China Sea. 
EDCA allows U.S. access to Philippine bases for joint training, pre-positioning of equipment and building of facilities such as runways, fuel storage and military housing, but not a permanent presence. The U.S. military already has access to five such sites.
The Philippines official said increased U.S. access needed to benefit both countries.
"We don't want it to be directed to just for the use of the United States purely for their defense capabilities ... it has to be mutually beneficial," he said.
"And obviously, we want to make sure that no country will see ... anything that we're doing ... was directed towards any conflict or anything of that sort," he added.
Manila's priorities in its agreements with Washington were to boost its defense capabilities and interoperability with U.S. forces and to improve its ability to cope with climate change and natural disasters, the official said.
He said that after cancelling an agreement for the purchase of heavy-lift helicopters from Russia last year, Manila had reached a deal with Washington to upgrade "a couple" of Blackhawk helicopters that could be used for disaster relief.
"The deal with Russia was very attractive because for a certain budget we were able to get something like 16 of these heavy-lift helicopters," the official said. "Now with the United States, obviously their helicopters are more expensive, so we're looking at how we can fit in the budget that we've had."
Gregory Poling, a Southeast Asia expert at Washington's Center for Strategic and International Studies think tank, said access to sites in northern Luzon would help U.S. efforts to deter any Chinese move against Taiwan by putting the waters to the south of the island within range of shore-based missiles.
He said the U.S. and Philippine marines were pursuing similar capabilities with ground-based rockets, with Manila's particular interest being to protect its South China Sea claims.
The Philippines is among several countries at odds with China in the South China Sea and has been angered by the constant presence of vessels in its exclusive economic zone it says are manned by Chinese militia. China is also Manila's main trading partner.
(Reporting by David Brunnstrom; additional reporting by Idrees Ali in Washington and Neil Jerome Morales and Karen Lema in Manila; Editing by Gerry Doyle)
MORE FROM THE
OAF NATION NEWSROOM