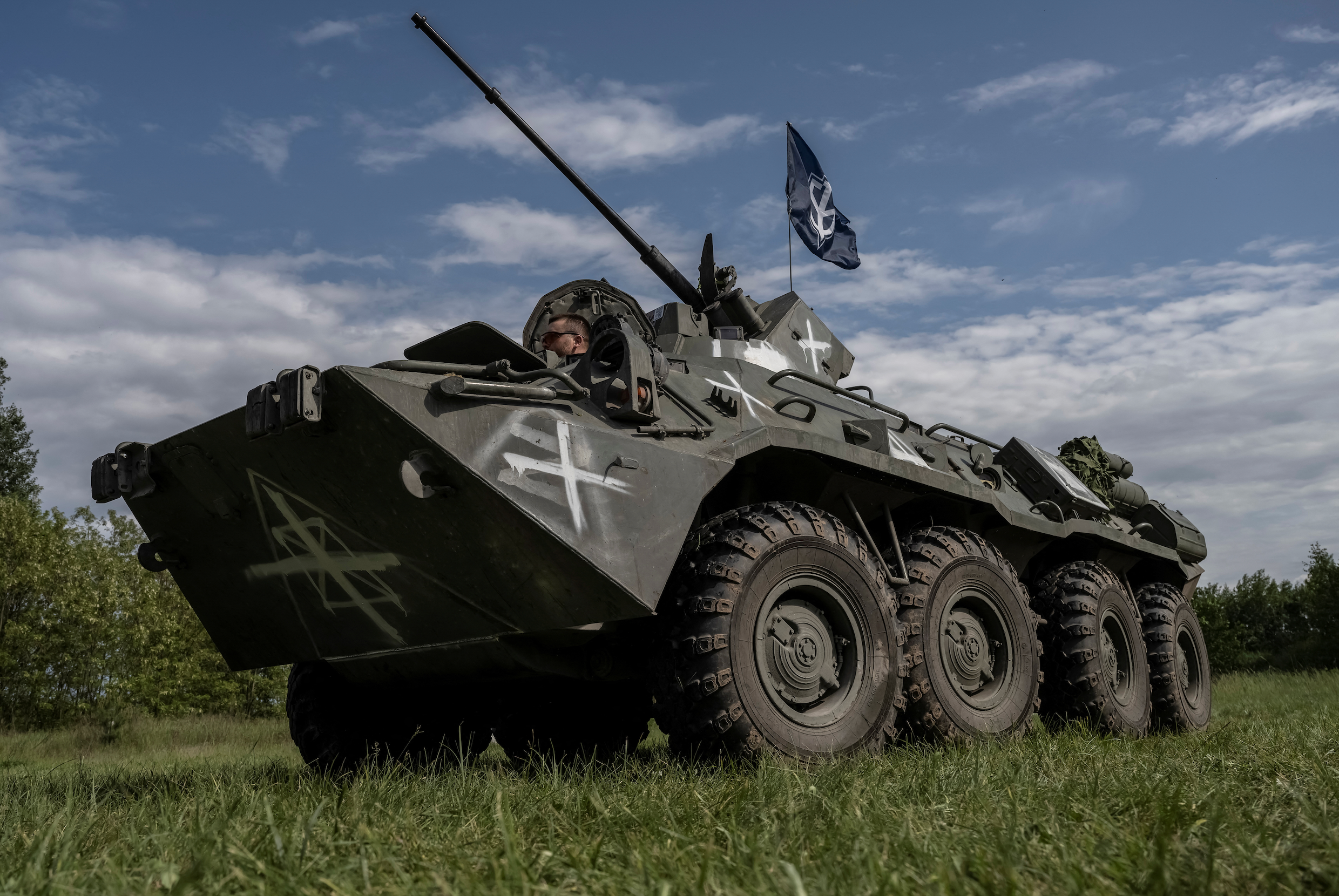 Russian politicians call for self-defense units after Belgorod incursion
PHOTO CAPTION: Members of the Russian Volunteer Corps are seen, amid Russia's attack on Ukraine, near the Russian border, in Ukraine May 24, 2023. REUTERS/Viacheslav Ratynskyi
By Andrew Osborn
(Reuters) - A cross-border raid into Russia from Ukraine this week has fuelled calls for Moscow to allow local self-defence units to be armed, with one influential lawmaker suggesting a new military border command structure be set up.
The raid on Belgorod region by Ukraine-based ethnic Russian fighters who oppose the Kremlin, apparently equipped with U.S.-made military vehicles, spanned two days, forcing Moscow to call in air and artillery strikes to drive the raiders out.
The attack, in which Russia said at least one civilian was killed, has prompted debate about what Moscow, which invaded Ukraine 15 months ago in what it called a "special military operation" - can do to better protect its own border.
Ukraine-based fighters made a similar armed incursion into another border region - Bryansk - in March, and Ukraine, which has long promised a powerful counter-offensive to drive Russian forces from its own territory, appears to have been ramping up drone and sabotage attacks against targets inside Russia.
After this week's attack, the governors of two regions which border Ukraine - Belgorod and Kursk - said they favoured changing the law to allow local volunteer self-defence units to be armed when necessary.
Vyacheslav Gladkov, the governor of Belgorod, said he and others were working to try to change the law.
"We have them (local self-defence units). We have nearly 3,000 people in seven battalions along the border," said Gladkov.
But although he said they were combat-ready and had been in training since November last year, he said they remained unarmed because it was illegal to give them weapons under current Russian law.
"We're now searching for a legal basis...(for them) to be able to push back the enemy if necessary for those who are trained, able and professional," he said. "I think it would be the right decision."
Arming such forces could save the defence ministry from being forced to divert some of the troops it needs on the front line to respond to similar raids in future.
Roman Starovoit, governor of the Kursk region which also borders Ukraine, said he favoured the idea too which has a powerful backer in the form of Andrei Turchak, first deputy speaker of the upper house of parliament.
Turchak told President Vladimir Putin in a Kremlin meeting last month the issue had to be resolved.
"The legal status of these formations is now extremely restricted, and most importantly they do not have the right to carry and use weapons. We propose that this anomaly be eliminated at the legislative level," Turchak told Putin, who took away a report with recommendations to study.
Colonel-General Andrei Kartapolov, an influential lawmaker who chairs the lower house of parliament's defence committee, believes bigger structural changes are needed to secure the border too.
He told the RBK news outlet that a unified headquarters that could coordinate and was in charge of all the military and security forces in Russia's border regions with Ukraine was now needed.
(Reporting by Andrew Osborn; Editing by Philippa Fletcher)
MORE FROM THE
OAF NATION NEWSROOM