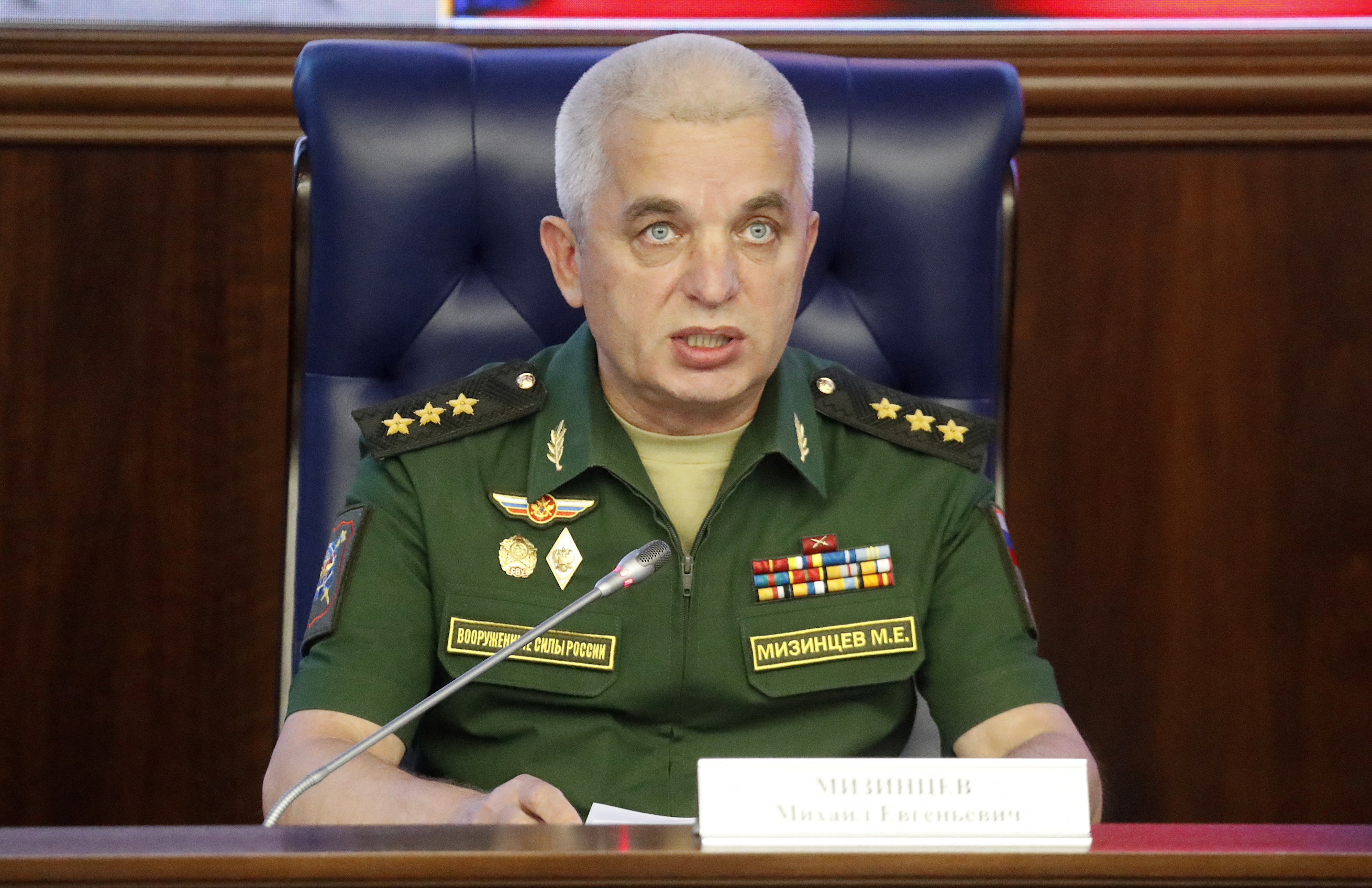 Russian ex-deputy defense minister joins Wagner as feud escalates, war bloggers say
Russian Colonel General Mikhail Mizintsev speaks during a session of the Joint Coordination Center of the Defense and Foreign Ministries of Russia in Moscow, Russia July 25, 2018. REUTERS/Sergei Karpukhin/File Photo
By Felix Light
(Reuters) - Former Russian deputy defence minister Colonel General Mikhail Mizintsev has joined the Wagner Group private militia as a deputy commander, Russian pro-war social media channels reported on Thursday.
In two videos posted by war correspondent Alexander Simonov on Telegram, Mizintsev - clad in Wagner-branded combat gear - was shown visiting a training camp and touring Russian positions in the east Ukrainian town of Bakhmut.
The footage coincided with the release of two video statements by Wagner founder Yevgeny Prigozhin, who furiously renewed long-standing accusations that the defence establishment was starving his forces of ammunition from jealousy of their success.
While Prigozhin has regularly accused the mainstream military including Defence Minister Sergei Shoigu of incompetence, he has singled out individual commanders for praise.
On April 29, the day after Mizintsev's reported sacking from the Defence Ministry, Prigozhin's press service said he had offered to hire the general.
Mizintsev, who orchestrated the siege of the Ukrainian city of Mariupol in the early months of the war last year, had only been made deputy defence minister in charge of logistics and supplies last September.
Grey Zone, a heavily followed Telegram channel affiliated with Wagner, wrote that Mizintsev had become "not the first and obviously not the last general who was out of place amid the bureaucracy and sycophancy".
The European Union imposed sanctions on Mizintsev in June, calling him the "Butcher of Mariupol" for his role in the siege, which devastated the city.
In a video statement, Prigozhin praised Mizintsev but did not confirm that he had been hired. In response to a Reuters question, he said that in wartime, such matters were secret.
(Reporting by Reuters; Editing by Kevin Liffey)
MORE FROM THE
OAF NATION NEWSROOM