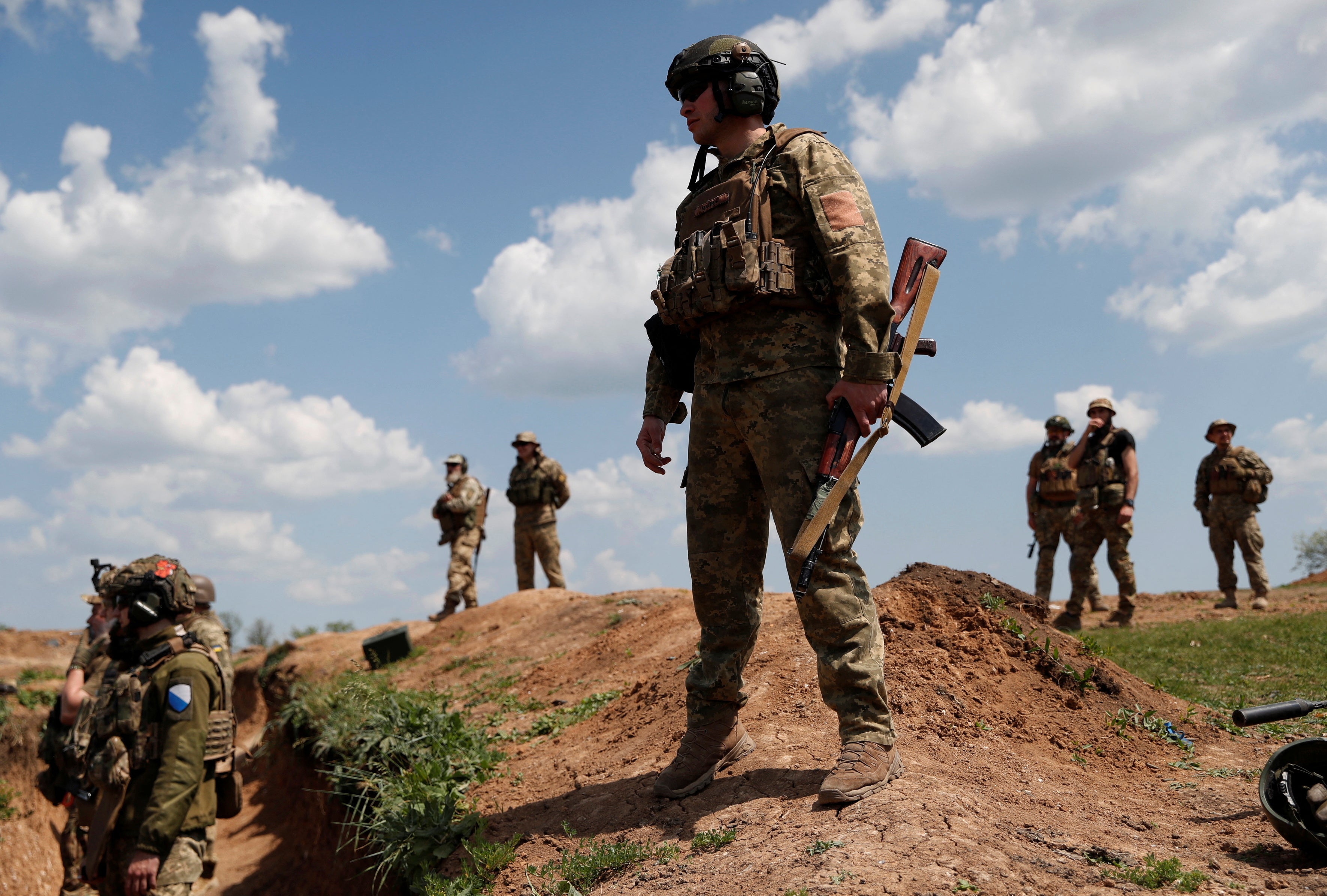 Russia tries signaling normalcy with election plans as Ukraine forces advance
PHOTO CAPTION: Ukrainian servicemen of the 128th territorial defence brigade attend a military training, amid Russia's attack on Ukraine, in Donetsk region, Ukraine, May 18, 2023. REUTERS/Bernadett Szabo
By Vitalii Hnidyi
SOUTHEASTERN UKRAINE (Reuters) - Russia announced plans on Thursday to stage elections in occupied parts of Ukraine in just three months, Moscow's latest bid to signal it is in control even as a Ukrainian counteroffensive has pushed its forces back in some areas.
The Ukrainian assault is in its early stages, and military experts say the decisive battles still lie ahead. But corpses of Russian soldiers and burnt-out armoured vehicles lining the roadside in villages newly recaptured by Ukrainian troops attested to Kyiv's biggest advances since last year.
"Our heroic people, our troops on... the front line are facing very tough resistance," Zelenskiy told NBC News in an interview in Kyiv. "Because for Russia to lose this campaign to Ukraine, I would say, actually means losing the war."
Zelenskiy said the news from the front lines was "generally positive but it's very difficult," according to a partial transcript of the interview.
Continuing his campaign for military assistance, Zelenskiy urged the Swiss parliament in a video address to allow other states to re-export Swiss-made weapons to Ukraine, saying such a move by the neutral country would be vital.
Reuters reached the villages of Neskuchne and Storozheve over the past two days, providing the first independent confirmation of the Ukrainian advance several kilometres southwards along the Mokry Yali river into territoryRussia had held since the early days of its invasion last year.
Several bodies of Russian soldiers lay in the streets of ruined and depopulated villages. Ukrainian troops in Storozheve told Reuters they had killed around 50 Russians and captured four there.
The Ukrainian military, which had maintained strict silence about the campaign for more than a week, came forward to tout the gains on Thursday, holding its first full media briefing since the counteroffensive began.
Troops had captured at least seven settlements and 100 square km (38 square miles) of territory in two major pushes in the south so far, Brigadier-General Oleksii Hromov said.
"We are ready to continue fighting to liberate our territory even with our bare hands," he said.
The army on the southern front had advanced by up to 7 km (4.4 miles) in the area along the Mokry Yali, as well as by up to 3 km (1.8 miles) on another axis further west near the village of Mala Tokmachka, Ukrainian military officials said.
They also described advances in the east around the ruined city of Bakhmut, which Moscow seized last month as its only major prize for a huge winter and spring offensive that saw the bloodiest ground combat in Europe since World War Two.
Russian President Vladimir Putin insisted this week that Moscow's goals in Ukraine remain unchanged. He claimed that Russian forces were inflicting 10 times more casualties on Ukrainians than they were enduring.
AFRICAN PLAN
African leaders whose countries have been hit hard by the fallout from the war, which has disrupted supplies of grain and other food supplies, aggravated food price inflation and worsened hunger crises, are set to mediate in the conflict.
Senegal's President Macky Sall and South African President Cyril Ramaphosa are heading a delegation including leaders from Zambia, the Comoros, and Egypt's prime minister that will travel to Kyiv on Friday and St. Petersburg on Saturday.
They could propose a series of "confidence building measures" during their initial efforts, according to a draft framework document seen by Reuters on Thursday.
Russia's announcement of a plan for elections in occupied territory was the latest effort by Moscow to convey that the situation was stable.
Russia's TASS state news agency quoted election chief Ella Pamfilova as saying that both the Defence Ministry and the Federal Security Service (FSB) had concluded that it would be possible to hold the votes in September.
Russia proclaimed its annexation of four Ukrainian provinces last year, although it does not fully control any of them and does not hold the main population centres of two.
Kyiv says any elections staged by Russians on Ukrainian territory would be invalid and illegal.
The big test of Ukraine's offensive still lies ahead. Russia has had months to prepare its defences. Ukrainian troops have yet to reach the heaviest Russian defensive fortifications, which are set back from the front line.
Kyiv is believed to have prepared an attack force of around 12 brigades of thousands of soldiers each, most using newly arrived Western armoured vehicles. Only a fraction of them have been engaged so far.
Russia, for its part, has released images of Western tanks and armoured vehicles it says it has destroyed or captured.
The head of the U.N. atomic energy agency, Rafael Grossi, visited the Russian-controlled Zaporizhzhia nuclear plant and said the situation at the site was "serious" but the level of cooling water was sufficient following last week's devastating breach in the Kakhovka dam downstream on the Dnipro River.
(Reporting by Vitalii Hnidyi in southeastern Ukraine, Pavel Polityuk in Kyiv, and Reuters bureaus; Writing by Peter Graff, Alexandra Hudson; Editing by Frances Kerry and Nick Macfie)
MORE FROM THE
OAF NATION NEWSROOM