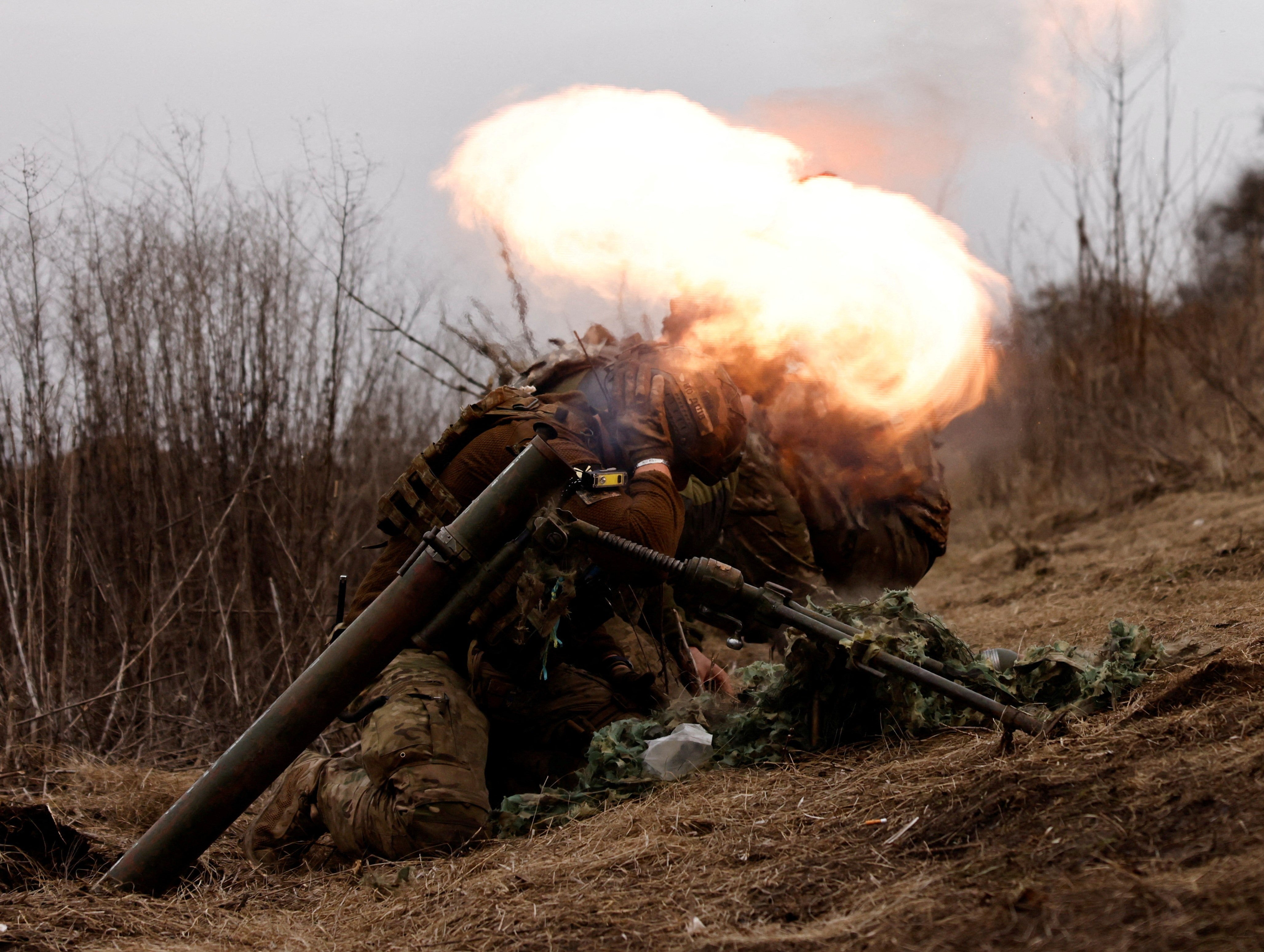 Russia's Wagner says army leaving Bakhmut flanks exposed amid reports of Ukrainian advance
Ukrainian soldiers of the Paratroopers' of 80th brigade fire a mortar at a frontline position near Bakhmut, amid Russia's attack on Ukraine, in Donetsk region, Ukraine March 16, 2023. REUTERS/Violeta Santos Moura
MOSCOW (Reuters) - Yevgeny Prigozhin, the chief of Russia's Wagner mercenary group, on Thursday accused regular Russian army units of pulling back 570 metres north of the eastern Ukrainian city of Bakhmut, leaving his own fighters' flanks exposed.
Reuters was unable to verify his assertion and there was no immediate comment from the defence ministry.
Wagner forces have been spearheading the assault on Bakhmut, one of the bloodiest and longest battles of the war, something Moscow calls "a special military operation," with some support from the regular army in recent months.
Prigozhin, who has repeatedly accused Russia's top military brass of not doing enough to back his men, asked the defence ministry to do all it could to protect Bakhmut's flanks after what he alleged was a withdrawal.
"Unfortunately, units of the Russian Defence Ministry have withdrawn up to 570 metres to the north of Bakhmut, exposing our flanks," Prigozhin said in a voice message.
"I am appealing to the top leadership of the Ministry of Defence - publicly - because my letters are not being read," Prigozhin said.
"Please do not give up the flanks," he said, addressing Russian Defence Minister Sergei Shoigu and Valery Gerasimov, chief of the General Staff.
Wagner says it has taken most of the shattered city - albeit at enormous human cost. But Ukraine says its forces have retaken territory around Bakhmut in recent days.
Moscow sees Bakhmut, a city of about 70,000 before the war, as a potential stepping stone towards capturing the rest of the eastern industrial Donbas region bordering Russia.
(Reporting by Reuters reporters; Writing by Caleb Davis; Editing by Andrew Osborn)
MORE FROM THE
OAF NATION NEWSROOM