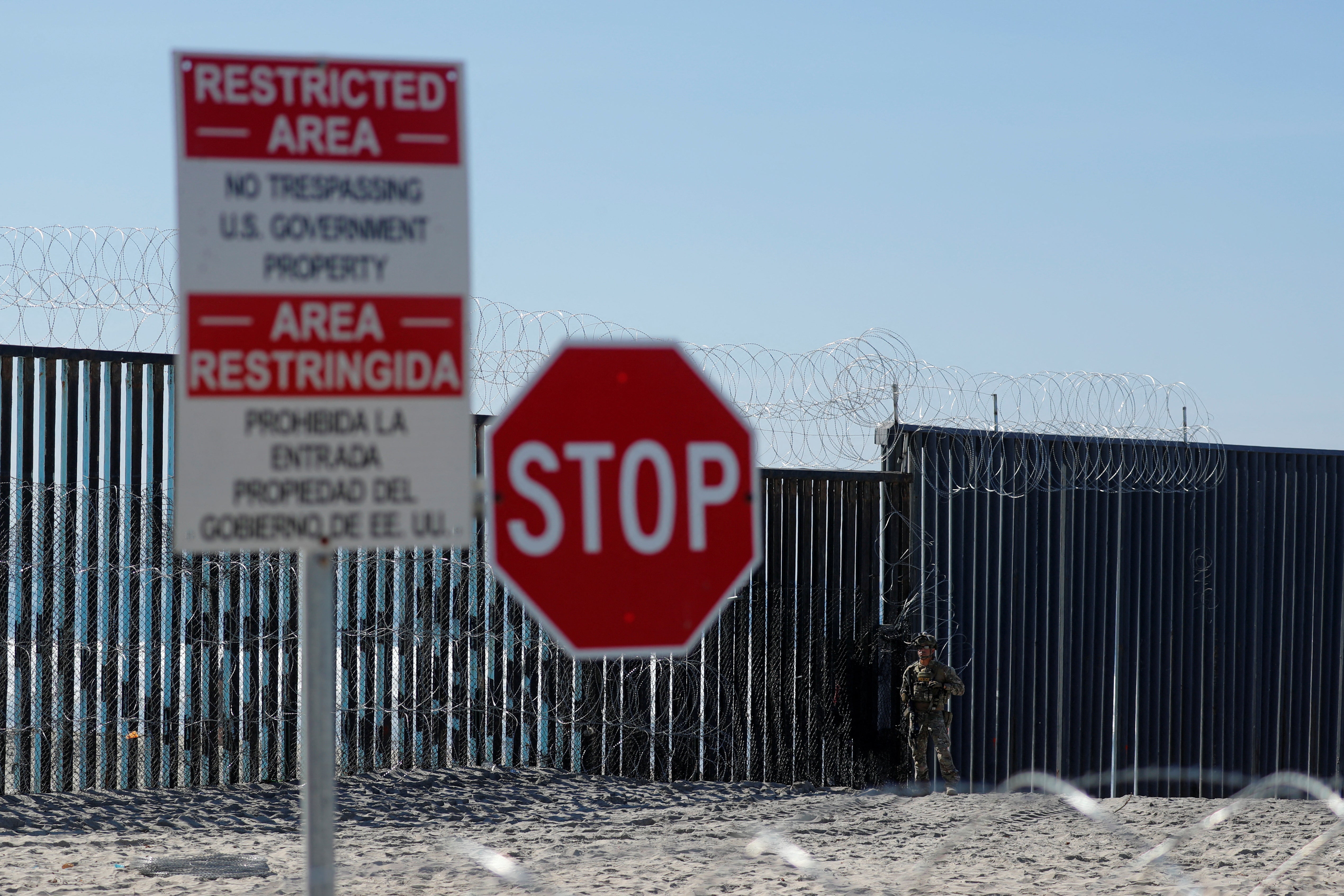 Republicans ready border control bill for US House passage
An armed U.S. Customs and Border Patrol agent stands watch at the border fence next the the beach in Tijuana, at the Border State Park in San Diego, California, U.S. November 16, 2018. REUTERS/Mike Blake/File Photo
WASHINGTON (Reuters) - The U.S. House of Representatives is poised to pass on Thursday Republican legislation intended to stop immigrants and illegal drugs crossing the nation's southwestern border with Mexico through tough new law enforcement steps.
The package, which Democrats have warned will be blocked in the Senate, would require asylum seekers to apply for U.S. protection outside the country. It also would resume construction of a wall along the border and expand federal law enforcement efforts.
While the bill is not expected to get to President Joe Biden's desk for signing into law, there are hopes in the Senate that it will spark negotiations for a bipartisan, comprehensive border security and immigration reform measure in coming months.
Debate on the House legislation was scheduled in anticipation of the Thursday midnight expiration of the "Title 42" immigration restriction that began under former President Donald Trump in 2020 at the start of the COVID-19 pandemic. It has allowed U.S. authorities to expel migrants to Mexico without the chance to seek asylum, citing health concerns.
On Wednesday, House Republican leaders had to delay debate on their bill while scurrying to nail down enough votes for passage.
At the last minute, provisions for the U.S. agriculture industry to comply with "E-Verify" requirements to confirm U.S. employment eligibility were scaled back because some lawmakers thought they would make hiring immigrant farm workers too cumbersome.
Republican Representative Chip Roy argued the legislation will close loopholes in U.S. asylum and immigrant detention procedures by requiring the Department of Homeland Security to "detain, remove or place in a secure third country" those seeking asylum while awaiting a decision from immigration authorities.
Democratic Representative Mary Gay Scanlon countered that it "does nothing more than sow chaos, anger and fear about this important humanitarian system" and "puts the blame on our broken immigration system on the backs of those fleeing violence" in their home countries.
Democrats want to couple different border security measures with legislation to broadly reform immigration laws, including providing pathways to citizenship for some unauthorized immigrants living in the United States.
The House voted 215-209 on Wednesday night to clear the bill for a separate vote on passage on Thursday, with no Democrats supporting the move.
(Reporting by Richard Cowan; Editing by Cynthia Osterman)
MORE FROM THE
OAF NATION NEWSROOM