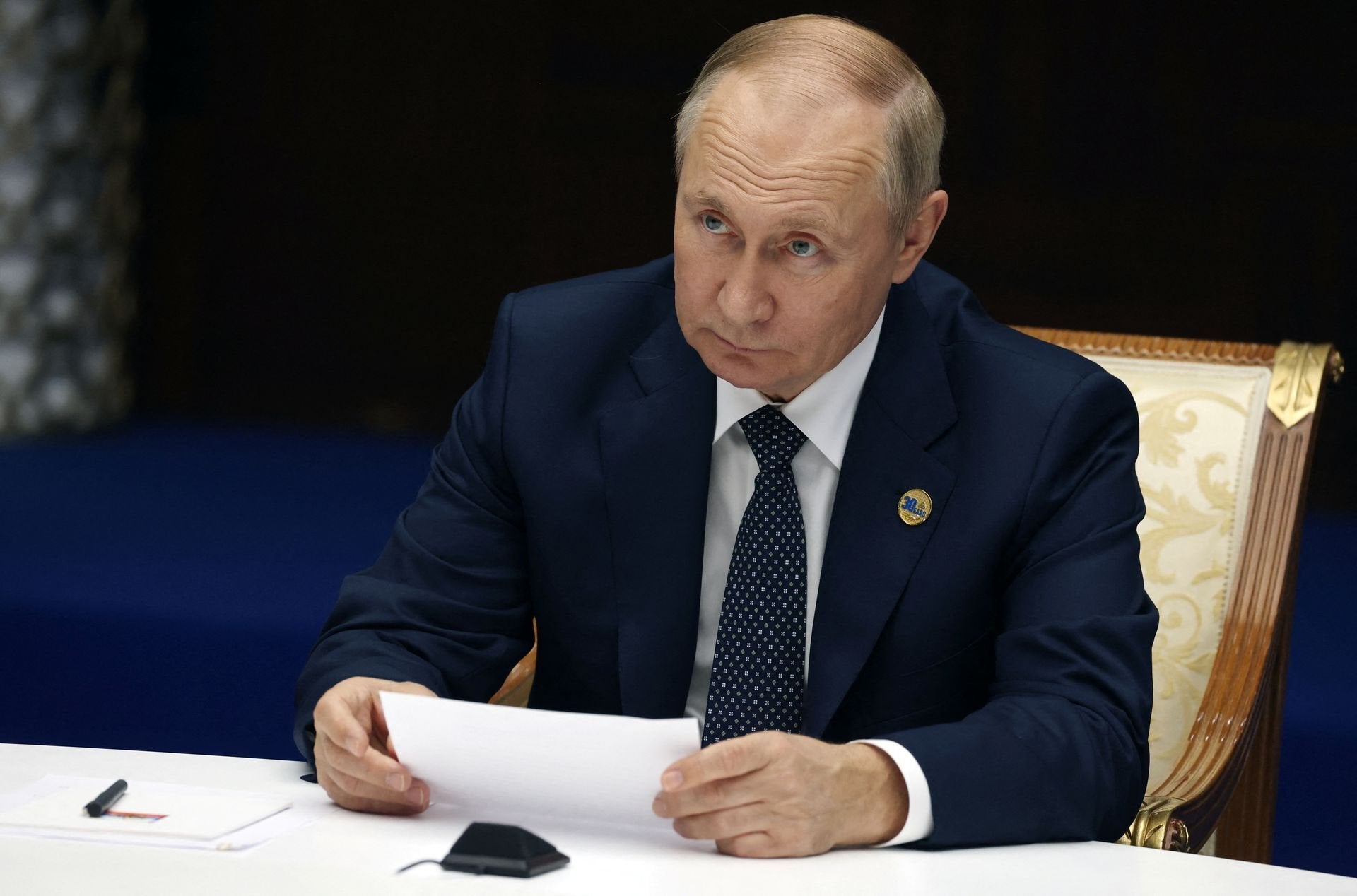 Putin suspends Russia's participation in last remaining nuclear treaty with US
MOSCOW (Reuters) -President Vladimir Putin said on Tuesday that Russia was suspending its participation in the New START treaty with the United States that limits the two sides' strategic nuclear arsenals.
Putin stressed that Russia was not withdrawing from the treaty but the suspension further imperils the last remaining pillar of arms control between the United States and Russia, which between them hold nearly 90% of the world's nuclear warheads - enough to destroy the planet many times over.
"In this regard, I am forced to announce today that Russia is suspending its participation in the strategic offensive arms treaty," Putin told lawmakers towards the end of a major speech to parliament, nearly one year into the war in Ukraine.
Putin said Russia's nuclear energy company Rosatom must also ensure the country's readiness to test a nuclear weapon, if needed.
"Of course, we will not be the first to do this. But if the United States tests, then we will," he said. "No one must be under any dangerous illusions that global strategic parity can be destroyed."
The New START treaty was signed in Prague in 2010, came into force the following year and was extended in 2021 for five more years just after U.S. President Joe Biden took office.
It caps the number of strategic nuclear warheads that the United States and Russia can deploy, and the deployment of land- and submarine-based missiles and bombers to deliver them.
Russia has the largest stockpile of nuclear weapons in the world, with close to 6,000 warheads, experts say.
INSPECTIONS
Analysts said Russia's move meant it would become more difficult to verify continued compliance with the treaty.
"Suspension of the treaty is not equal to leaving the treaty, I assume there will be no Russian build-up above the treaty limits," Andrey Baklitskiy of the U.N. Institute for Disarmament Research said on Twitter.
"But there will be much fewer opportunities to verify this (only national technical means), so compliance will be disputed," he added.
In his speech, Putin said, without providing evidence, that the West was directly involved in Ukrainian attacks on bases for Russian strategic bomber planes deep inside Russian territory.
He said NATO demands that Russia should allow inspections of its nuclear bases under the New START treaty were therefore absurd.
"The U.S. and NATO openly say that their goal is to inflict a strategic defeat on Russia. And what - after that, they are going to drive around our defence facilities, including the newest ones, as if nothing had happened?" Putin said.
"A week ago, I signed a decree on putting new ground-based strategic systems on combat duty. Are they going to stick their nose in there too, or what? And they think that everything is so simple? What are we going to let them in there just like that?"
Putin said NATO members France and Britain also had nuclear weapons aimed at Russia that should be taken into account.
(Reporting by Reuters, writing by Mark TrevelyanEditing by Gareth Jones)
MORE FROM THE
OAF NATION NEWSROOM