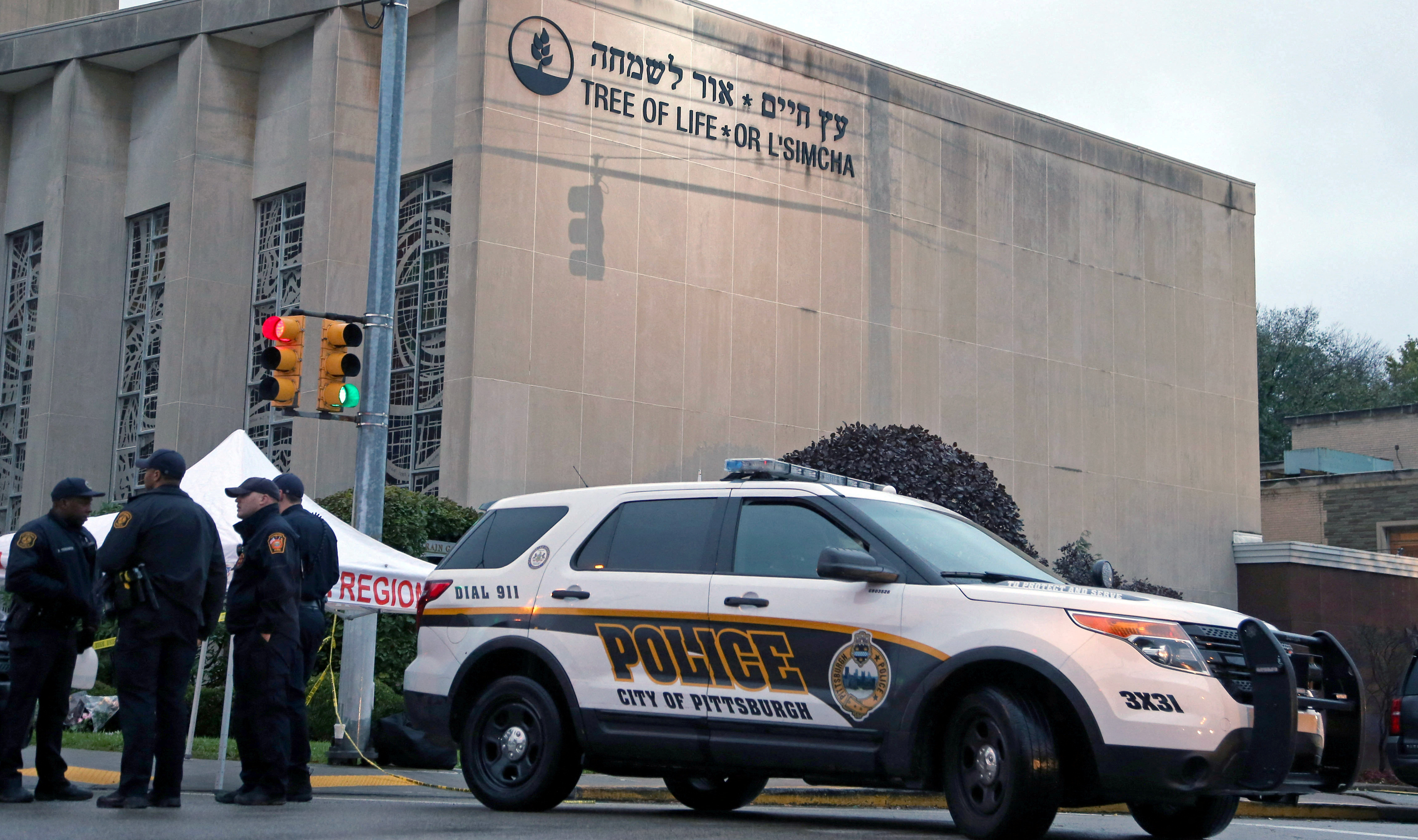 Pittsburgh synagogue shooter to be sentenced to death by judge
PHOTO CAPTION: Police officers guard the Tree of Life synagogue following the shooting, Pittsburgh, Pennsylvania, Oct. 28, 2018. REUTERS/Aaron Josefczyk
(Reuters) - A federal judge was due to formally sentence Robert Bowers to death on Thursday for killing 11 worshippers at Pittsburgh's Tree of Life synagogue in 2018, the deadliest antisemitic attack in U.S. history, the New York Times reported.

The sentencing hearing comes a day after a jury unanimously voted for the death penalty after finding Bowers guilty on 63 counts, including 11 counts of obstruction of free exercise of religious beliefs resulting in death.

Relatives of Bowers' victims are expected to address Judge Robert Colville during the hearing at the U.S. District Court in Pittsburgh in western Pennsylvania. The judge is required to hand down the sentence voted for by the jury.

During the trial, defense lawyers did not dispute that Bowers planned and carried out the attack on the synagogue during Sabbath morning services, in which he combed through the building shooting everyone he found with semiautomatic rifle and three pistols.

Bowers' lawyers unsuccessfully argued that he suffered from life-long mental illness and was delusional and so the jury should spare him from the death penalty and instead sentence him to life in prison without release.


The 12 jurors heard testimony from some of the survivors of the attack and were shown pictures of the carnage and evidence of Bowers' antisemitism, including multiple posts attacking Jews made on a far-right website in the months leading up to the attack.

It is not clear when, if ever, Bowers will be executed: the U.S. Department of Justice has instated a moratorium on carrying out federal executions while it reviews the death penalty, which Biden pledged to abolish when he was running for the presidency.

Bowers will join the 41 other men on federal death row, held in cells near the U.S. government's execution chamber in Terre Haute, Indiana.



(Reporting by Jonathan Allen in New York; Editing by Daniel Wallis)
MORE FROM THE
OAF NATION NEWSROOM