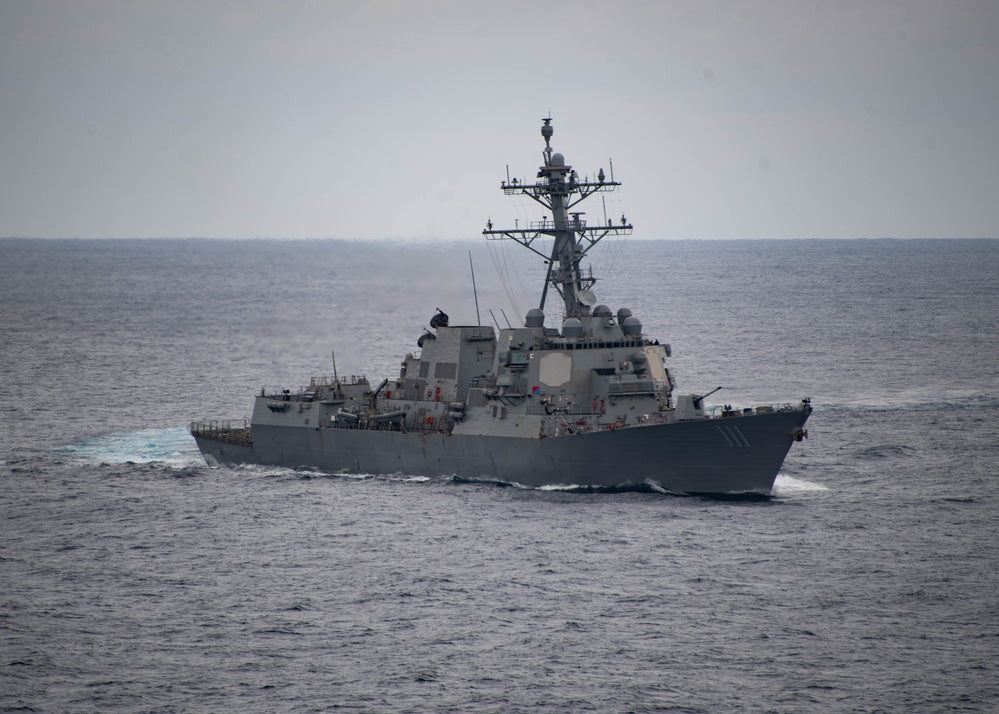 Palau seeks more US patrols of its waters after Chinese incursions
PHOTO CAPTION: Illustrative photo — The Arleigh Burke-class guided-missile destroyer USS Spruance (DDG 111) sails in formation in support of Noble Fusion, Feb. 7, 2022. (U.S. Navy photo by Mass Communication Specialist 2nd Class Wesley Richardson via U.S. Defense Visual Information Distribution Service)
By Sakura Murakami and John Geddie
TOKYO (Reuters) -The Pacific island nation of Palau has asked the United States to step up patrols of its waters after several incursions by Chinese vessels into its exclusive economic zone, President Surangel Whipps Jr. told Reuters in an interview.
Whipps Jr. said he would also welcome a bigger U.S. military presence in the country, with troops stationed alongside existing coastguard and civil action teams, as Washington and Beijing vie for influence in the strategic region.
"No matter what, we're going to be in the centre of whatever's happening, so it's important that we're protected," Whipps Jr. said during a visit to Tokyo on Wednesday, adding that "to get peace, you have to project strength".
The Pentagon did not immediately respond to a request for comment.
Asked about the incursions on Thursday, China's foreign ministry spokesperson Wang Wenbin said the vessels had taken shelter in the relevant waters and had not conducted any surveys or investigations. "Security cooperation between countries should not target third parties," he added.
Palau, a remote archipelago of coral and volcanic islands in the western Pacific home to just over 20,000 people, has a decades-old pact with Washington whereby the U.S. retains responsibility for its defence and provides economic assistance - a legacy that has its roots in World War Two.
The U.S. also has such pacts with the Pacific island states of Micronesia and the Marshall Islands, and struck a defence cooperation agreement with Papua New Guinea in May.
China has also been seeking to bolster its security presence in the Pacific, and last year penned a security pact with the Solomon Islands that alarmed the U.S., Australia and New Zealand.
REGIONAL FORUM PLEDGED TO TAKE UNITED POSITION
Palau identified Chinese vessels in its waters as recently as last month, when a ship appeared to be surveying an area near fibre optic cables vital to the country's communications, Whipps Jr. said.
He said he would raise the issue of the incursions at the regional Pacific Islands Forum leaders' meeting in November. The group has previously said it would take a united position on dealing with major powers, and last year rejected a push by China to sign a security and trade deal with 10 of its 18 members.
U.S. Defense Secretary Lloyd Austin praised "small island states" like Palau in a speech in Singapore earlier this month and, in a 2021 meeting with Whipps Jr., expressed deep appreciation for the U.S.-Palau partnership.
Palau has previously hosted U.S. military exercises and the U.S. plans to install over-the-horizon radar in the country by 2026.
During the multi-day trip to Japan, Whipps Jr. also visited the Fukushima Dai-ichi Nuclear Power Plant, which experienced a triple core meltdown from a tsunami triggered by a massive earthquake in 2011.
Japan is set to release a million tonnes of water starting this summer from the nuclear power plant into the Pacific Ocean. The water will have most of its radioactivity removed and be diluted to internationally approved levels but will still contain traces of tritium, an isotope that is difficult to separate from water.
The plan has been criticised by some local fishermen and neighbouring countries, including South Korea, China and some Pacific island nations.
But Whipps Jr. said he was not opposed to the plan and that he sensed regional resistance was also waning.
"We've made a decision that what they're doing is right and we should support them," he said.
(Reporting by Sakura Murakami and John Geddie; Editing by Michael Perry and Alex Richardson)
MORE FROM THE
OAF NATION NEWSROOM