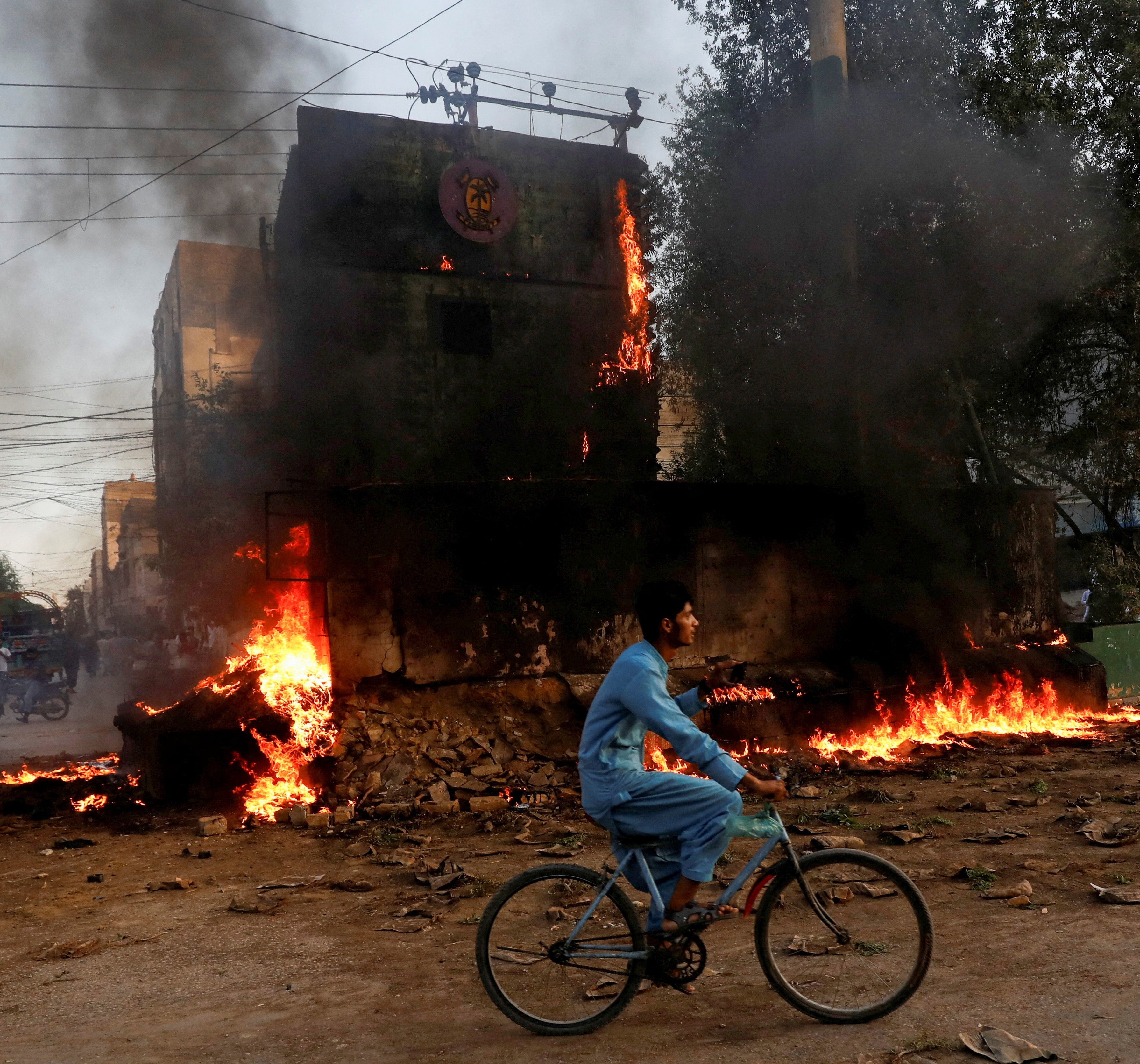 Pakistan court indicts ex-PM Imran Khan, Geo News reports
A boy rides past a paramilitary check post that was set afire by the supporters of Pakistan's former Prime Minister Imran Khan, during a protest against his arrest, in Karachi, Pakistan May 9, 2023. REUTERS/Akhtar Soomro
ISLAMABAD (Reuters) - A Pakistani court on Wednesday indicted former prime minister Imran Khan on charges of selling state gifts during his four years in power, a day after his arrest in an unrelated fraud case sparked unrest that killed at least five people.
The action against ex-cricket star Khan, 70, comes at a precarious time for the South Asian country of 220 million people as it grapples with a severe economic crisis and a delay to an International Monetary Fund bailout since November.
At least four people died in clashes in the northwestern city of Peshawar on Wednesday, a hospital official said, as Khan's supporters clashed with police across the country in response to his arrest by the anti-graft agency in a separate case related to land fraud. Another person died on Tuesday.
Khan's indictment followed a decision by the Election Commission of Pakistan in October, which found him guilty of illegally selling state gifts between 2018 and 2022 and barred him from holding public office until the next election due in November. He has denied any wrongdoing.
Mohsin Shahnawaz Ranjha, a lawmaker from Pakistan's ruling coalition who was a plaintiff in the case against Khan on state gifts, confirmed his indictment and said the former premier had put the "country's peace at stake".
Khan's colleagues in his Pakistan Tehreek-e-Insaf (PTI) party did not immediately respond to a request for comment on his indictment. His legal team has challenged his arrest in the Supreme Court.
Mobile data services were shut for a second day on Wednesday as street protests continued, with federal ministers accusing Khan's supporters of torching several buildings and vehicles.
Access to Twitter, YouTube and Facebook was disrupted and the army was called in to restore order in at least two of Pakistan four provinces - Punjab and Khyber Pakhtunkhwa - where Khan is most popular.
MORE THAN 1,000 ARRESTS
Police said they had arrested more than a thousand protesters for violence in Khan's home province of Punjab.
Khan, a cricket hero-turned-politician, was ousted as prime minister in April 2022 in a parliamentary no-confidence vote. He has not slowed his campaign against the ouster even though he was wounded in a November attack on his convoy as he led a protest march to Islamabad calling for snap general elections.
The corruption cases are two of more than 100 registered against Khan after he left office. In most of the cases, Khan faces being barred from holding public office if convicted.
He is now being held in a police guesthouse in the capital Islamabad. Broadcaster Geo News reported that he had been remanded in the custody of the anti-corruption agency for eight days.
Khan was arrested a day after the powerful military rebuked him for repeatedly accusing a senior military officer of trying to engineer his assassination and the former armed forces chief of being behind his removal from power last year.
The military has denied Khan's allegations.
"The nature and locus of the protests that broke out following Mr Khan's arrest yesterday signal that public anger is also directed at the military," the Dawn newspaper said in an editorial.
The armed forces remain Pakistan's most powerful institution, having ruled it directly for close to half its 75-year history through three coups. Despite its major influence it recently said it was no longer interfering in politics.
Amid the turmoil over his arrest, Pakistanis are reeling from the worst economic crisis in decades, with record high inflation and anaemic growth, and the nuclear-armed country faces possible default unless it receives massive support.
An IMF bailout package has been delayed for over six months even though foreign exchange reserves are barely enough to cover a month's imports.
(Reporting by Gibran Naiyyar Peshimam, Asif Shahzad and Ariba Shahid; Additional reporting by Mubasher Bukhari in Lahore and Jibran Ahmad in Peshawar; Writing by Shivam Patel; Editing by Raju Gopalakrishnan, Angus MacSwan and Mark Heinrich)
MORE FROM THE
OAF NATION NEWSROOM