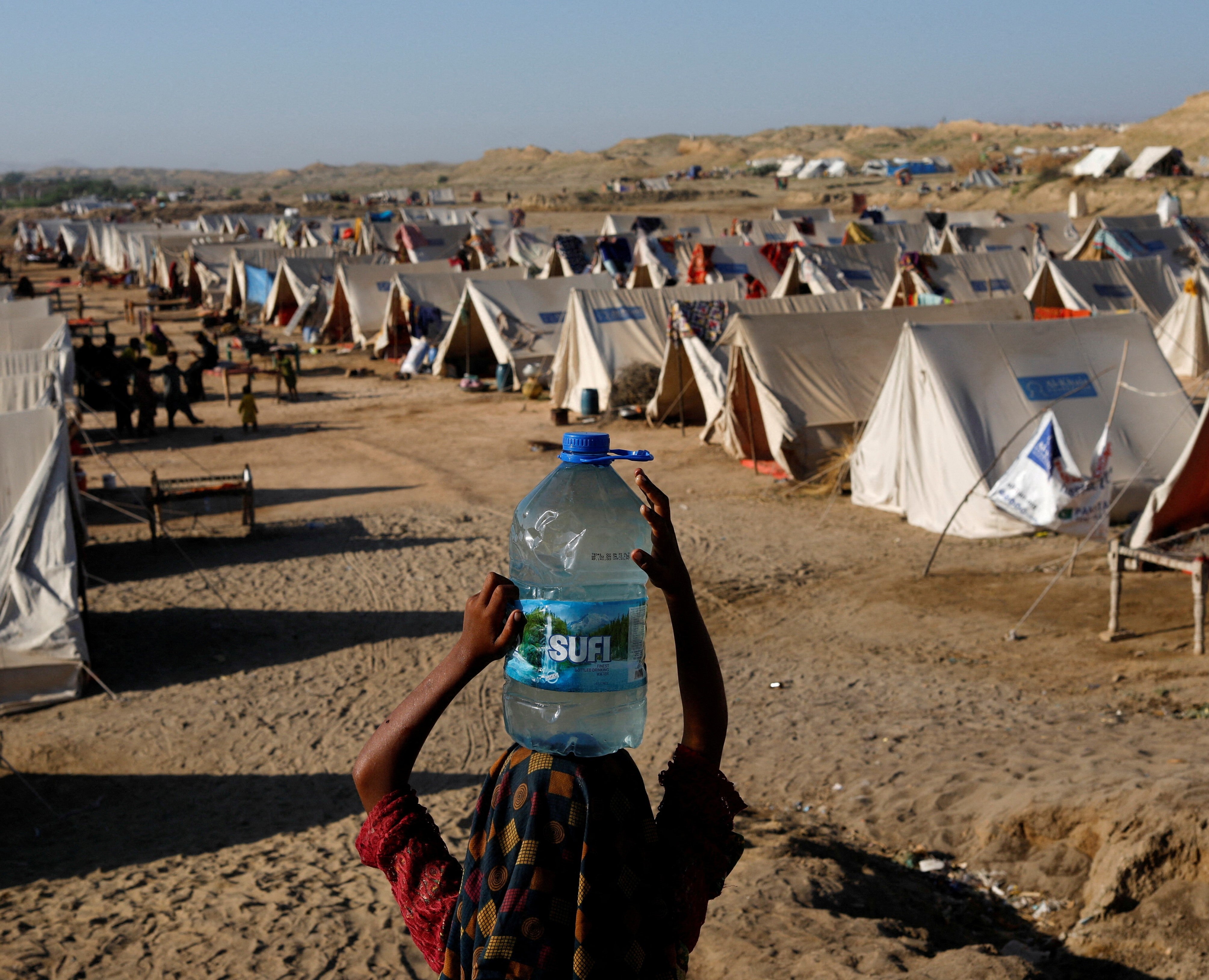 Number of internally displaced people hits record due to war, climate change
FILE PHOTO: A displaced girl carries a bottle of water she filled from nearby stranded flood-waters, as her family takes refuge in a camp, in Sehwan, Pakistan, September 30, 2022. REUTERS/Akhtar Soomro
GENEVA (Reuters) - The number of internally displaced people (IDPs) reached a record 71.1 million worldwide last year due to conflicts such as the war in Ukraine and climate calamities like the monsoon floods in Pakistan, according to data published on Thursday.
The Geneva-based Internal Displacement Monitoring Centre (IDMC) said that figure represented a 20% increase since 2021, with an unprecedented number of people fleeing in search of safety and shelter.
IDMC said that nearly three-quarters of the world's displaced people live in 10 countries, including Syria, Afghanistan, Democratic Republic of the Congo (DRC), Ukraine and Sudan, due to conflicts that prompted significant displacement in 2022.
The war in Ukraine triggered nearly 17 million displacements last year, according to IDMC.
"Conflict and violence triggered 28.3 million internal displacements worldwide, a figure three times higher than the annual average over the past decade," it said.
The bulk of displacements last year - 32.6 million - was due to disasters including floods, droughts and landslides.
"Conflict and disasters combined last year to aggravate people's pre-existing vulnerabilities and inequalities, triggering displacement on a scale never seen before," said Jan Egeland, secretary general of the Norwegian Refugee Council, which set up IDMC in 1998.
"The war in Ukraine also fuelled a global food security crisis that hit the internally displaced hardest. This perfect storm has undermined years of progress made in reducing global hunger and malnutrition."
(This story has been corrected to say 'displacements,' not  'displaced people,' in paragraph 6) 
(Reporting by Gabrielle Tétrault-Farber; Editing by Angus MacSwan)
MORE FROM THE
OAF NATION NEWSROOM