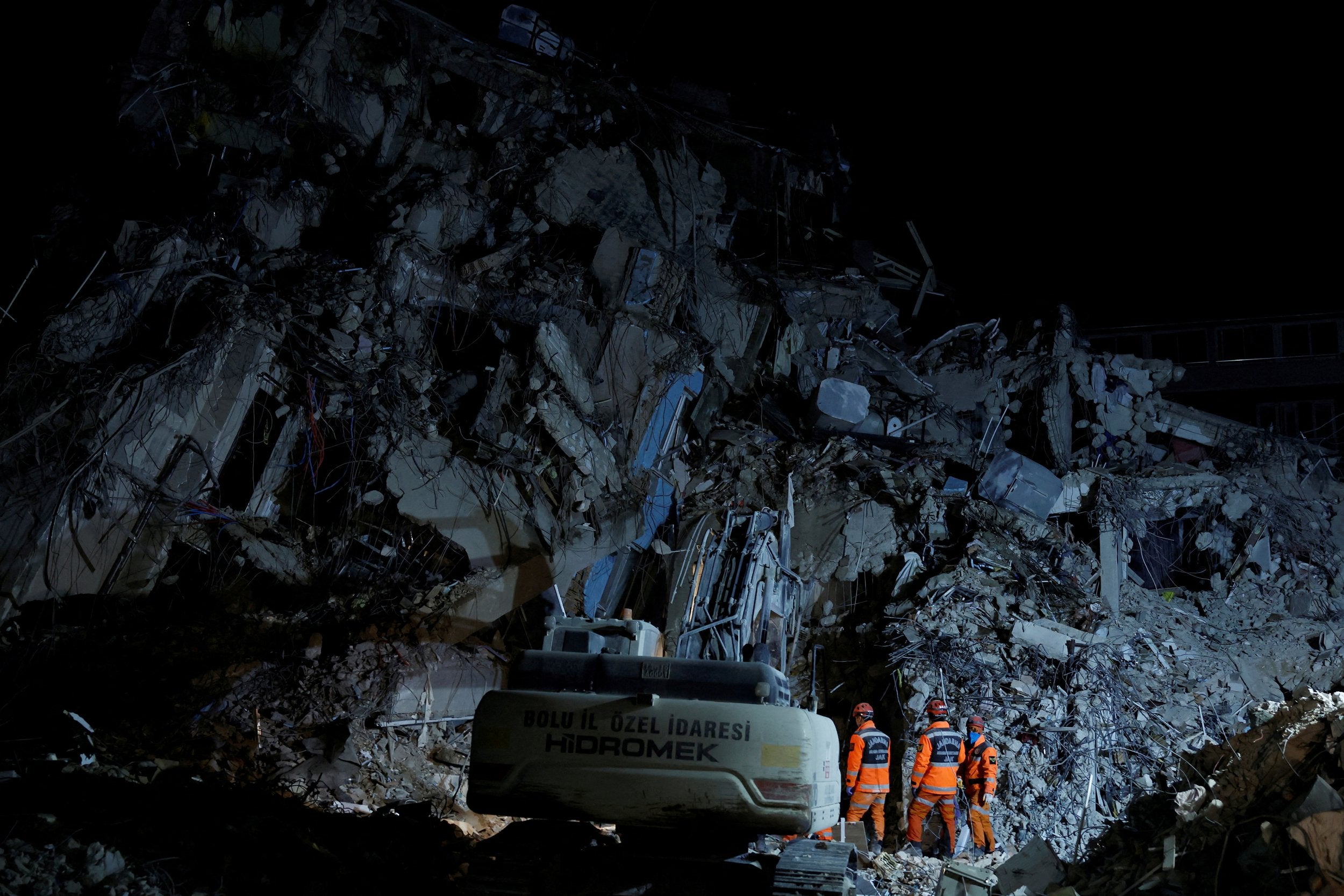 New Turkey quake kills one person, flattens more buildings
OSMANIYE, Turkey (Reuters) -An earthquake shook southeast Turkey on Monday, killing one person, injuring 110 and causing 29 buildings to collapse, Turkish authorities said, triggering frantic work to rescue several people believed trapped in rubble.
The latest aftershock, with a magnitude of 5.6 and depth of 6.15 km, hit three weeks after a massive quake that killed more than 50,000 people in Turkey and Syria.
A rescue team carried out one man alive, strapped to a stretcher, from the rubble of a building in the province of Malatya, live footage on broadcaster CNN Turk showed.
A while later, it showed a woman, said to be the man's daughter, rescued from the same apartment block. They were said to have entered the damaged building to retrieve possessions left there after the first quake three weeks ago.
At one building, where three people were believed to be trapped, a team intermittently called for silence while they listened for sounds of life within.
Yunus Sezer, head of Turkey's Disaster and Emergency Management Authority (AFAD) told a news conference that search and rescue teams had been deployed to five buildings.
There have been four fresh earthquakes in the region in the past three weeks, as well as 45 aftershocks with magnitudes between five and six, said AFAD's general director of earthquake and risk reduction Orhan Tatar.
"This is very extraordinary activity," Tatar said.
ELECTIONS DUE
The earthquakes have struck months ahead of presidential and parliamentary elections, scheduled to be held by June, which present the biggest political challenge to President Tayyip Erdogan in his two-decade rule.
At a news conference in Adiyaman on Monday, one of the provinces hardest hit by the Feb. 6 earthquake, Erdogan acknowledged the shortcomings of his government's response to the disaster.
"In the first days, we were not able to conduct work as efficiently as we wanted to in Adiyaman, for reasons such as the destructive impact of the tremors, adverse weather and challenges due to the damaged infrastructure," Erdogan said, asking for the understanding of Adiyaman residents.
He reaffirmed a pledge to rebuild homes swiftly, saying the construction of 309,000 homes was set to start after the preliminary work was completed. In March and April, construction will begin on another 234,000 homes, while infrastructure, medical centres and parks would also be built, he added.
A delegation from Turkey's High Election Board was scheduled to visit the quake zone on Monday to start gathering material for a report on the feasibility of holding elections in the region.
Turkey has arrested 184 people suspected of complicity in the collapse of buildings in this month's earthquakes and investigations are widening, a minister said on Saturday.
On Sunday, AFAD announced that the death toll in the devastating quake three weeks ago had risen to 44,374.
The overall number of deaths in Turkey and neighbouring Syria exceeds 50,000.
More than 160,000 buildings containing 520,000 apartments collapsed or were severely damaged in Turkey by the disaster, the worst in the country's modern history.
The quakes are expected to have a deep psychological impact, with children particularly vulnerable.
After the latest tremor, AFAD issued a fresh warning on Twitter telling people not to enter or even stand near damaged buildings in the earthquake zone.
(Reporting by Huseyin Hayatsever and Ece Toksabay in Ankara, Chandni Shah in Bengaluru;Writing by Daren Butler and Humeyra Pamuk;Editing by Gareth Jones, John Stonestreet and Christina Fincher)
MORE FROM THE
OAF NATION NEWSROOM