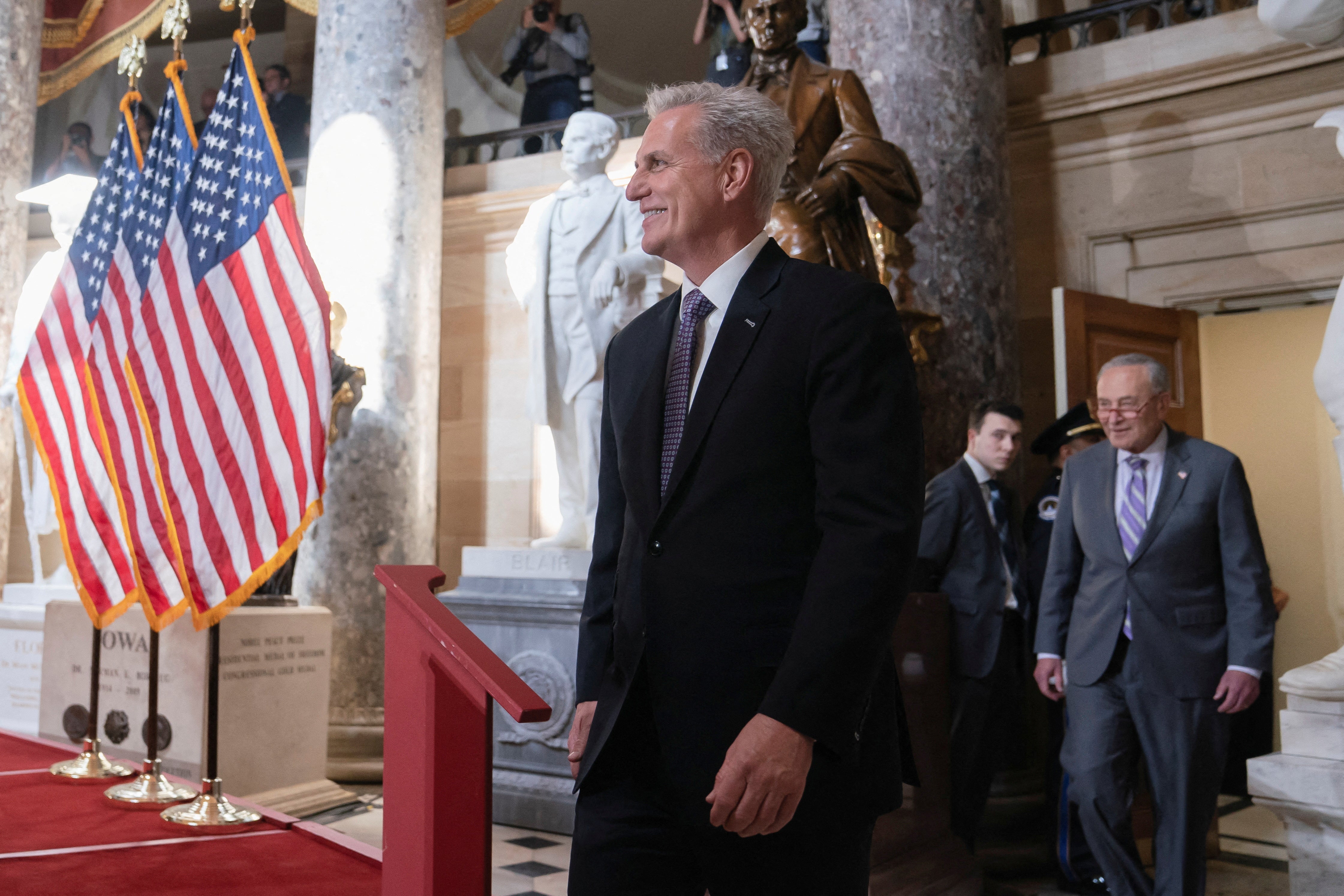 New round of US debt ceiling talks begin amid default worries
Speaker of the House Kevin McCarthy (R-CA) arrives for a portrait unveiling ceremony for former Speaker of the House Paul Ryan on Capitol Hill in Washington, U.S., May 17, 2023. REUTERS/Nathan Howard
WASHINGTON (Reuters) -President Joe Biden and top congressional Republican Speaker Kevin McCarthy will meet on Monday to discuss raising the federal government's debt ceiling talks, just 10 days before the U.S. Treasury expects to start running out of money in what would be an unprecedented default upending the global economy.
Staff members from both sides reconvened at McCarthy's office in the Capitol on Sunday evening for talks that lasted about two-and-a-half hours, after McCarthy said he had a "productive" call with Biden earlier in the day.
Biden also struck an upbeat tone about the conversation, telling reporters "It went well. We'll talk tomorrow," as he arrived back at the White House after a three-day meeting with fellow Group of Seven leaders in Japan.
A failure to lift the debt ceiling would trigger a default that would shake financial markets and drive interest rates higher on everything from car payments to credit cards. Ongoing uncertainty is already weighing on investors and stocks.
U.S. markets were poised to open flat on Monday morning as investors awaited updates on the negotiations.
Any deal to raise the $31.4 trillion debt limit must pass both chambers of Congress before Biden could sign it into law.
McCarthy's Republicans control the House 222-213, while Biden's Democrats hold the Senate 51-49, making it difficult to reach a bipartisan deal that would secure enough votes to pass.
Biden returned to Washington after cutting his Asia trip short to address the looming debt crisis before June 1, when the U.S. Treasury Department has warned the federal government could be unable to pay all its bills, a deadline U.S. Treasury Secretary Janet Yellen reaffirmed on Sunday.
Republicans are pushing for discretionary spending cuts and defense spending increases among other demands in exchange for backing an increase in the government's self-imposed borrowing limit that would cover the costs of lawmakers' previously approved spending and tax cuts.
Democrats want to hold spending steady at this year's levels, while Republicans want to return to 2022 levels. A plan passed by the House last month would cut a wide swath of government spending by 8% next year.
Biden, who has made the economy a centerpiece of his domestic agenda and is seeking re-election, has said he would consider spending cuts alongside tax adjustments but that Republicans' latest offer was "unacceptable."
The president tweeted that he would not back "Big Oil" subsidies and "wealthy tax cheats" while putting healthcare and food assistance at risk for millions of Americans.
McCarthy told reporters debt ceiling talks have not included discussions about tax cuts passed under former President Donald Trump, a Republican.
Both sides must also weigh any concessions with pressure from hardline factions within their own parties.
Some far-right House Freedom Caucus members have urged a halt to talks, demanding that the Senate adopt their House-passed legislation, which has been rejected by Democrats. Trump, who is seeking another term after losing to Biden in the 2020 election, has urged Republicans to force a default if they do not achieve all their goals, downplaying any economic consequences.
Liberal Democrats have pushed back against any cuts that would harm families and lower-income Americans, with some urging Biden to act on his own by invoking the Constitution's 14th Amendment — an untested move the president himself on Sunday said would face constraints.
The amendment states that the "validity of the public debt of the United States ... shall not be questioned," but the clause has been largely unaddressed by the courts.
Biden is racing for a solution after refusing for months to negotiate on the debt ceiling and insisting that Republicans should pass a "clean" unconditional increase before he would agree to any spending negotiations.
In Japan on Sunday, he acknowledged the political implications, saying some far-right House Republicans "know the damage that it would do to the economy" if there was a default but hoped the blame would fall to him and thwart his reelection.
Republicans must "accept that there is no bipartisan deal to be made solely, solely on their partisan terms. They have to move as well," he told reporters.
    Republican negotiator Representative Garret Graves, asked about spending limits versus other conservative priorities, told reporters Sunday: "A red line is spending less money. And unless and until we're there, the rest of it is really irrelevant."    
    "They know exactly where we are, they know exactly what would make this productive. That means — yeah — both sides would have to have compromise," McCarthy added. 
(Reporting by David Morgan, Richard Cowan and Andrea Shalal; Writing by Susan Heavey; Editing by Lisa Shumaker and Stephen Coates)
MORE FROM THE
OAF NATION NEWSROOM