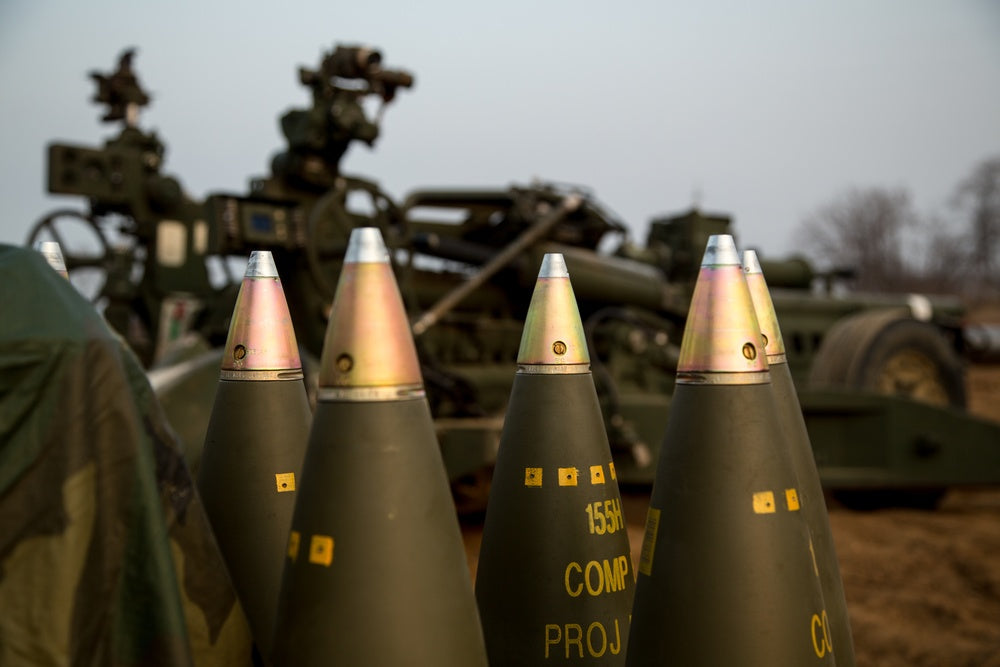 NATO pushes for more common standards amid artillery shortfalls
PHOTO CAPTION: Illustrative photo — M795 High Explosive (HE) Projectile 155 mm rounds are prepped and staged to conduct field artillery training on Warrior Base, New Mexico Range, Republic of Korea, March 15, 2015. (U.S. Army photo by Spc. Steven Hitchcock via U.S. Defense Visual Information Distribution Service)
By Sabine Siebold
BRUSSELS (Reuters) - The heads of leading arms-making companies meet NATO defence ministers this week to discuss increasing production and standardising artillery shells as the war in Ukraine depletes stocks.
NATO Secretary-General Jens Stoltenberg warned in February that Kyiv was burning through shells much faster than Western countries could produce them. The start of the Ukrainian counteroffensive is certain to lead to even greater use.
But the lack of common standards among the various manufacturers has hampered the flow of munitions supplies.
"It is about supercharging the NATO standardization process in order to enable smoother supplies, which will help prevent delays and shortfalls in the future," a NATO official, speaking on condition of anonymity, told Reuters ahead of the meeting in Brussels on Thursday and Friday.
Those invited include BAE Systems, Turkish drone maker Baykar, General Dynamics, the KNDS holding representing Leopard 2 producer KMW and French Nexter, Kongsberg , Leonardo, Lockheed, MBDA, Mesko, Nammo <Nammo AS> and Northrop Grumman, according to a defence source.
NATO has been talking with industry representatives about boosting defence production since last year, but this is the first time the alliance will have held such a high-level gathering. It will take place on the sidelines of a NATO defence ministers' meeting in Brussels on Thursday and Friday.
Discussions on Thursday will focus on ways to ramp up supplies of artillery shells, air defences and precision guided deep-strike ammunitions, missiles with a range of hundreds of kilometres such as the British Storm Shadow.
Demand for 155mm artillery rounds has soared in the wake of the invasion of Ukraine in February 2022. But allies' supplies for their own defence have been run down as they have rushed shells to Kyiv, which fires thousands of rounds per day.
While NATO enforces standards for rounds fired by small arms such as assault rifles, enabling troops from all allies to use each others' munitions, it is not so easy for artillery shells.
Although some large NATO countries have agreed on certain standards for the 155mm rounds used by howitzers, additional calculations are often needed to hit a target with the required precision, experts say.
The NATO official said companies themselves have an interest in producing rounds that can be fired by multiple countries, with orders worth billions of euros expected as the war drags on in Ukraine.
A defence industry source welcomed NATO's push for more standardization and called it "long overdue".
"If national governments could bring themselves to throw national standards over board and agree on common NATO standards – in particular with regard to munitions – this would be a landslide change," the defence source said.
Standardization would also be useful for 120mm tank rounds.
"This would be a real gamechanger. You could go looking for 120mm shells all over the world – because the ones that suit the (German) Leopard (tank) will work as well with the (U.S.) Abrams."
Still, NATO may run into opposition from ammunitions makers as such a move could raise competition and lower prices.
"There are hard-hitting business interests behind the entire ammunitions issue," the industry source said.
"Companies are making money out of the fact that ammunitions are not interchangeable, that they can dominate their national markets with their munitions."
The push for more standardization comes at a crucial time when defence companies can already see much bigger orders on the horizon as NATO, at its Vilnius summit in July, is about to raise targets for how much munitions allies have to stockpile.
More than a year of conflict in Ukraine has left national inventories badly depleted. Before that many NATO countries had already run down their stocks as governments considered wars of attrition with big artillery battles a thing of the past.
"It will take six to 10 years until all European munitions depots will be filled up again," Rheinmetall CEO Armin Papperger told the German RND newspaper group in an interview.
Rheinmetall is one of the biggest producers of artillery munitions and is about to ramp up its production capacity to 600,000 from 450,000 rounds of 155mm shells per year.
(This story has been refiled to fix the formatting)
(Reporting by Sabine Siebold, additional reporting by Gwladys Fouche in Oslo; Editing by Angus MacSwan)
MORE FROM THE
OAF NATION NEWSROOM