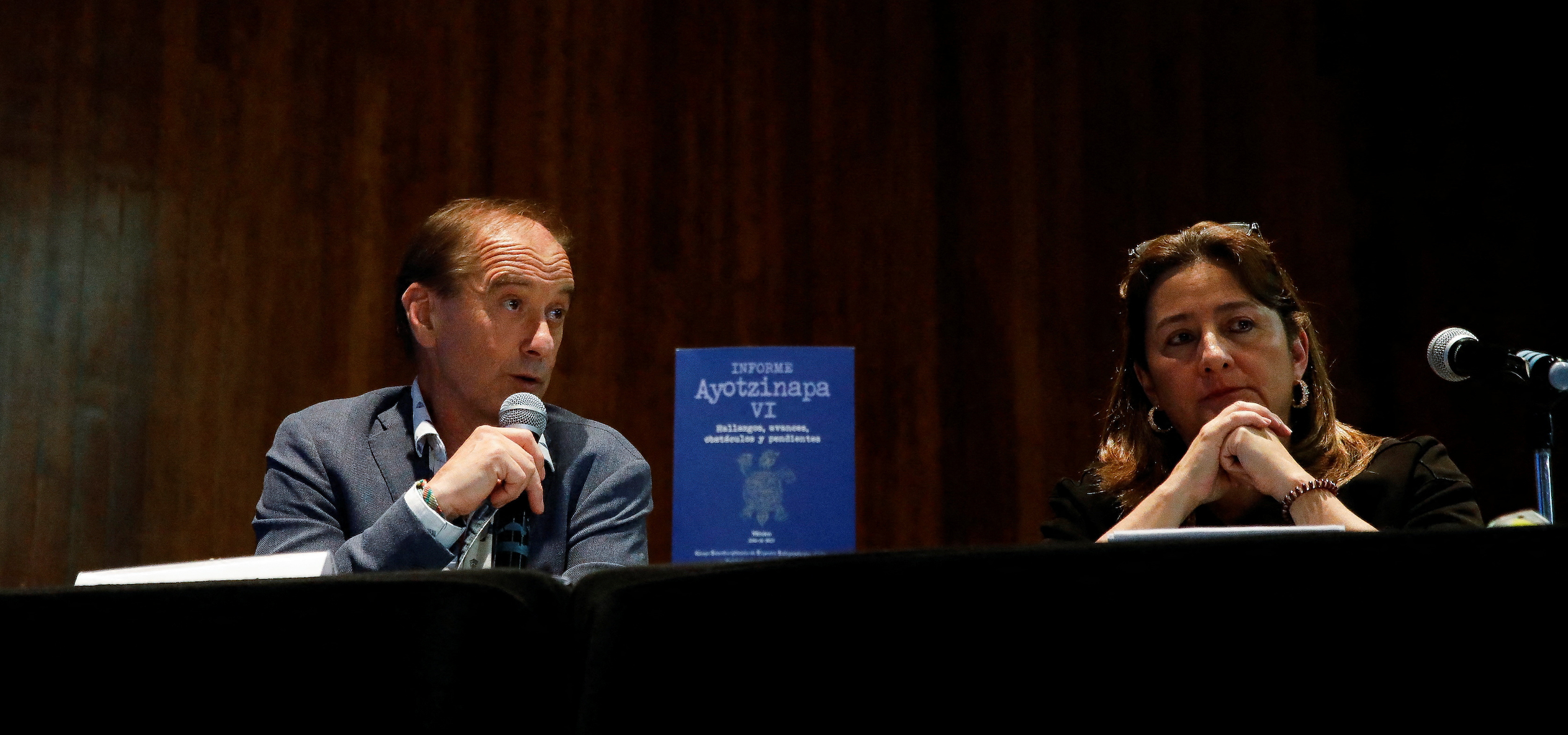 Mexican armed forces were complicit in students' disappearance, report says
PHOTO CAPTION: Carlos Martin Beristain and Angela Buitrago, members of the Interdisciplinary Group of Independent Experts (GIEI), attend the last press conference on the 43 missing students of the Ayotzinapa Teacher Training College, in Mexico City, Mexico July 25, 2023. REUTERS/Raquel Cunha
By Lizbeth Diaz

MEXICO CITY (Reuters) -Mexican security forces were complicit in the 2014 abduction of 43 student teachers and concealed documents which showed where some of them were taken, according to a new report by an independent panel of international experts presented on Tuesday.

The Interdisciplinary Group of Independent Experts (GIEI) tasked with investigating the case said in their findings that the Army, Navy, police and intelligence agencies knew, minute by minute, where the students were.

"They all collaborated to make them disappear," GIEI panel member Carlos Beristain told a press conference before the presentation of the group's final fact-finding report on one of Mexico's most notorious human rights scandals.

The Army said it had no comment. The Navy did not respond to a request for comment. Mexico's armed forces have long denied having information about the disappearances.

The 43 youths were part of a larger group of students from the Ayotzinapa Rural Teachers' College that came under attack in the city of Iguala, Guerrero, the night of Sept. 26, 2014. Some of that group died at the scene or escaped.

In its initial findings, the previous government concluded the 43 had been kidnapped by corrupt police in cahoots with a local drug gang who believed the students had been infiltrated by members of a rival outfit. The gang then killed the students and burned their bodies, their report said.

The GIEI and the current government says that account was riddled with errors and that officials hid information, using torture to obtain false testimonies.

The panel said it had received incomplete information and that the Defense Ministry hid documents showing where 17 of the 43 students were taken, and who was involved. The ministry declined to comment.


After President Andres Manuel Lopez Obrador, a trenchant critic of the previous administration, took office in 2018, he created a "truth commission" to look into the case and renewed the mandate of the GIEI, which was formed in 2014 and appointed by the Inter-American Commission on Human Rights.

The investigation found that members of the Navy and the Army had carried out unreported joint operations and manipulated information relevant to the case, according to the report published on Tuesday.

In the crucial hours after the students went missing, at least 500 calls about the incident were recorded at a government security surveillance center, the report said.

Meanwhile, soldiers who had initially testified they were in their barracks that night were linked to locations where the students are believed to have been taken, it also found.

The Army and Navy also secretly arrested five suspects in the case who were believed to have been missing until now, the report argued, using documents, photographs and testimonies.

Experts also found discrepancies over the Army's reporting of the discovery of the body of Julio Cesar Mondragon, one of the Ayotzinapa students who died that night. The institution told the GIEI the differences were an "involuntary error."

The remains of only three of the 43 have been formally identified.

The GIEI said the motive behind the disappearances remains unclear.

(Reporting by Lizbeth Diaz; Writing by Kylie Madry; Editing by Rosalba O'Brien)
MORE FROM THE
OAF NATION NEWSROOM