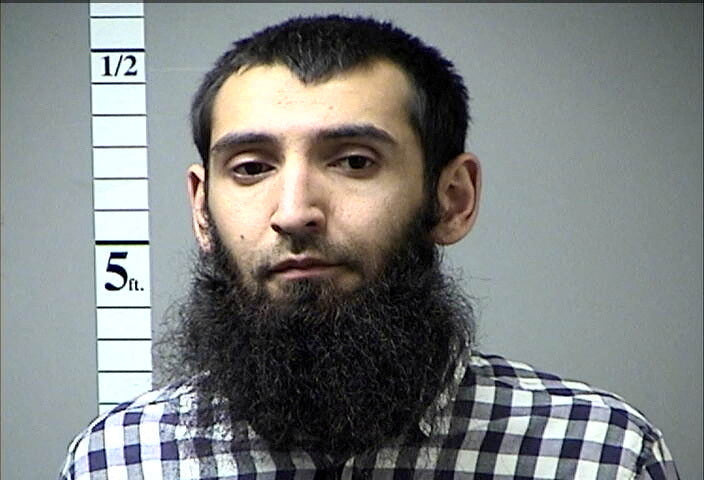 Man convicted of New York bike path attack to be formally sentenced to life
FILE PHOTO: Sayfullo Saipov, the suspect in the New York City truck attack is seen in this handout photo released November 1, 2017. St. Charles County Department of Corrections/Handout via REUTERS
NEW YORK (Reuters) - A U.S. judge is set on Wednesday to formally mete out a life sentence to the Uzbek man convicted of killing eight people and injuring dozens more in a 2017 attack in which he drove a rented truck down a New York City bike path crowded with cyclists and pedestrians.
Twenty-five people who survived the attack and family members of people who died are scheduled to speak during a hearing in federal court in Manhattan before U.S. District Judge Vernon Broderick imposes the sentence on Sayfullo Saipov, convicted in January of murder and terrorism charges.
The sentence of life in prison without parole became automatic in the case after a jury deadlocked on whether Saipov, 35, should receive the death penalty.
Saipov used a Home Depot rental truck to mow down people on a path along the Hudson River on Manhattan's West Side, according to prosecutors. He had hoped to the attack would help him gain membership in Islamic State, or ISIS, they said. The United States designates ISIS as a terrorist organization.
Many of the people killed or injured were foreign nationals visiting the most populous U.S. city. Most of the people scheduled to speak at the hearing are traveling from Argentina and Belgium. Each speaker will have about five minutes to address the court and, if needed, will have an interpreter, according to prosecutors.
It was unclear whether Saipov will address the court during the proceeding. He is expected to be housed at Colorado's Supermax facility, the most secure U.S. federal prison. There he is due to spend 22 or 23 hours a day alone in a cell with a concrete bed.
Saipov's case was the first federal death penalty trial since President Joe Biden, a Democrat, took office in 2021 after pledging during his campaign to abolish capital punishment in federal cases.
(Reporting by Luc Cohen in New York and Brendan O'Brien in Chicago; Editing by Will Dunham)
MORE FROM THE
OAF NATION NEWSROOM