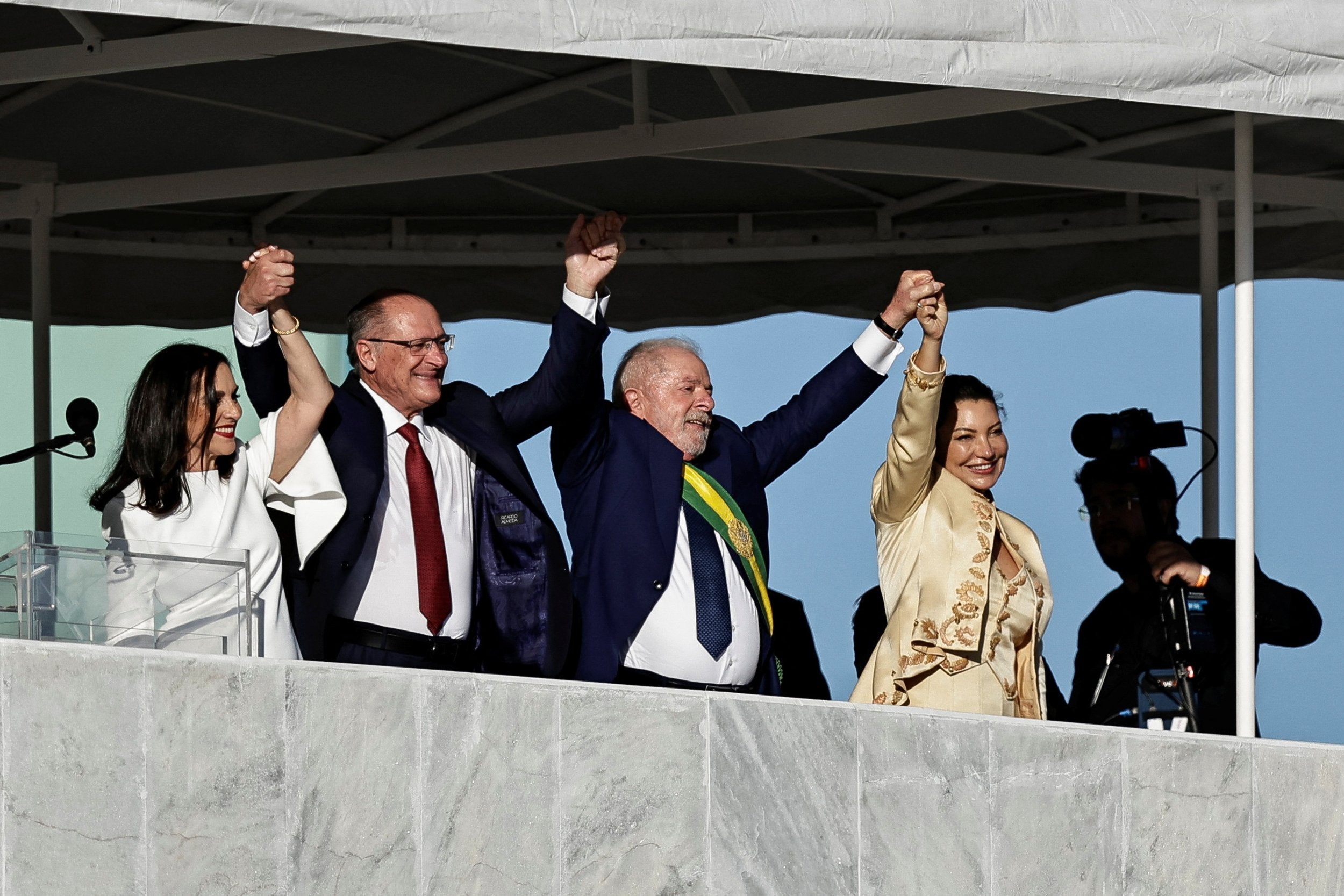 Lula takes over in Brazil, slams Bolsonaro's "violent threats to freedom"
BRASILIA (Reuters) -Luiz Inacio Lula da Silva was sworn in as Brazil's president on Sunday, delivering a searing indictment of far-right former leader Jair Bolsonaro and vowing a drastic change of course to rescue a nation plagued by hunger, poverty and racism.

In a speech to Congress after officially taking the reins of Latin America's biggest country, the leftist said democracy was the true winner of the October presidential vote, when he ousted Bolsonaro in the most fraught election for a generation.

Bolsonaro, who left Brazil for the United States on Friday after refusing to concede defeat, rattled the cages of Brazil's young democracy with baseless claims of electoral weaknesses that birthed a violent movement of election deniers.

"Democracy was the great victor in this election, overcoming ... the most violent threats to freedom to vote, and the most abject campaign of lies and hate plotted to manipulate and embarrass the electorate," Lula told lawmakers.

Lula, who was behind bars during Bolsonaro's 2019 inauguration on graft convictions that were later overturned, delivered a veiled threat to his predecessor.

"We do not carry any spirit of revenge against those who tried to subjugate the nation to their personal and ideological designs, but we will guarantee the rule of law," Lula said, without mentioning Bolsonaro by name. "Those who erred will answer for their errors."

He also accused Bolsonaro's administration of committing "genocide" by failing to respond properly to the COVID-19 virus that killed more than 680,000 Brazilians.

"The responsibilities for this genocide must be investigated and must not go unpunished," he said.

Although Bolsonaro's Florida trip insulates him from any immediate legal jeopardy in Brazil, he now faces mounting judicial risks - related to his anti-democratic rhetoric and his pandemic handling - after losing his presidential immunity, legal experts said.

Lula's plans for government provided a stark contrast to Bolsonaro's four years in office, which were characterized by backsliding on environmental protections in the Amazon rainforest, looser gun laws and weaker protections for indigenous peoples and minorities.

Lula said he wants to turn Brazil, one of the world's top food producers, into a green superpower.
U.S. SUPPORT
In his first decisions as president, Lula restored the authority of the government's environmental protection agency Ibama to combat illegal deforestation, which had been diluted by Bolsonaro, and revoked a measure that encouraged illegal mining on protected indigenous lands.
He also unfroze the billion-dollar Amazon fund financed by Norway and Germany to back sustainability projects, reinforcing his commitment to ending deforestation in the Amazon, which surged to a 15-year high under Bolsonaro.
The administration of U.S. President Joe Biden, who shared little in common with Bolsonaro and chafed at his lackluster environmental policies, wished Lula and his Vice President Geraldo Alckmin success.
"We look forward to continuing the strong U.S.-Brazil partnership in trade, security, sustainability, innovation, and inclusion," U.S. Secretary of State Antony Blinken tweeted. "Here's to a bright future for our countries - and the world."
King Charles of Britain congratulated Lula on his return to office in a letter in which he offered to deepen cooperation with Brazil, especially on the environment.
"I was encouraged to hear you emphasize the urgent need to tackle the climate crisis in your victory speech and at COP27," the king wrote in the letter disclosed by the British embassy.
After the swearing-in, Lula drove in an open-top Rolls-Royce to the Planalto palace, where he walked up its ramp with his wife and a diverse group that included Chief Raoni Metuktire of the Kayapó tribe, a young Black boy, a cook and a disabled man.
Lula was then handed the presidential sash - a hugely symbolic act in Brazil that Bolsonaro had repeatedly said he would never do - by Aline Sousa, a Black garbage collector.
Tens of thousands who had gathered to celebrate on Brasilia's esplanade cheered as Lula wiped away tears.
In a subsequent speech, he pledged to unite the polarized country and govern for all Brazilians.
"There are not two Brazils," Lula said. "We are one country, one great nation."
Lula said he would be fiscally prudent, but made clear his main focus would be on ending hunger and narrowing rampant inequality. He also said he aims to improve the rights of women, and attack racism and Brazil's legacy of slavery.
"This will be the hallmark of our government," he said.
Allies said Lula's new-found social conscience was the result of his 580 days in prison, Reuters reported on Sunday.
TIGHT SECURITY
In his initial decrees, Lula revoked Bolsonaro's looser gun policies, which had prompted a sharp rise in gun ownership.
"Brazil does not want more weapons, it wants peace and security for its people," he said.
Lula's inauguration took place amid heightened security.
Some of Bolsonaro's supporters have claimed the election was stolen and called for a military coup to stop Lula returning to office in a climate of vandalism and violence.
On Christmas Eve, a Bolsonaro supporter was arrested for making a bomb that was discovered on a truck laden with aviation fuel at the entrance to Brasilia airport, and confessed he was seeking to provoke a military intervention.
Bolsonaro has seen his support among many former allies evaporate due to the anti-democratic protests.
On Saturday night, then-acting President Hamilton Mourao, who was Bolsonaro's vice president, criticized his former boss for allowing anti-democratic sentiment to thrive post-election.
"Leaders who were supposed to reassure and unite the nation ... allowed silence or inopportune and deleterious protagonism to create an atmosphere of chaos and social disintegration," Mourao said.
Lula's election victory marked a stunning political comeback, giving him an unprecedented third term after a hiatus that saw him spend a year-and-a-half behind bars.
In his previous two terms as president from 2003-2010, the former union leader lifted millions of Brazilians from poverty during a commodity boom that buoyed the economy.
Now, he faces the daunting challenge of improving Brazil's stagnant economy while also uniting a divided country.
"A lot is expected of Lula," said Creomar de Souza, director of Dharma Political Risk consultancy in Brasilia. "He'll have the difficult mission to restore normality and predictability in Brazil, and above all to rapidly deliver results that improve the quality of life for its inhabitants."
(Reporting by Maria Carolina Marcello, Ricardo Brito, Lissandra Paraguassu, Anthony Boadle and Fernando Cardoso; Editing by Daniel Wallis, Kirsten Donovan and Raju Gopalakrishnan)
MORE FROM THE
OAF NATION NEWSROOM