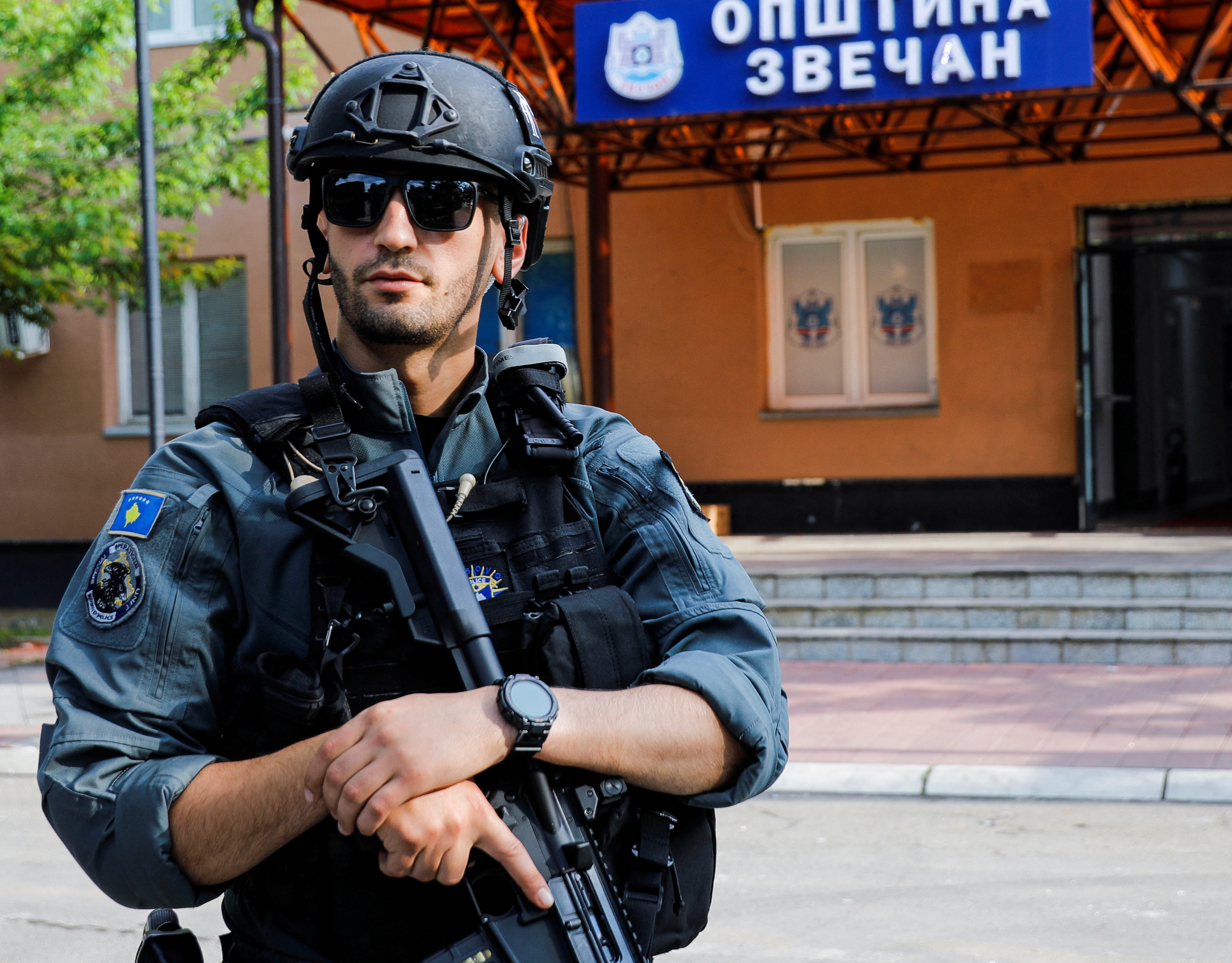 Kosovo tightens controls along Serbia border, PM Kurti says
PHOTO CAPTION: A member of Kosovo special police forces guards the municipal offices in Zvecan after ethnic Serb protestors tried to prevent a newly-elected ethnic Albanian mayor from entering the office in Zvecan, Kosovo, May 27, 2023.REUTERS/Ognen Teofilovski
By Fatos Bytyci
PRISTINA (Reuters) - Kosovo has tightened controls on its border with Serbia following the arrest of three of its policemen by Serbian forces, Prime Minister Albin Kurti said on Thursday as he demanded the immediate release of the detainees.
Both Belgrade and Pristina gave different locations of the arrest of the three policemen, with each accusing the other side of crossing the border illegally.
The detentions were the latest in a series of developments that have raised tensions between Kosovo and Serbia, sparking fears of renewed violence between the former wartime foes.
At the Merdare border crossing, the biggest between Kosovo and Serbia, there was a long line of trucks on Thursday morning following Kosovo's decision to ban trucks with Serbian licence plates and Serbian goods from entering its territory.
A Reuters reporter saw small vehicles with Serbian licence plates crossing the border, despite the government's announcement that it would ban all vehicles, including cars.
"Because of the security concerns as an immediate step border controls have been tightened with Serbia," Kurti told a press conference on Thursday.
"We demand the immediate release of the three kidnapped police officers and call on the international community to condemn Serbia's act of aggression," Kurti said.
Serbian President Aleksandar Vucic, who has said the three Kosovo policemen were arrested deep in Serbian territory, met ambassadors of the United States, Italy, France, Germany and Britain, known as the Quint group.
"I spoke to representatives of the EU and the Quint group. I have asked them to do whatever is in their power to stop Kurti from initiating another war in the Balkans," Vucic wrote on his Instagram account after the meeting.
On Wednesday, the European Union said it had agreed punitive measures on Kurti's government, accusing him of failing to take steps to defuse the broader crisis.
Kosovo declared independence from Serbia in 2008, nearly adecade after an uprising by the 90% ethnic Albanian majority.
In 1999, a NATO bombing campaign drove Serbian securityforces out of Kosovo but Belgrade continues to regard it as a southern province.
Kosovo and Serbia share a 400-km (250-mile) border which has not been clearly marked or agreed.
Violence flared last month when 30 NATO peacekeepers and 52Serbs were injured in clashes in four predominantly Serbmunicipalities in northern Kosovo.
(Reporting by Fatos Bytyci in Pristina and Ivana Sekularac in Belgrade; Editing by Alex Richardson)
MORE FROM THE
OAF NATION NEWSROOM