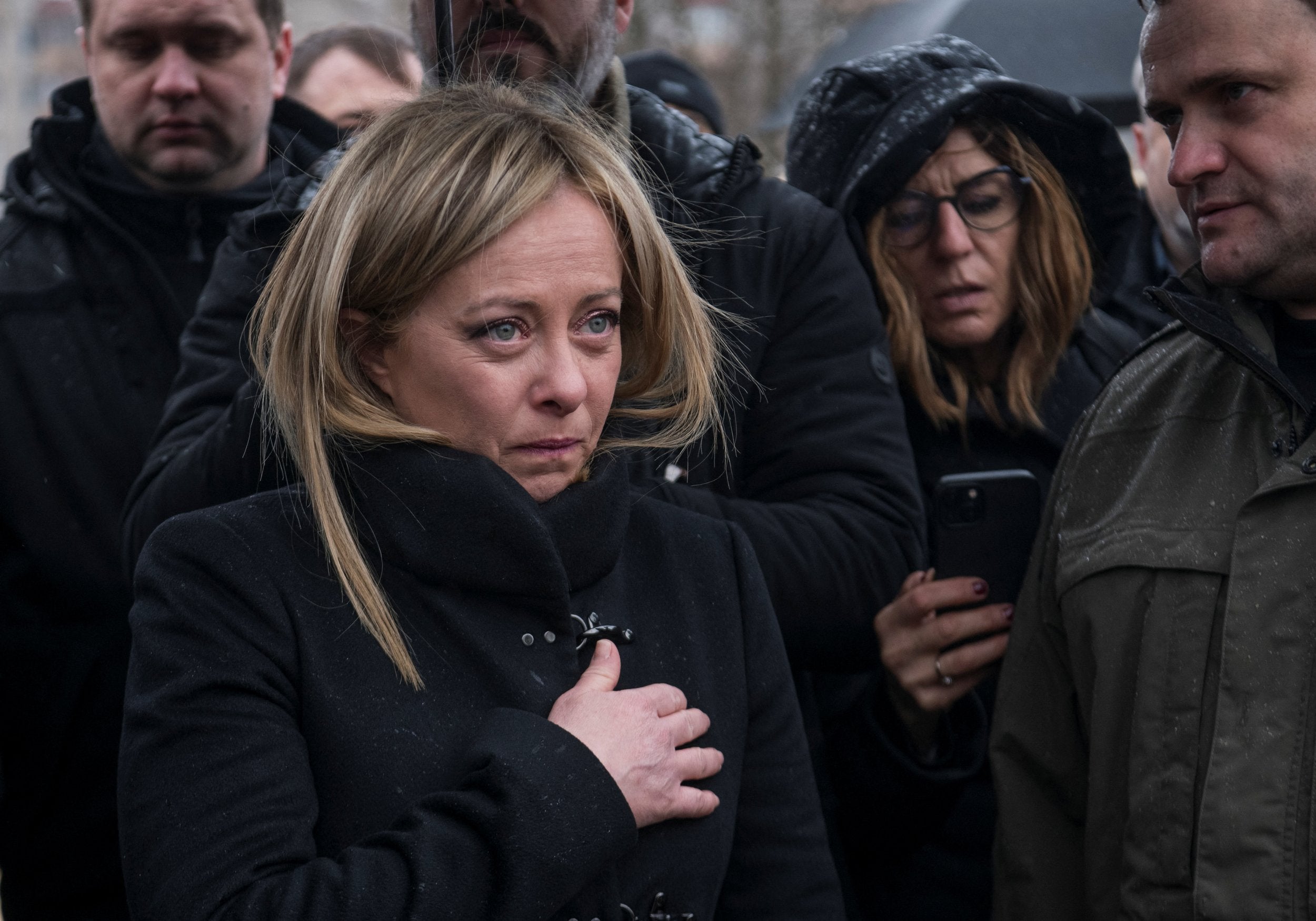 Italy's Meloni backs Ukraine on Kyiv visit but rules out sending planes
KYIV (Reuters) -Italy will keep supporting Ukraine in resisting Russian attacks but has no plans to offer fighter jets, Prime Minister Giorgia Meloni said Tuesday during a visit to Kyiv.
The Italian leader, on her first trip to Ukraine since Russia's invasion a year ago, has been a staunch supporter of Kyiv, but others in her right-wing coalition have been more ambiguous on the issue.
"At the moment the supply of planes is not on the table," Meloni said at a news conference alongside Ukrainian President Volodymyr Zelenskiy.
She was responding to a question about a report by Italian daily La Repubblica that suggested Rome could supply five AMX bomber jets.
Surveys have shown that a majority of Italians oppose sending arms to Ukraine and would rather achieve peace by making concessions to Russia - an option Meloni has firmly ruled out.
Former Italian prime minister Silvio Berlusconi, an old friend of Russian President Vladimir Putin, said this month that he would not want to meet with Zelenskiy and blamed him for the war.
On Tuesday Zelenskiy brushed off Berlusconi's comments, saying the 86-year-old media tycoon had not had to live under daily bombardment and blackouts caused by Russian air strikes.
Meloni stressed Italy would continue to offer its support, saying Ukraine's defeat "could pave the way for the possible invasion of other European states."
In reference to Berlusconi, she said her coalition had been firm in supporting Ukraine with "facts" and votes in parliament, regardless of individual remarks by politicians.
While dismissing the idea of supplying planes to Kyiv, she said Italy was considering sending more air defence systems beyond the SAMP/T-MAMBA, which it is shortly expected to deliver in cooperation with France.
Meloni arrived in Kyiv via train from Poland, and visited the war-battered towns of Bucha and Irpin on the outskirts of Kyiv before meeting with Zelenskiy in the capital.
In Irpin, where mass graves where found after Russian troops left, she dismissed a speech by Putin on Tuesday as "propaganda."
Speaking to his country's political and military elites, Putin said Moscow would achieve its war aims in Ukraine and accused the West of trying to destroy Russia.
In Bucha, Meloni shed tears and covered her mouth in horror as she was shown round a church containing a photo exhibition of dead civilians.
Bucha's mayor, Anatolii Fedoruk, presented the Italian leader with a commemorative coin made from the casings of bullets and shells found in the town.
Russia has denied accusations that its forces were behind war crimes in Bucha or Irpin.
(Reporting by Angelo Amante, Alvise Armellini, Pavel Polityuk and Ivan Lyubysh-Kirdey; Writing by Angelo Amante and Alvise Armellini; editing by Gavin Jones and)
MORE FROM THE
OAF NATION NEWSROOM