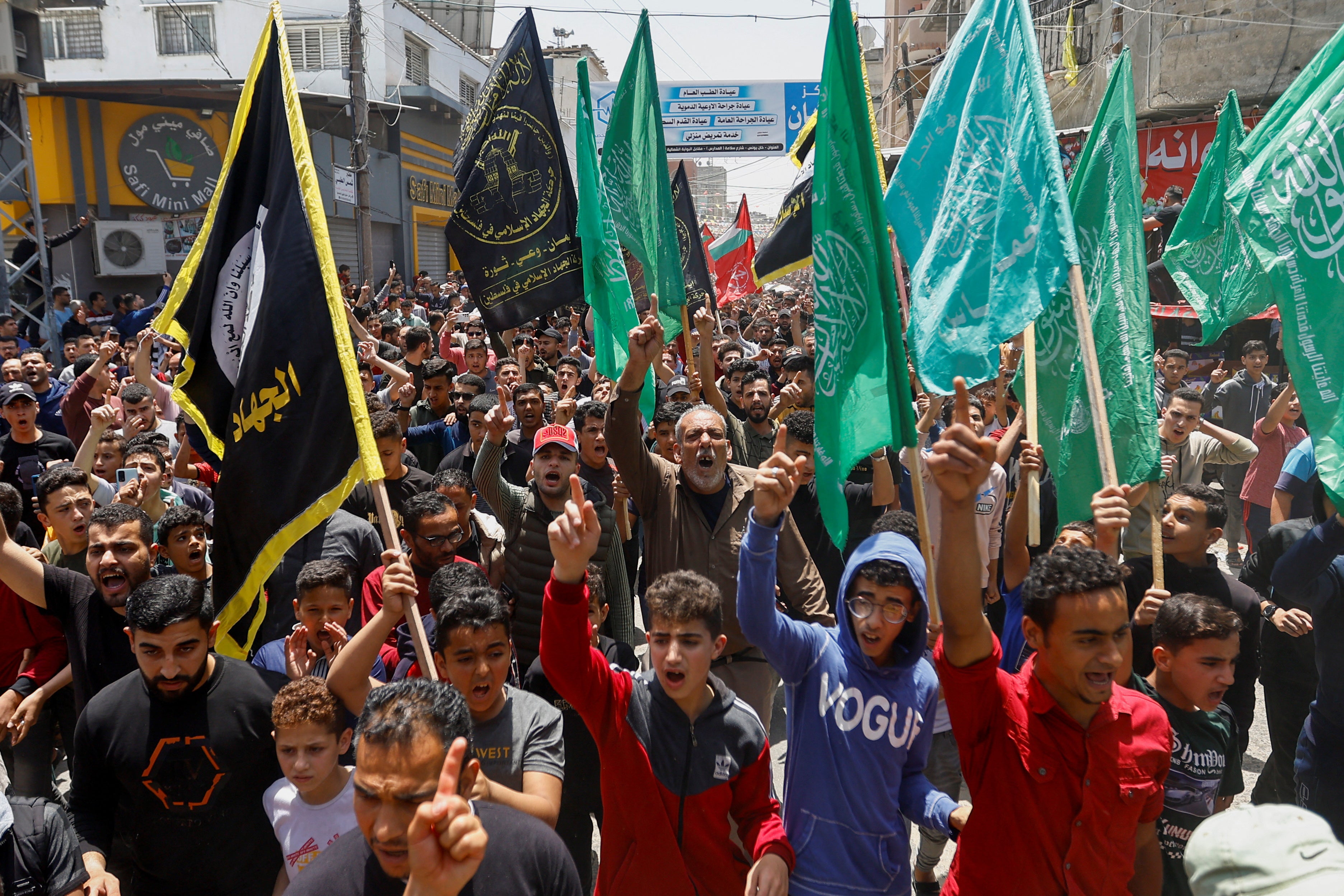 Israel kills senior Gaza commander, militants fire rockets across border
Mourners attend the funeral of Islamic Jihad commander Ali Ghali and his brother Mahmoud who were killed in an Israeli strike, in Khan Younis in the southern Gaza Strip May 11, 2023. REUTERS/Ibraheem Abu Mustafa
GAZA (Reuters) -Israeli air strikes killed the head of Islamic Jihad's rocket force in Gaza early on Thursday, part of an operation that has cost 25 lives including women and children this week and been met with hundreds of rockets fired from the enclave.
Israel struck what it said were Islamic Jihad targets as air raid sirens sounded in areas in southern Israel around Gaza, and as Egyptian mediation efforts continued.
Egypt hosted senior Islamic Jihad official Mohammad al-Hindi in Cairo, part of truce talks to end the fighting, two Islamic Jihad officials and a foreign diplomat told Reuters.
"Egypt's efforts to calm things down and resume the political process have not yet borne fruit," Egyptian Foreign Minister Sameh Shoukry told reporters in Berlin.
Ali Ghali was the fourth senior Islamic Jihad commander killed since Israel began striking Gaza in pre-dawn raids on Tuesday. The death toll in the raids includes at least four women and six children.
The military said Ghali helped oversee rocket launches towards Israel over recent days as well as in previous rounds of fighting with Islamic Jihad, an Iranian-backed group allied with Hamas, which rules the blockaded enclave.
"I instructed the defence establishment to take all the measures necessary, to prepare additional actions and maintain readiness for the possibility of increased fire," said Defence Minister Yoav Gallant.
Reuters images showed rockets intercepted by Israeli air defences in the night sky. Israeli jets hit targets including a mortar post in the northern part of the enclave and an operational room for directing anti-tank missiles.
The Israeli military said it had attacked 158 targets in Gaza while at least 523 rockets were launched towards Israel this week, and 380 crossed into Israel. Air defences intercepted 96% of those that threatened to hit targets.
It also said more than 100 rockets had misfired, killing four Palestinians, including a 10-year-old girl, an assertion Islamic Jihad said was "completely incorrect".
"Once again Israel tries to escape its responsibility for the killing of civilians through fabrications and lies," Islamic Jihad spokesman Dawoud Shehab said.
After more than a year of Israeli-Palestinian violence that has killed more than 100 Palestinians and at least 19 Israelis and foreigners since January, the latest escalation drew international calls for a ceasefire.
Egypt's Shoukry and Jordanian Foreign Minister Ayman Safadi met their French and German counterparts in Berlin on Thursday to discuss peace efforts.
Shoukry called on "peace-sponsoring countries to intervene and stop the attacks" and said Israel must "stop the unilateral measures that aim to destroy the future of the Palestinian state".
However Israel rejected demands from Islamic Jihad that it end its policy of targeted killings of the group's leaders.
"We are not willing to accept delusional demands from the Islamic Jihad," said Yuli Edelstein, head of the Israeli parliament's Foreign Affairs and Defence Committee, on Kan radio.
"Every now and then, we have to initiate action and this is exactly what the IDF and the Shin Bet (intelligence agency) did very successfully this time," he said.
'WE CAN'T SLEEP AT NIGHT'
Both in blockaded Gaza, where residents have been experiencing decades of a worsening humanitarian crisis, and in Israeli towns nearby, schools and businesses remained closed.
Hundreds joined the funeral procession of Ghali and his brother, who was also killed overnight, chanting and carrying flags as gunmen fired into the air.
"We can't sleep at night because we worry about bombardment," said Mohammad Abu el-Subbah, 24, standing outside a bakery in Gaza City. "People have no clue what will happen next, whether there will be a truce or whether the war will continue."
At least 76 people were wounded in the airstrikes that destroyed five buildings and damaged more than 300 apartments, said Salama Marouf, chairman of the Hamas media office.
Israel has kept crossings for the movement of people and goods closed since Tuesday. Israeli authorities estimated that between 30% and 60% of communities living around Gaza have evacuated as a precaution. On Wednesday, sirens sounded as far as the commercial capital Tel Aviv, 60 km (37 miles) north of Gaza.
Israeli forces also conducted raids in the occupied West Bank, where the Palestinian health ministry said a 30-year-old man died after being shot in the town of Qabatiya on Wednesday.
Israel captured Gaza and the West Bank, areas Palestinians want for an independent state with East Jerusalem as its capital, in a 1967 war. Israeli forces and settlers withdrew from Gaza in 2005. Statehood talks have been frozen since 2014.
(Reporting by Ali Sawafta, Nidal al-Mughrabi and Henriette Chacar; Editing by Frank Jack Daniel and Nick Macfie)
MORE FROM THE
OAF NATION NEWSROOM