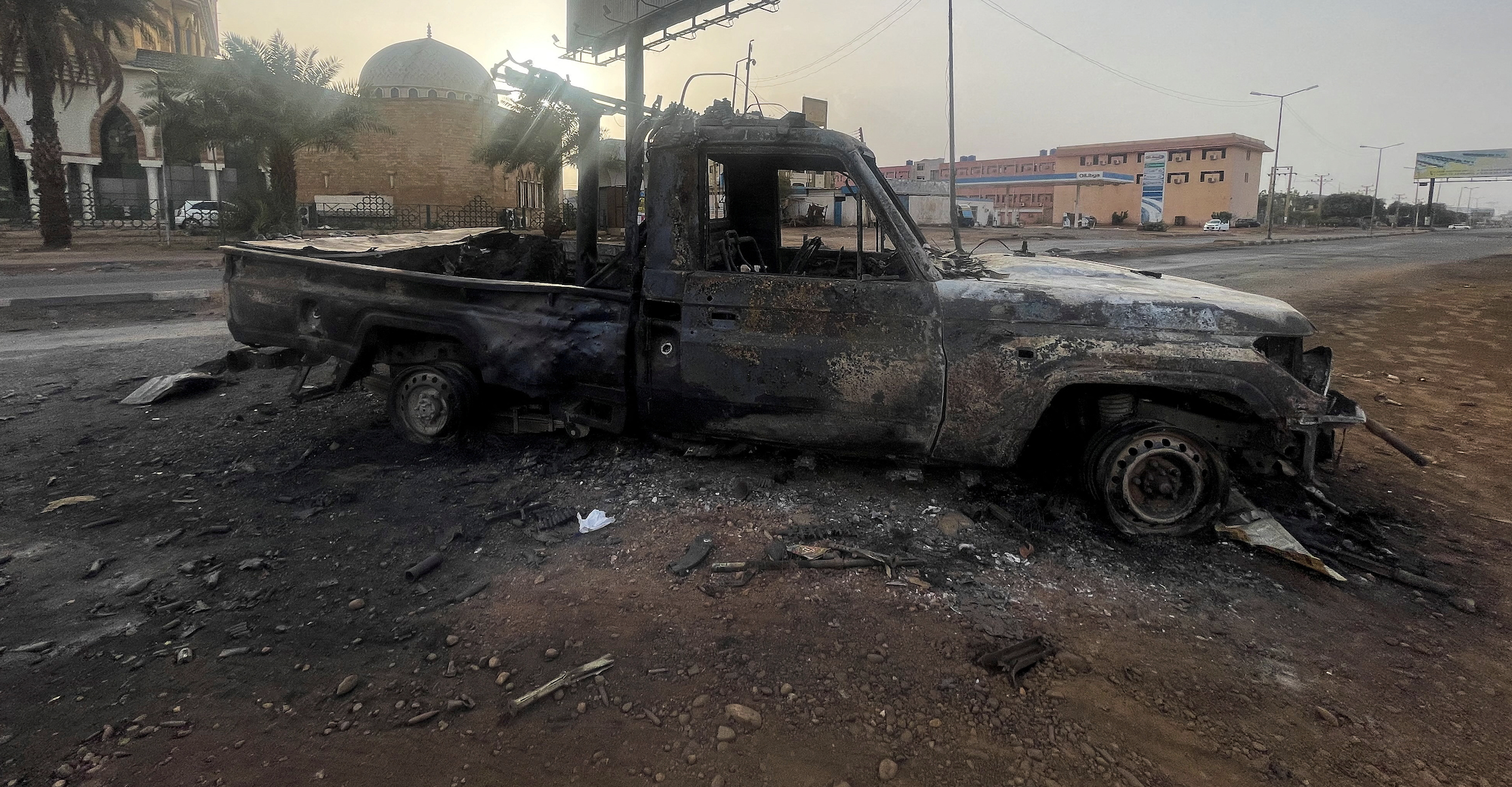 Islamists wield hidden hand in Sudan conflict, military sources say
PHOTO CAPTION: A burned vehicle is seen in Khartoum, Sudan April 26, 2023. REUTERS/El-Tayeb Siddig/File Photo
By Khalid Abdelaziz
DUBAI (Reuters) - Thousands of men who worked as intelligence operatives under former president Omar al-Bashir and have ties to his Islamist movement are fighting alongside the army in Sudan's war, three military sources and one intelligence source said, complicating efforts to end the bloodshed.
The army and a paramilitary force have been battling each other in Khartoum, Darfur and elsewhere for 10 weeks in Africa's third largest country by area, displacing 2.5 million people, causing a humanitarian crisis and threatening to destabilise the region. Reinforcements for either side could deepen theconflict.
The army has long denied accusations by its rivals in the Rapid Support Forces (RSF) that it depends on discredited loyalists of Bashir, an Islamist long shunned by the West, who was toppled during a popular uprising in 2019.
In response to a question from Reuters for this article, an army official said: "The Sudanese army has no relation with any political party or ideologue. It is a professional institution."
Yet the three military sources and an intelligence source said thousands of Islamists were battling alongside the army.
"Around 6,000 members of the intelligence agency joined the army several weeks before the conflict," said a military official familiar with the army's operations, speaking on condition on anonymity.
"They are fighting to save the country."
Former officials of the country's now-disbanded National Intelligence and Security Service (NISS), a powerful institution composed mainly of Islamists, confirmed these numbers.
An Islamist resurgence in Sudan could complicate how regional powers deal with the army, hamper any move towards civilian rule and ultimately set the country, which once hosted al Qaeda founder Osama bin Laden, on a path for more internal conflict and international isolation.
Reuters spoke to 10 sources for this article, including military and intelligence sources and several Islamists.
In a development indicative of Islamist involvement, an Islamist fighter named Mohammed al-Fadl was killed this month in clashes between RSF forces and the army, said family members and Islamists. He had been fighting alongside the army, they said.
Ali Karti, secretary general of Sudan's main Islamic organisation, sent a statement of condolences for al-Fadl.
'OUR IDENTITY AND OUR RELIGION'
"We are fighting and supporting the army to protect our country from external intervention and keep our identity and our religion," said one Islamist fighting alongside the army.
Bashir's former ruling National Congress Party said in a statement it had no ties to the fighting and only backed the army politically.
The army accused the RSF of promoting Islamists and former regime loyalists in their top ranks, a charge the RSF denied. Army chief Abdel Fattah Burhan, who analysts see as a non-ideological army man, has publicly dismissed claims that Islamists are helping his forces. "Where are they?" he cried out to cheering troops in a video posted in May.
The military, which under Bashir had many Islamist officers, has been a dominant force in Sudan for decades, staging coups, fighting internal wars and amassing economic holdings.
But following the overthrow of Bashir, Burhan developed good ties with states that have worked against Islamists in the region, notably the United Arab Emirates (UAE), Saudi Arabia and Egypt. The Gulf states provided Khartoum with significant aid.
Nowadays, former NISS officers also help the military by collecting intelligence on its enemies in the latest conflict. The NISS was replaced by the General Intelligence Service (GIS) after Bashir was toppled, and stripped of its armed "operations" unit, according to a constitutional agreement.
Most of the men from that unit have sided with the army, but some former operations unit members and Islamists who served under Bashir entered the RSF, one army source and one intelligence source said.
"We are working in a very hard situation on the ground to back up the army, especially with information about RSF troops and their deployment," said a GIS official.
BASHIR-ERA VETERANS
The army outnumbers the RSF nationally, but analysts say it has little capacity for street fighting because it outsourced previous wars in remote regions to militias. Those militias include the "Janjaweed" that helped crush an insurgency in Darfur and later developed into the RSF.
Nimble RSF units have occupied large areas of Khartoum and this week took control of the main base of the Central Reserve Police, a force that the army had deployed in ground combat in the capital. They seized large amounts of weaponry.
But the army, which has depended mainly on air strikes and heavy artillery, could benefit from GIS intelligence gathering skills honed over decades as it tries to root out the RSF.
On June 7, fire engulfed the intelligence headquarters in a disputed area in central Khartoum. Both sides accused the other of attacking the building.
After Burhan and RSF leader General Mohamed Hamdan Dagalo, known as Hemedti, carried out a coup in 2021 which derailed a transition to democracy, Hemedti said the move was a mistake and warned it would encourage Islamists to seek power.
Regional heavyweights Saudi Arabia and the UAE had seen Sudan's transition towards democracy as a way to counter Islamist influence in the region, which they consider a threat.
Publicly, the army has asserted its loyalty to the uprising that ousted Bashir in 2019.
But after the military staged a coup in 2021 that provoked a resurgence of mass street protests, it leaned on Bashir-era veterans to keep the country running. A taskforce that had been working to dismantle the former ruling system was disbanded.
Before the outbreak of violence, Bashir supporters had been lobbying against a plan for a transition to elections under a civilian government. Disputes over the chain of command and the structure of the military under the plan triggered the fighting.
About a week after fighting broke out in April, a video on social media showed about a dozen former intelligence officials in army uniforms announcing themselves as reserve forces.
The footage could not be independently verified by Reuters.
Several senior Bashir loyalists walked free from prison in Bahri, across the Nile from central Khartoum, during a wider prison break amid fighting in late April. The circumstances of their release remain unclear. Bashir is in a military hospital.
(Writing by Michael Georgy and Aidan Lewis, Editing by William Maclean)
MORE FROM THE
OAF NATION NEWSROOM