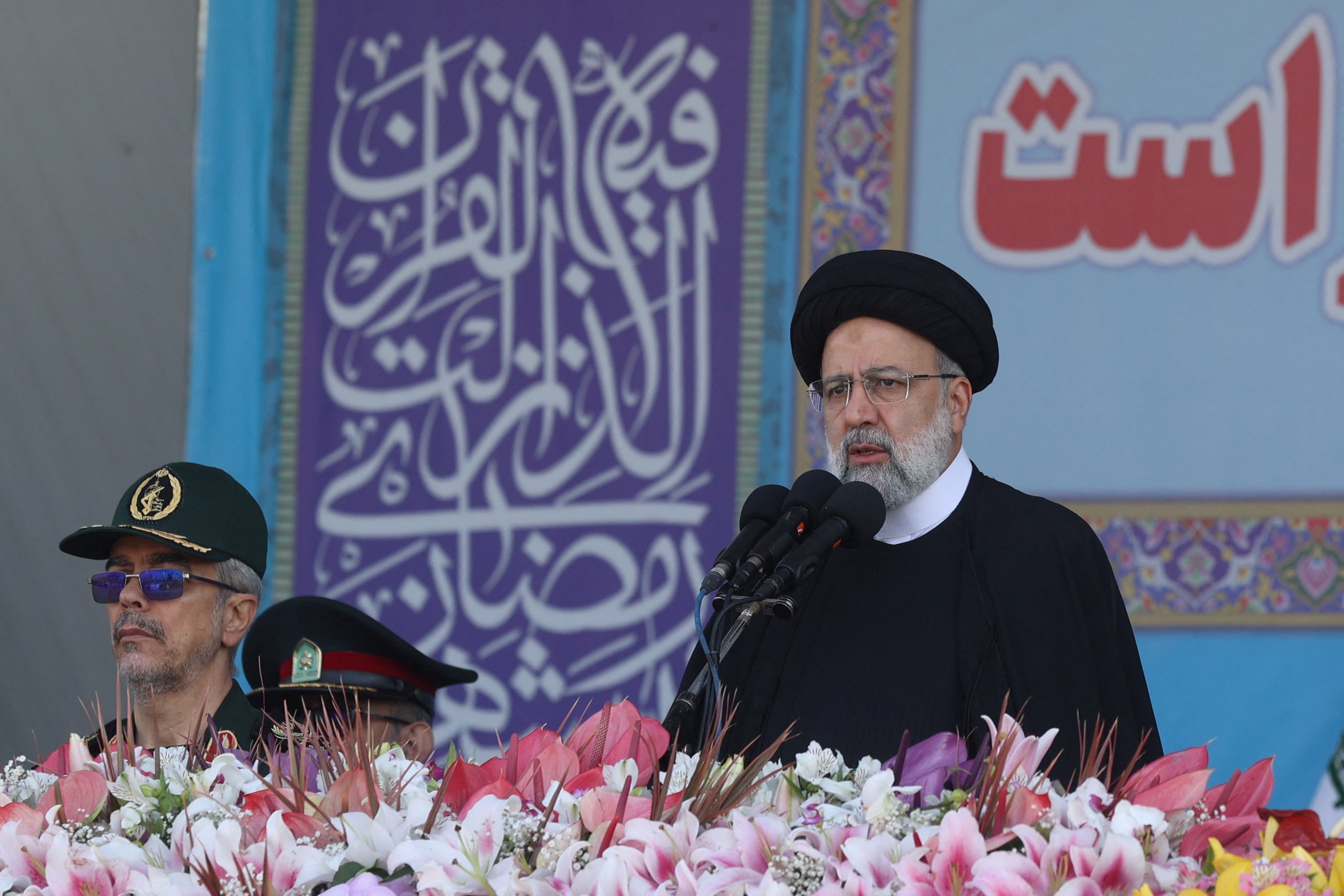 Iran executes three men over recent protests, judiciary says
FILE PHOTO: Iranian President Ebrahim Raisi delivers a speech during the ceremony of the National Army Day parade in Tehran, Iran, April 18, 2023. Majid Asgaripour/WANA (West Asia News Agency) via REUTERS
(Reuters) - Iran on Friday executed three men it said were implicated in the deaths of three members of its security forces during last year's anti-government protests, the country's judiciary said.
Majid Kazemi, Saleh Mirhashemi and Saeed Yaghoubi were executed in the central city of Isfahan, said the judiciary in a statement on Twitter, adding that they had "martyred" two members of the Basij paramilitary force and a law enforcement officer on Nov. 16.
Amnesty International said the men's fast-tracked trial was flawed and used "torture-tainted 'confessions'".
Iran denies that confessions are extracted under torture.
Friday's executions brought to at least seven the number of protesters hanged since the beginning of the nationwide protests that began last autumn and turned into one of the boldest challenges to the clerical leadership since the 1979 revolution.
They were ignited by the death of 22-year-old Iranian Kurdish woman Mahsa Amini while in the custody of Iran's morality police on Sept. 16.
In anticipation of their imminent execution, the three men on Wednesday appealed in a handwritten note for public support, saying, "Don't let them kill us".
"We need your help," said the note that went viral on social media, drawing local and international appeals to halt the executions, including from Washington.
Families and supporters held nightly vigils outside the Dastgerd prison in Isfahan in support of the three men who were being held inside.
The men were given a final meeting with their families on Wednesday, raising fears that their execution was imminent.
Immediately after their execution on Friday, state media re-ran video posts of what were presented as the defendants' confessions, which Amnesty International said were extracted by torture.
"The shocking manner in which the trial and sentencing of these protesters was fast-tracked through Iran's judicial system amid the use of torture-tainted 'confessions', serious procedural flaws and a lack of evidence is another example of the Iranian authorities' brazen disregard for the rights to life and fair trial," Amnesty said in a report on Wednesday.
"Majid Kazemi said in an audio recording from prison that he was forced to make false self-incriminating statements after interrogators beat him, gave him electric shocks, subjected him to mock executions, and threatened to rape him, execute his brothers and harass his parents," said Amnesty.
The men, who were put on trial in December and January, were sentenced to death on the charge of "enmity against God" for the alleged possession of a firearm.
U.S. State Department deputy spokesperson Vedant Patel, calling on Iran not to execute the three men, told reporters on Thursday that their execution would be an affront to human rights.
(dubai.newsroom@thomsonreuters.com; Editing by Clarence Fernandez, Toby Chopra and Alex Richardson)
MORE FROM THE
OAF NATION NEWSROOM