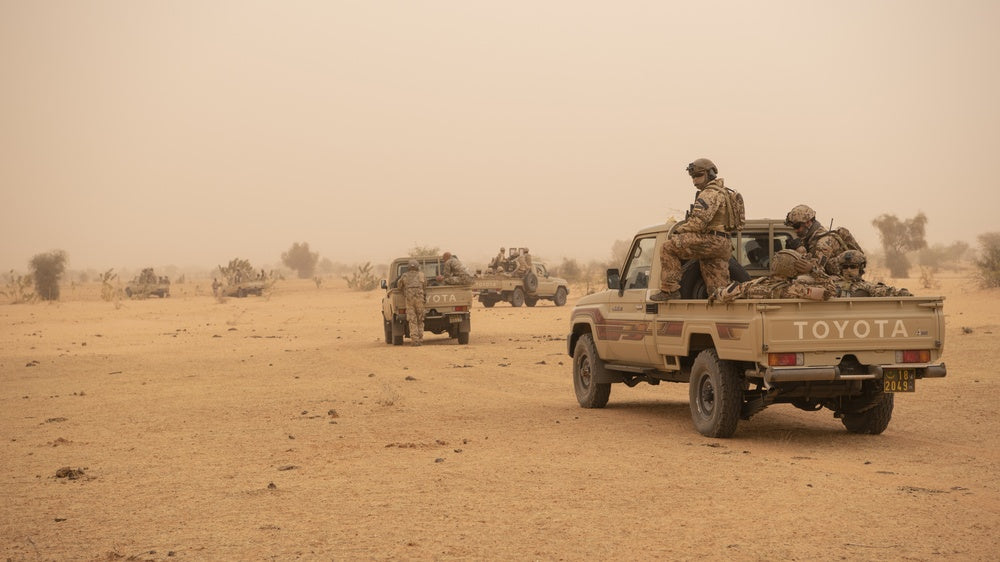 Interpreters for German troops in Mali seek Berlin protection as pullout looms
PHOTO CAPTION: Representational photo — German Bundeswehr soldiers prepare to dismount from their vehicle during a simulated patrol with Mauritanian troops during Flintlock 2020 in Kaedi, Mauritania, Feb.25, 2020. (U.S. Army Photo by Cpl. Kevin Sterling Payne via U.S. Defense Visual Information Distribution Service)
BERLIN (Reuters) - Interpreters for German forces in Mali have asked Berlin for protection for themselves and their families as the troops prepare to pull out by the end of the year, the defence ministry in Berlin said on Wednesday.

The Bundeswehr has deployed some 1,000 troops in Mali where their main task has been reconnaissance for the 13,000-strong UN peacekeeping mission MINUSMA which is about to withdraw after the junta in Bamako asked them to leave.

The German military says it employs some 60 local staff in Mali in total.

"We are conscious of our duty of care for our local staff and take their subjective feeling of being under threat seriously," a spokesperson for the defence ministry said, confirming a Spiegel magazine report that the interpreters had sent a letter to the government.

She added the government had a range of protective measures at its disposal that could be drawn upon in case of a crisis or should local staff be in danger because of their work for the Germans.


A German diplomat told Reuters the foreign ministry was monitoring the security situation in Mali closely, and that each ministry was responsible for the protection of its own staff.

Germany and other Western countries were criticised for leaving thousands of local staff behind in Afghanistan when the Taliban seized power in August 2021, prompting a hurried and chaotic evacuation.

MINUSMA was established in 2013 to support foreign and local troops battling Islamist militants, but in recent months there have been repeated instances of tensions between the Malian authorities and the mission.

Western powers fear that Niger, where the government was overthrown in a coup last month, could go the same way as neighbouring Mali, whose leaders hired mercenaries from Russia's Wagner group to help them fight an insurgency after they overthrew the democratic government three years ago and kicked out French troops.



(Reporting by Sabine Siebold and Alexander Ratz; Editing by Nick Macfie)
MORE FROM THE
OAF NATION NEWSROOM