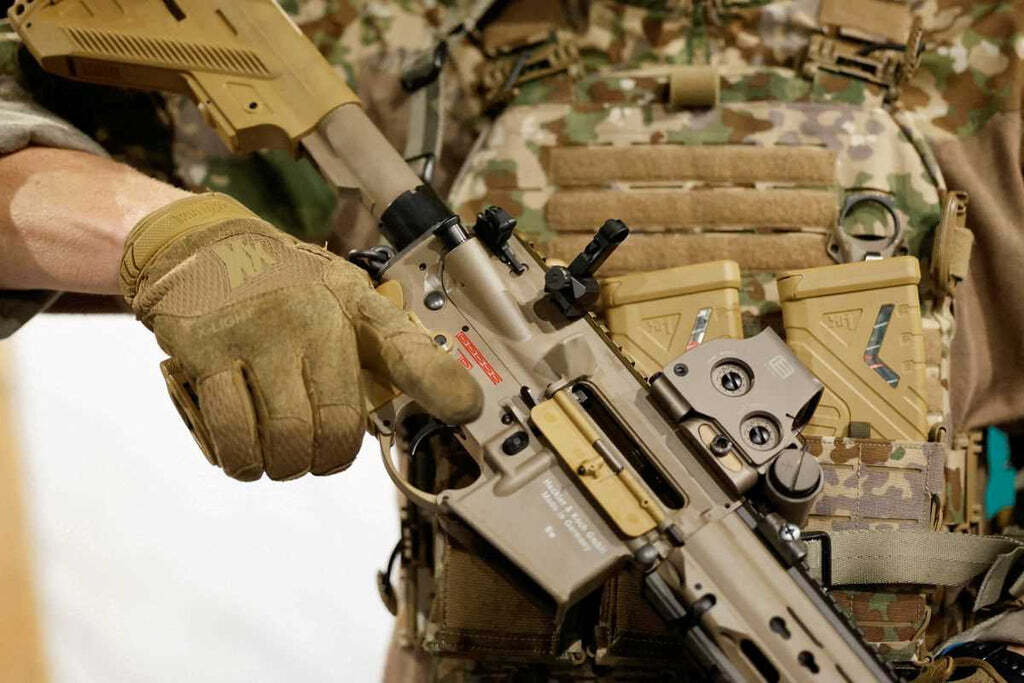 Germany's Scholz urges integrated EU defense industry
A soldier with Germany's Kommando Spezialkräfte (KSK) special operations unit holds a Heckler & Koch G95/HK416 rifle during a training exercise in Calw, Germany, October 24, 2022. REUTERS/Heiko Becker/File Photo
BERLIN (Reuters) - The European Union must work harder to integrate its defence industries and reach agreement on how to tackle migration, German Chancellor Olaf Scholz said in a keynote speech on Tuesday outlining his vision for the bloc's future.
Europe should boost efforts for closer military cooperation, joint procurement and the integration of its defence industries as it will only be heard if speaking with one voice, Scholz told lawmakers at the European Parliament in Strasbourg on Europe Day.
"Russia's brutal war of aggression against Ukraine has shown us how essential this realisation is," he added.
Scholz, who is under pressure from some German cities amid a renewed influx of refugees from countries such as Syria and Afghanistan, also pushed for a deal on the overhaul of the EU's asylum system before bloc-wide elections in 2024.
"We are united by the goal of better managing and organising irregular migration - without betraying our values," he said, echoing the bloc's goal of finding a solution before European elections.
The European Union's migration and asylum system faced an unprecedented socio-political crisis in 2015 when more than one million people - mostly fleeing the war in Syria - reached Europe's shores.
The EU has since tightened external borders and asylum laws, but Mediterranean arrivals rose last year, with the bloc's border agency Frontex reporting some 330,000 unauthorised arrivals.
Scholz also called on the EU to fast-track talks on free trade agreements with the South American trade bloc known as Mercosur, as well as Mexico, India, Indonesia, Australia and Kenya.
"Europe must turn to the world. If we continue fruitless negotiations over new free trade deals for years to come, others will dictate the rules - with lower environmental and social standards," the leader of Europe's biggest economy warned.
Echoing remarks in his first major speech on Europe's future in Prague in August, Scholz reaffirmed his commitment to EU enlargement while pushing for qualified majority votes on topics such as foreign and fiscal policy.
(Reporting by Sabine Siebold; Editing by Friederike Heine and Bernadette Baum)
MORE FROM THE
OAF NATION NEWSROOM