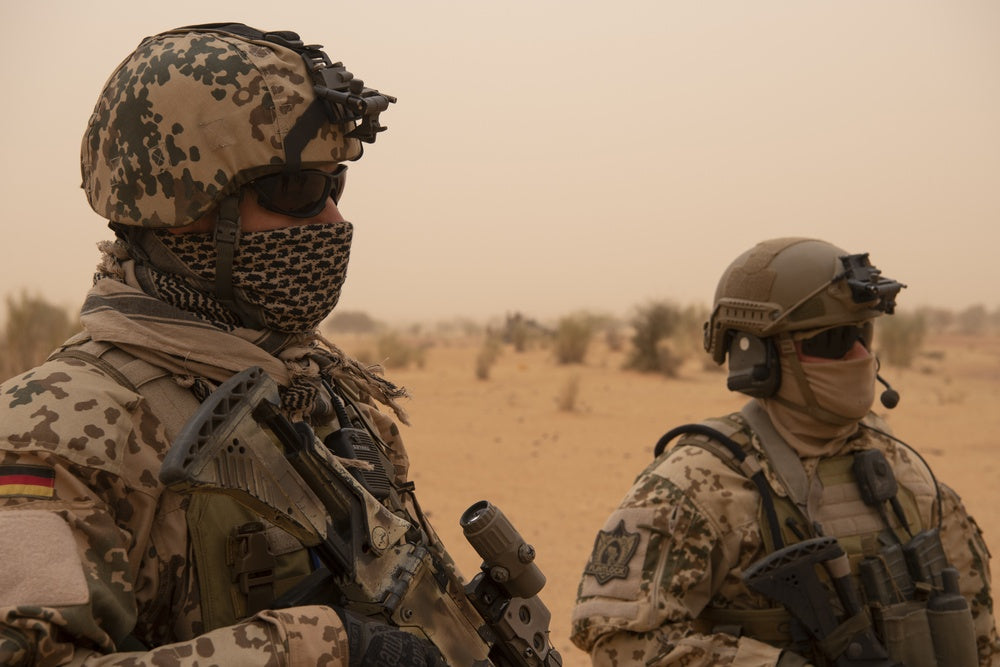 Germany resists Malian junta demand for immediate exit of troops
PHOTO CAPTION: German Bundeswehr soldiers assess a group of Mauritanian troops as they dismount their vehicles and form a security perimeter while executing a dismounted patrol training scenario during the Flintlock 2020 joint exercise in Kaedi, Mauritania, Feb.25, 2020. (U.S. Army Photo by Cpl. Kevin Sterling Payne via U.S. Defense Visual Information Distribution Service)
BERLIN (Reuters) - Germany said on Sunday a request by Mali's military junta for the United Nations peacekeeping force to leave the country "without delay" is politically motivated and Berlin still aims for an orderly withdrawal of its troops by May 2024.
Mali's interim military authorities made the request on Friday, citing a "crisis of confidence" between Malian authorities and the decade-long U.N. mission known as MINUSMA, which has struggled to protect civilians and its own troops.
The unexpected demand sparked immediate fears of further chaos in Mali, which voted on Sunday in a referendum on changing the constitution intended to pave the way to elections and a return to civilian rule.
Berlin has deployed some 1,000 troops to Mali, most near the northern town of Gao where their main task is to gather reconnaissance for the 13,000-strong MINUSMA.
The withdrawal demand marked a major turning point for the West African country, which has struggled to stem an Islamist insurgency that took root following an uprising in 2012. MINUSMA was deployed by the U.N. Security Council in 2013 to support foreign and local efforts to restore stability.
Frustrations over the growing insecurity spurred two coups in 2020 and 2021 and the ruling junta has been increasingly at loggerheads with MINUSMA and other international allies including France.
Security Council members must adopt a resolution to extend MINUSMA's mandate by June 30. A resolution requires at least nine votes in favour and no vetoes by Russia, China, the United States, Britain or France to pass.
The junta has burnt bridges with traditional Western allies and turned to Russia for help boosting its military capabilities. Western governments are worried about the presence of Russian private military contractor Wagner.
"That the Malian transition government and Russia would use the upcoming extension of the UN Mandate to derive political capital from that does not surprise us," a spokeswoman for the defence ministry said. "Our interest remains a structured exit. In this regard, we support the UN negotiations."
Germany said late last year it would start to pull out its troops from Mali from the middle of next year after a decade-long mission, with the withdrawal to be completed by May 2024.
(Reporting by Sarah Marsh and Sabine Siebold; editing by Giles Elgood)
MORE FROM THE
OAF NATION NEWSROOM