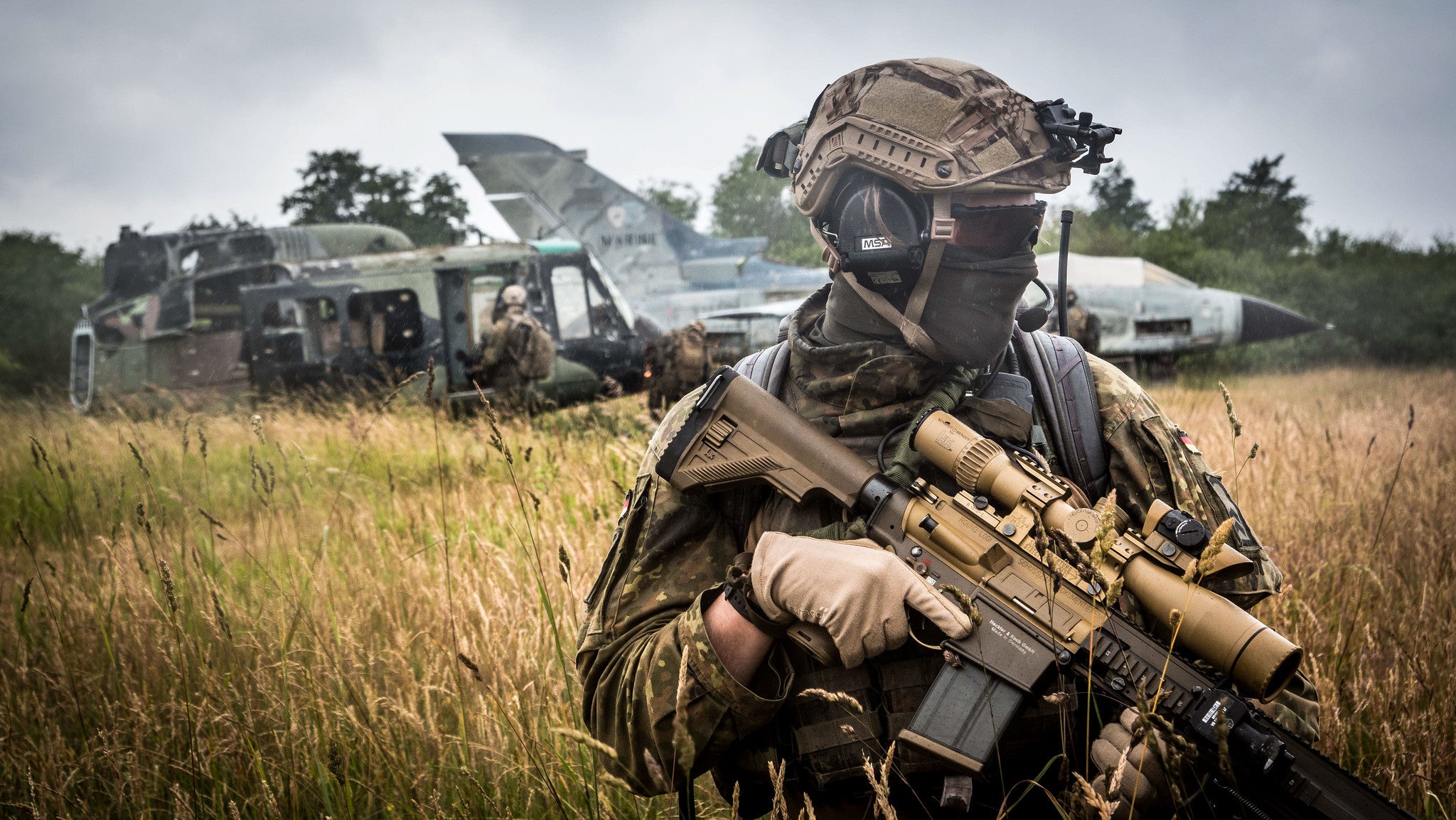 Germany announces first-ever National Security Strategy
PHOTO CAPTION: German troops from a special operations unit execute a simulated personnel recovery mission in northern Germany during the Unified Vision 18 training exercise, 2018. (NATO photo via Flickr)
BERLIN (Reuters) - Germany enshrined a NATO commitment to spending 2% of its gross domestic product on defence and identified Russia as the biggest threat to European security as the government announced its first ever National Security Strategy on Wednesday.
The following are some of the highlights of the strategy outlined in a policy document and at a government press conference. The strategy also discussed a growing rivalry with China, but that issue will be dealt with in a separate strategy paper in the coming months.
DEFENCE SPENDING
* Germany commits to spending 2% of GDP on defence on average over several years
* It wants to reach 2% spending target from 2024
* Spending on some other projects will be reduced as a result
UKRAINE AND RUSSIA
* Russia is the biggest threat to peace in the Euro-Atlantic area
* Russia is trying to destabilise European democracies, weaken EU and NATO
* German Chancellor Olaf Scholz: It is important to continue to discuss security guarantees for Ukraine including when war ends
CHINA
* China is increasingly putting pressure on regional stability and disrespecting human rights
* Rivalry with China has increased as Beijing seeks to change the existing international rules-based order
* China uses its economic weight to reach political goals
* China remains a partner without which we cannot solve the many global challenges
* Scholz: separate China strategy will come soon
* German Foreign Minister Annalena Baerbock: security in the 21st century means not being spied on by China on your phone chats
* Baerbock: German companies have come to the same conclusions on China as the government regarding dependencies
GLOBAL OUTLOOK AND CHALLENGES
* Germany is living in an age of growing multipolarity and systemic rivalry
* Some states are trying to undermine the international order and promote their revisionist ideas of spheres of influence. These states are trying to exert illegitimate influence on political processes, public discourse and elections
* Need to meet growing nuclear risks with credible deterrent, and work to reduce nuclear risks
* Threat of terrorist attacks is rising due to radicalisation and the return of fighters from crisis and conflict zones
* Want to work with European partners to further develop common security policy, including intensive engagement to stabilise Europe's neighbourhood
* Erosion of global initiatives for arms control and non-proliferation is worsening the global security situation
* Government pushing for harmonisation of military capability requirements with partners, wants primarily European solutions for procurement
* Germany is ready to assume global responsibility to strengthen the United Nations, wants permanent seat at the Security Council
INFRASTRUCTURE AND COMMODITIES
* Germany aims to reduce one-sided dependencies in energy, raw materials supply through diversification of supply
* Germany aims to promote commodities projects for strategic reserves, create incentives for firms to hold such reserves
* Will continue to screen investments to avoid dependencies in critical infrastructure and counter the problematic transfer of sensitive technologies
CYBER
* Germany to create a federal agency to defend against severe cyberattacks
* Government will work to identify perpetrators of cyber attacks and target them with sanctions in coordination with EU and NATO partners or other affected countries
HEALTH
* Germany calls for internationally binding rules on how to deal with pandemics
* Government wants to increase national resilience by securing medical supplies and supply chains over the long term.
* It is important to avoid dependencies, in particular by diversifying imports, by maintaining and expanding German and European production capabilities for critical goods such as medicines and healthcare products
(Compiled by Matthias Williams; Editing by Angus MacSwan)
MORE FROM THE
OAF NATION NEWSROOM