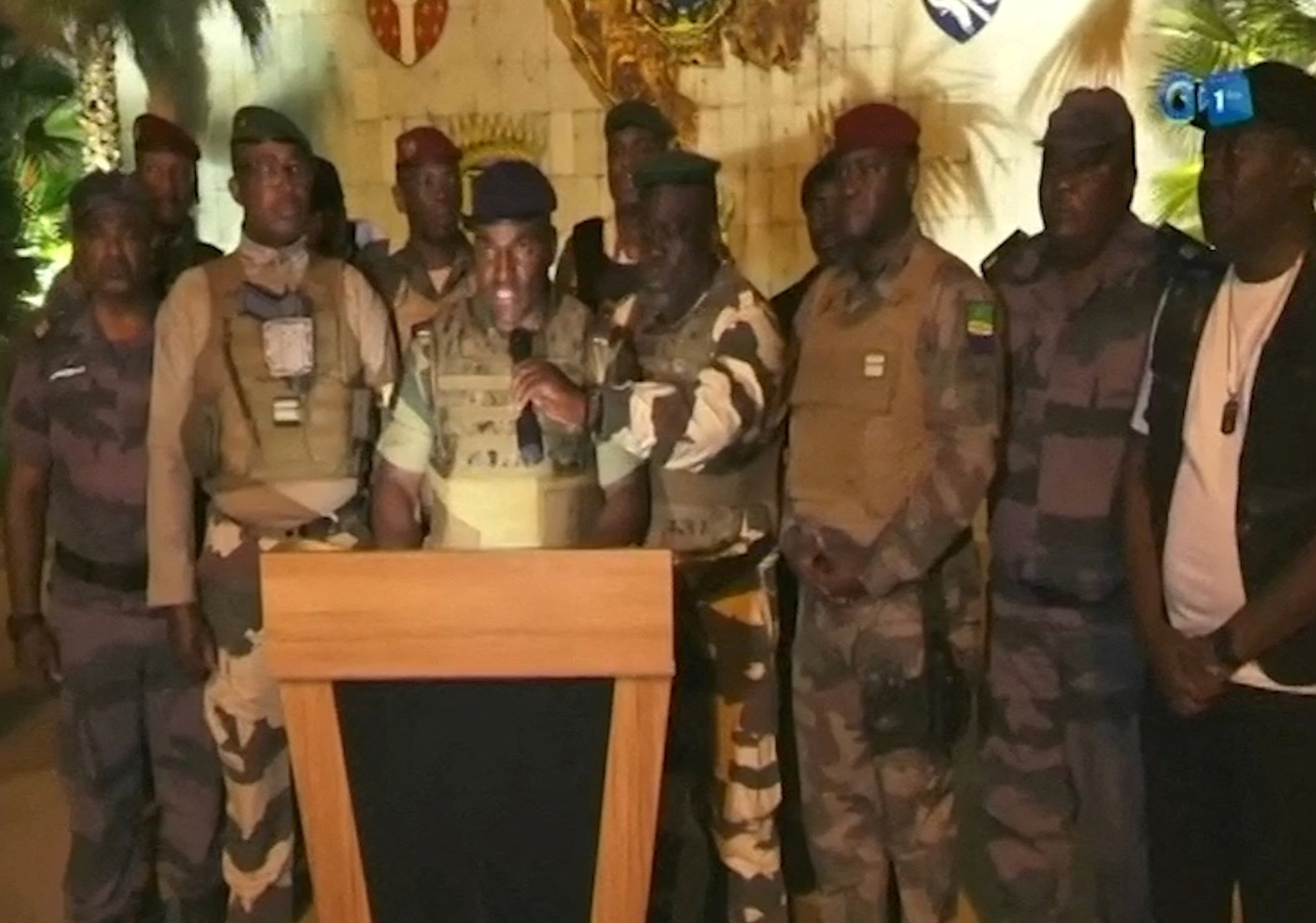 Gabon army officers say they have seized power after election
PHOTO CAPTION: Gabonese military appear on television as they announce that they have seized power following President Ali Bongo Ondimba's re-election, in this screengrab obtained by Reuters on August 30, 2023. Gabon 1ere/Handout via REUTERS
By Gerauds Wilfried Obangome

LIBREVILLE (Reuters) - A group of senior military officers in Gabon claimed they had seized power in the early hours of Wednesday, minutes after the Central African state's election body announced that President Ali Bongo had won a third term.

The officers said on television channel Gabon 24 that they represented all Gabonese security and defence forces. They said the election results were cancelled, all borders were closed until further notice and state institutions were dissolved.

Gunfire could be heard in the capital Libreville after the statement announcing the ousting of Bongo, whose family have ruled the country that produces oil and manganese for more than half a century, a Reuters reporter said.


There was no immediate comment from the government of Gabon, which is a member of the oil producer group OPEC, and there were no immediate reports on the whereabouts of Bongo, who was last seen in public casting his vote in the vote on Saturday.

French Prime Minister Elisabeth Borne said France, Gabon's former colonial ruler, was following the situation closely.

If successful, the coup would be the eighth in West and Central Africa since 2020. The latest one, in Niger, was in July. Military officers have also seized power in Mali, Guinea, Burkina Faso and Chad.

Niger and other Sahel countries have been battling Islamist insurgencies that have eroded faith in democratic governments. Gabon, which lies further south on the Atlantic coast, is not facing the same challenges, but a coup would suggest a further sign of democratic backsliding in a volatile region.

Bongo's family has ruled the oil producing but poor nation for 56 years. His detractors say he has done little to channel its oil and other wealth towards the population of some 2.3 million people, a third of whom live in poverty.

"Today the country is undergoing a severe institutional, political, economic, and social crisis," the officers said in a statement, saying the Aug. 26 election lacked transparency and credibility.

"In the name of the Gabonese people ... we have decided to defend the peace by putting an end to the current regime," they said.

One officer read the joint statement, surrounded by a dozen or so others in military fatigues and berets.

The servicemen introduced themselves as members of The Committee of Transition and the Restoration of Institutions.

The state institutions they declared dissolved included the government, the senate, the national assembly, the constitutional court and the election body.


FEARS OF UNREST

There had been fears of unrest after Saturday's presidential, parliamentary and legislative elections, which saw Bongo seeking a third term against 18 challengers. His team has rejected allegations of fraud.

But a lack of international observers, the suspension of some foreign broadcasts and the authorities' decision to cut internet service and impose a night-time curfew nationwide after the poll had raised concerns about the transparency of the electoral process.

As the sun rose, the streets of capital Libreville appeared calm and crowds of curious residents gathered outside. Some cheered as a group of soldiers drove past in a vehicle, but there was no sign of widespread celebration or alarm.

"If this is confirmed, it is another military coup which increases instability in the whole region," said the European Union's foreign policy chief Josep Borrell.

Several hours after the officers' announcement, internet access appeared to be restored for the first time since Saturday's vote, a Reuters reporter said.

The Netblocks internet observatory confirmed there had been some restoration of connectivity nationwide.

The Gabonese Election Centre had earlier on Wednesday announced that Bongo won the election with 64.27% of the vote and his main challenger, Albert Ondo Ossa, had come in second with 30.77%.

Bongo, 64, succeeded his father Omar as president in 2009 and was re-elected in a disputed election in 2016.

The government said the web blackout and curfew were necessary to prevent the spread of fake news and to protect public safety. The state had also shut down the internet for several days after Bongo's 2016 election win, which provoked violent protests that saw the parliament building torched.

Gabon foiled an attempted military coup in January 2019 after soldiers briefly seized the state radio station and broadcast a message saying Bongo, who had suffered a stroke months earlier, was no longer fit for office.

The situation was restored hours later after two of the suspected coup plotters were killed and others arrested.

Gabon's dollar-denominated bonds fell by nearly 4 cents on Wednesday, and French miner Eramet, which has large manganese operations in Gabon, said it had halted operations.



(Additional reporting by Alessandra Prentice and Sofia Christensen; Writing by Raju Gopalakrishnan and Nellie Peyton; Editing by Simon Cameron-Moore and Edmund Blair)
MORE FROM THE
OAF NATION NEWSROOM