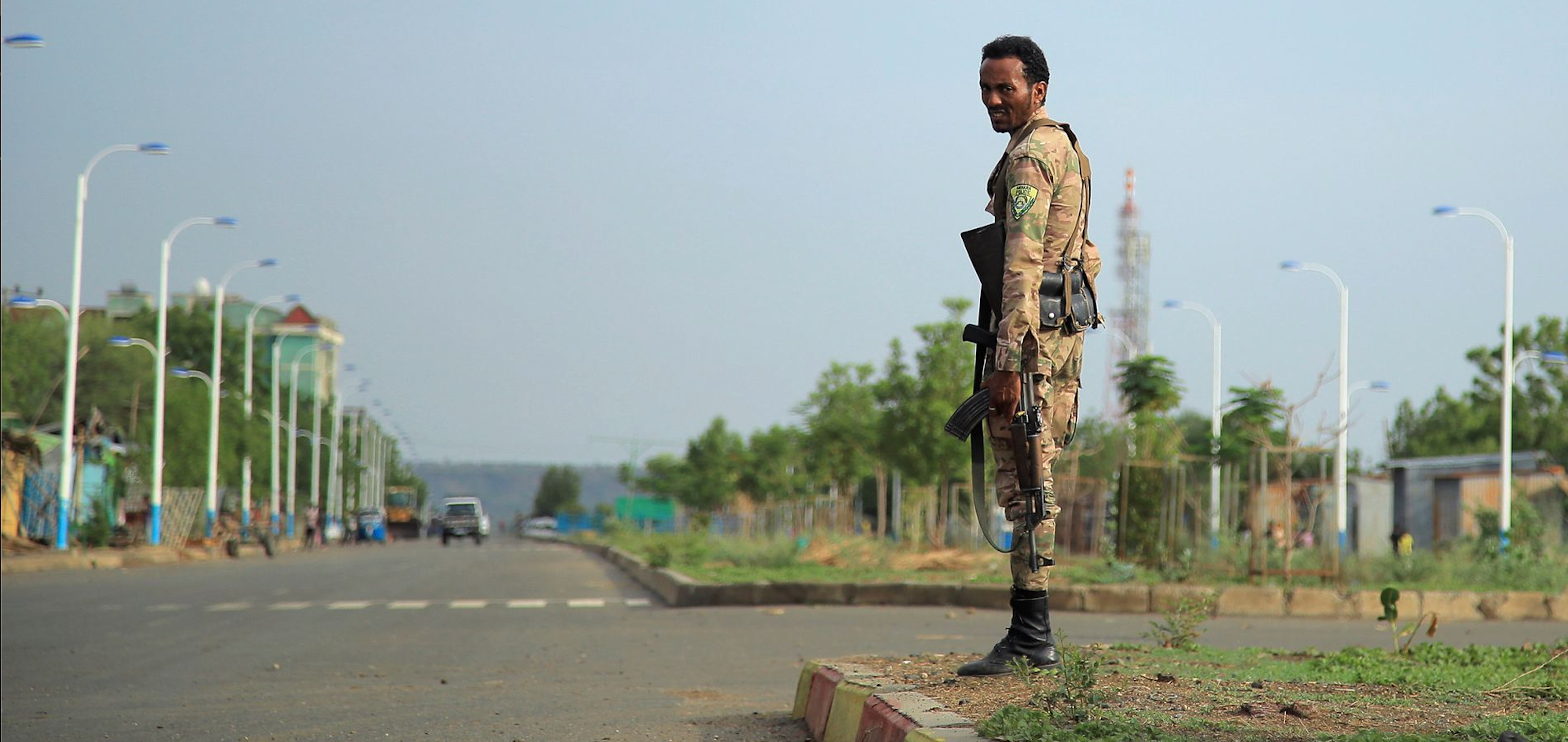 Ethiopian military clashes with militia in Amhara
PHOTO CAPTION: A member of Amhara Special Forces stands guard along a street in Humera town, Ethiopia July 1, 2021. REUTERS/Stringer
By Dawit Endeshaw

ADDIS ABABA (Reuters) -Ethiopia's military has clashed with fighters from a militia in the Amhara region, residents said on Wednesday, in an escalation of a simmering feud between the two former allies that a doctor said had caused more than a dozen injuries.

Fano, a part-time militia with no formal command structure, backed federal troops in a two-year civil war in the neighbouring Tigray region that ended last November. But the relationship has soured over what some in the region say is a disregard by the national government for Amhara's security.

Fano fighters and Ethiopian National Defense Force (ENDF) troops clashed near Debre Tabor on Tuesday and Wednesday, a doctor at a hospital in the town and a police officer told Reuters. Both asked not to be named for security reasons.

Spokespeople for Ethiopia's federal government and the Amhara regional administration did not respond to requests for comment on Wednesday.

The doctor said the hospital had received three people with serious injuries and 10 with minor injuries, including wounds from gunshots and heavy weapons.


"The fighting continued today on the outskirts of town," the doctor said, adding the road into Debre Tabor was closed. "Those who were injured are coming by foot."

There was also fighting outside the town of Kobo early Tuesday morning, but the situation was calm on Wednesday, two Kobo residents told Reuters.

A diplomatic source, speaking on condition of anonymity, said fighting broke out several days ago when the military launched an operation to force Fano fighters out of Kobo and other areas.

Fano militiamen then seized the holy town of Lalibela, which is home to a UNESCO World Heritage site, the diplomatic source said.

Spain's embassy in Ethiopia instructed any Spaniards in Lalibela not to leave their hotels or residences, in a message on the social media platform X, formerly known as Twitter.

On Tuesday, the state-owned Ethiopian Broadcasting Corporation quoted ENDF spokesperson Colonel Getnet Adane as saying the military would take action against Fano for "disturbing the country's peace".

He cited several recent incidents in which Fano fighters had opened fire on ENDF soldiers but did not say when they had occurred.

The ENDF spokesperson did not respond to a request for comment on Wednesday.

Fano fighters took part in a week of violent protests across Amhara in April after Prime Minister Abiy Ahmed ordered that security forces from Ethiopia's 11 regions be integrated into the police or national army.

Protesters felt the order was meant to weaken Amhara - the country's second-biggest region. The federal government denied this.

(Reporting by Dawit Endeshaw; Additional reporting by Giulia Paravicini in Nairobi; Writing by George Obulutsa and Aaron Ross; Editing by Nick Macfie)
MORE FROM THE
OAF NATION NEWSROOM