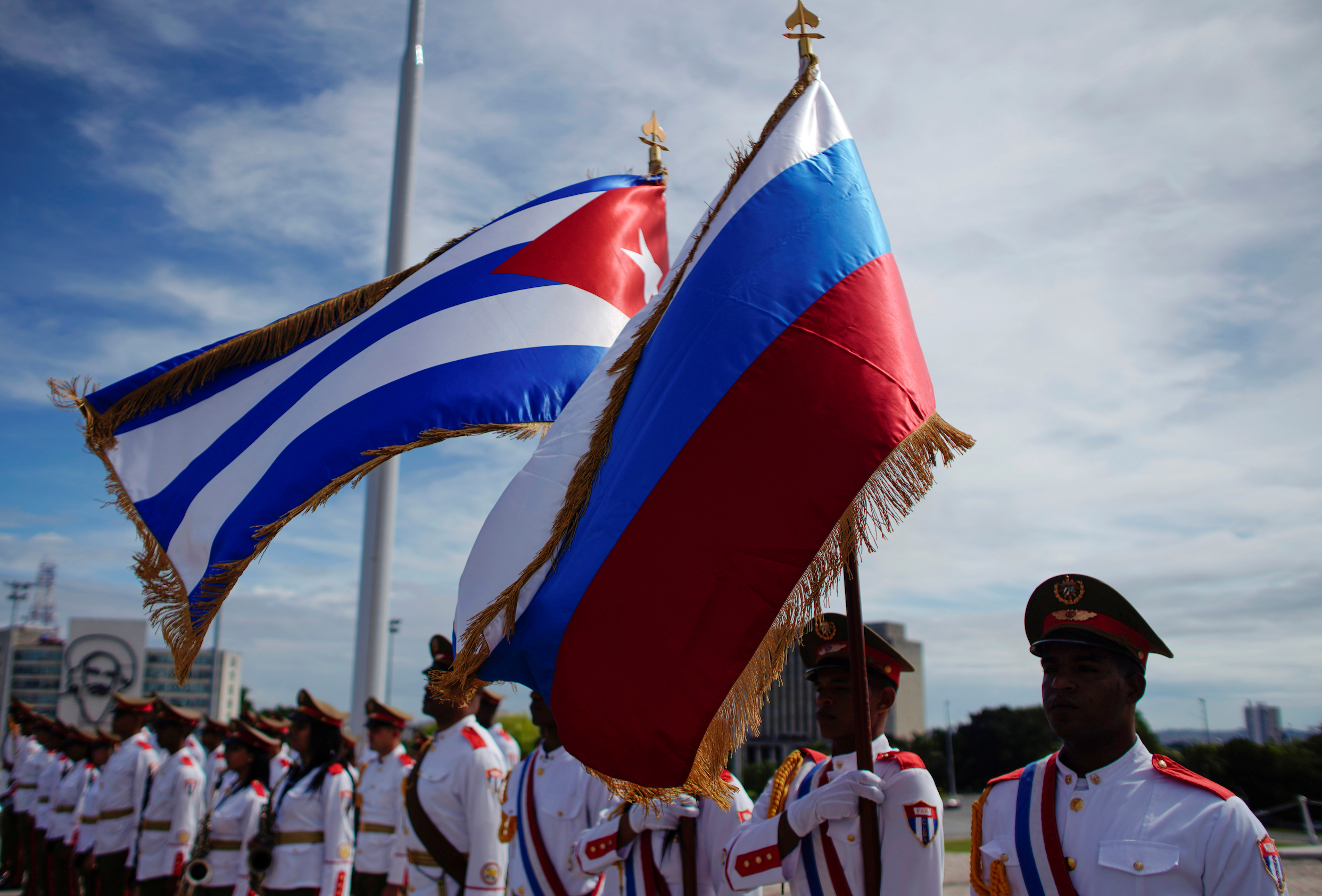 Cuba and Russian defense ministers discuss joint "technical military" projects
PHOTO CAPTION: Honor guards hold a Russian and a Cuban flag during a wreath-laying ceremony with Russia's Prime Minister Dmitry Medvedev (not pictured) at the Jose Marti monument in Havana, Cuba, October 3, 2019. REUTERS/Alexandre Meneghini
HAVANA (Reuters) - The defense ministers of Cuba and Russia discussed the development of joint "technical military" projects this week at a meeting in Moscow, according to media reports and Russia's defense ministry, just days after mercenaries marched towards the Russian capital.
The longtime political allies - both subject to U.S. sanctions - have sharply increased economic ties in recent months, facilitating trade and investment to circumvent those restrictions.
Russian defense minister Sergei Shoigu proposed this week to extend that cooperation to the country's militaries, according to a report in Prensa Latina.
"The composition of your large delegation testifies to Cuba's readiness to discuss a wide range of issues in the military and military-technical sphere," Shoigu said in the report. "I propose to discuss in detail all the existing and promising cooperation projects in the military field."
Shoigu's dismissal had been one of the main demands of mutineers led by Russian mercenary leader Yevgeny Prigozhin over the weekend.
Cuba's defense minister Alvaro Lopez said Havana rejected sanctions imposed on Russia by the U.S., and repeated Cuba's position that U.S. wishes to expand NATO had forced Russia's hand in Ukraine, according to a Russian military statement.
"History will demand responsibility from the United States for the consequences of its aggressive military doctrine beyond the borders of NATO, which threatens peace, security and international stability," Lopez was quoted as saying in the Russian military statement.
The meeting came just days after the U.S. said it would have "deep concerns" about Chinese intelligence and military activities in Cuba after the Wall Street Journal reported that Beijing was planning a spy base and new military training facilities on the island.
Cuba has denied those allegations, citing a lack of evidence, and maintains that the only military incursion on the communist-run island is an "illegal" military base operated by the United States at Guantanamo.
(Reporting by Dave Sherwood in Havana; Additional reporting by Guy Faulconbridge in Moscow; Editing by Daniel Wallis)
MORE FROM THE
OAF NATION NEWSROOM