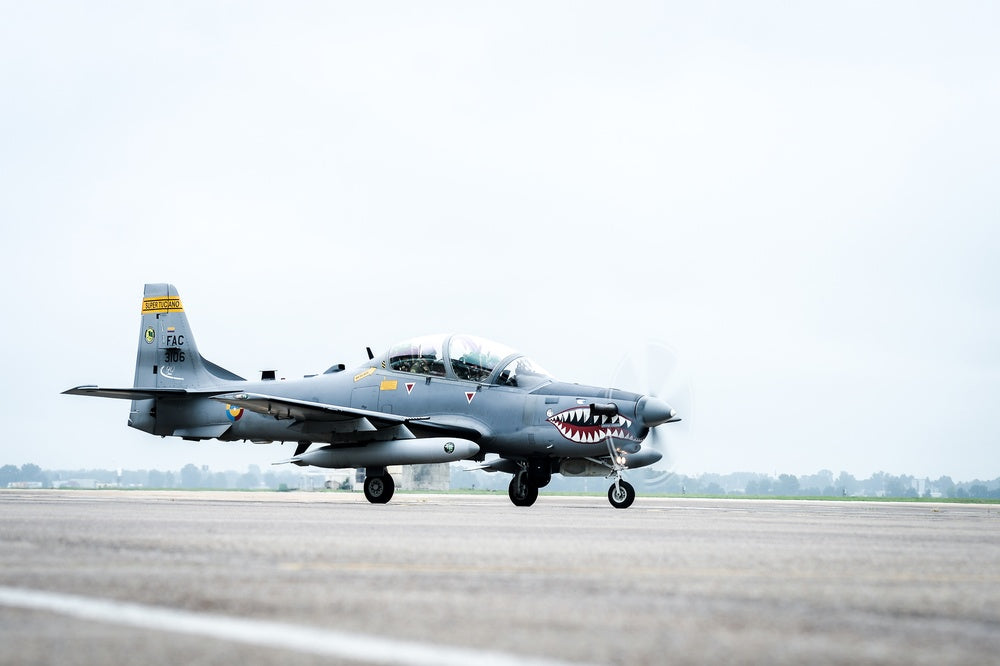 Colombia suspends ceasefire with Estado Mayor Central rebels in some areas
PHOTO CAPTION: A Colombian Air Force A-29B Super Tucano taxis during a joint exercise with U.S. forces at Barksdale Air Force Base, La., Aug. 17, 2016. (U.S. Air Force photo by Senior Airman Mozer O. Da Cunh via U.S. Defense Visual Information Distribution Service)
By Luis Jaime Acosta
BOGOTA (Reuters) - Colombia's government on Monday suspended a national ceasefire with the Estado Mayor Central (EMC) armed group in some provinces, following the murder of four Indigenous teenagers.
The move to reactivate military offensives against the EMC in the country's southeast is the latest hiccup in leftist President Gustavo Petro's efforts to make peace or surrender deals with armed groups to end Colombia's six decade conflict, which has killed at least 450,000 people.
The EMC was founded by dissident former members of the now-demobilized FARC rebels, who reject a 2016 peace deal signed by that group.
"The current bilateral ceasefire with this armed group in the provinces of Meta, Caqueta, Guaviare and Putumayo is suspended and all offensive operations are reactivated," the government said in a statement. "The decision will be effective in the next 72 hours."
The ceasefire with the EMC has been effective in other provinces, where it will remain in place, the government said, adding that it remained willing to hold talks with the group.
The four minors were forcibly recruited by the group and then shot dead when they attempted to escape, Indigenous groups have said.
In its own statement on Monday morning, the EMC said the armed forces had violated the bilateral deal and the government's desire for change had been seen "only in speeches and promises."
The EMC has an estimated 3,500 members, including nearly 2,200 combatants, and operates in 23 of Colombia's 32 provinces, according to security force documents.
Petro announced ceasefires with the EMC, fellow FARC dissidents Segunda Marquetalia and the Clan del Golfo and Sierra Nevada Self-Defense Forces crime gangs at the New Year, but suspended the halt in hostilities with the Clan del Golfo in March.
(Reporting by Luis Jaime Acosta; Writing by Julia Symmes Cobb; editing by John Stonestreet)
MORE FROM THE
OAF NATION NEWSROOM