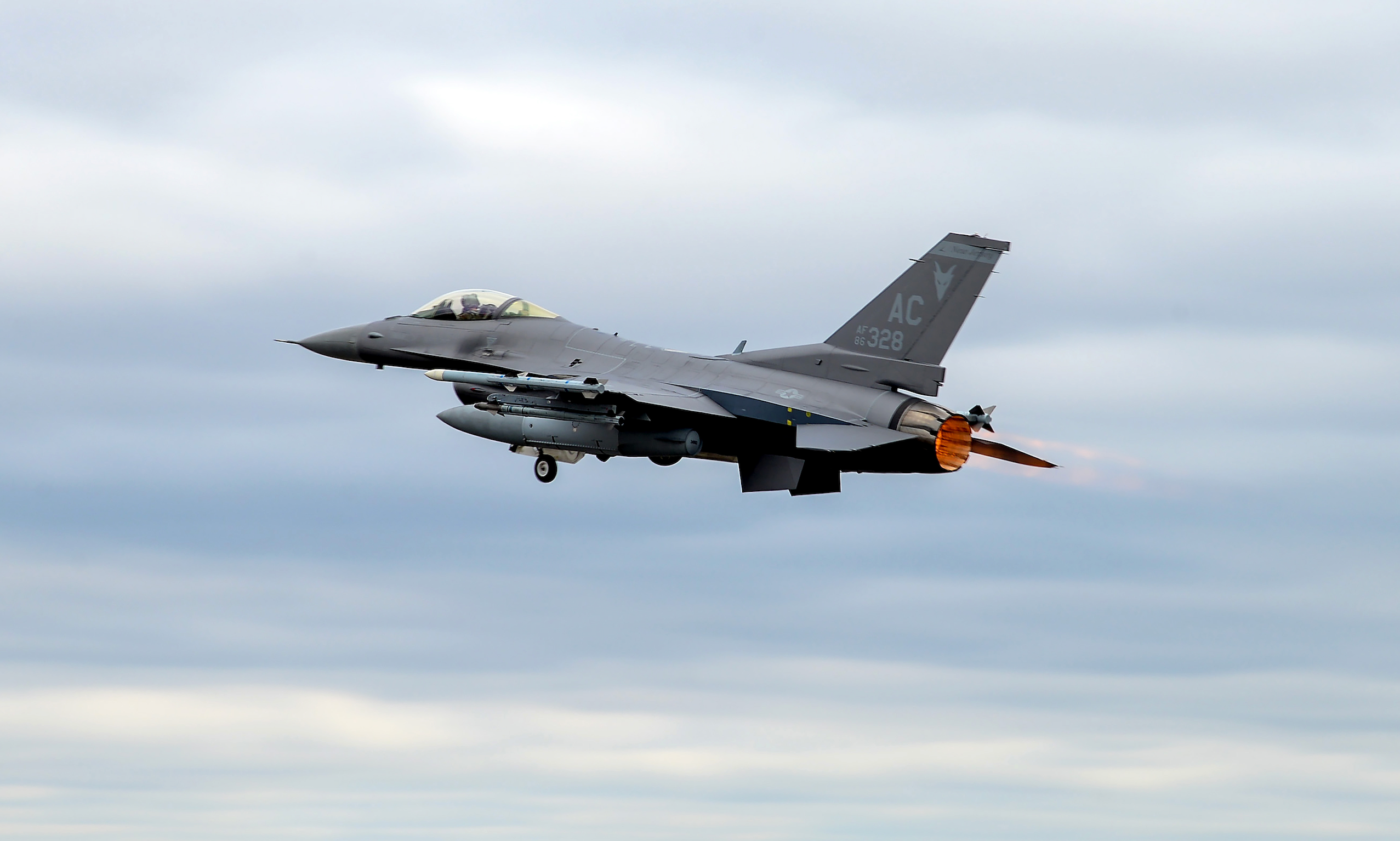 Coalition aims to start Ukrainian F-16 pilot training this summer, Dutch minister says
PHOTO CAPTION: A U.S. Air Force F-16C Fighting Falcon takes off April 1, 2020, at the 177th Fighter Wing, Egg Harbor Township, N.J. (U.S. Air National Guard photo by Airman Hunter Hires via U.S. Defense Visual Information Distribution Service)
By Anthony Deutsch
VOLKEL AIR BASE, Netherlands (Reuters) - Ukrainian pilots could begin training to fly U.S.-manufacture F-16 fighter jets as soon as this summer, the Dutch defense minister has told Reuters, a first step toward supplying Kyiv with a powerful, long-term capability in its war with Russia.
NATO allies the Netherlands and Denmark are leading an international coalition to train pilots and support staff, maintain aircraft and ultimately supply F-16s to Ukraine. Previously, the Netherlands had said it aimed to start training Ukrainian pilots "as soon as possible", but had stopped short of specifying when such training could get under way.
"This summer is our ambition. And we'll see if that's realistic" for the start of the training programme, Dutch Defense Minister Kajsa Ollongren told Reuters in an interview.
She said the aim would be to have the training programme fully operational within six months. Denmark, where there are flight simulators, is a possible location to host the program.
A final decision has not yet been taken on a request from Kyiv to supply dozens of F-16s, Ollongren said. The U.S.-backed training program will include Belgium and Luxembourg, while France and Britain have offered assistance, she said.
While adopting F-16s will not impact the war in the short-term, it will bring Ukraine more in line with NATO military capabilities, which "is very important for the future," Ollongren said.
"When the war is over Ukraine has to be able to defend itself to deter Russia from trying again. And I think...that's what the Ukrainians also see."
"It is a very strong weapons system. It's a very strong capability. But it's not going to be available anytime soon and President (Volodymyr) Zelenskiy, of course, knows that," Ollongren said.
Two sources, speaking on condition of anonymity, told Reuters the training would begin with two groups of 12 Ukrainian pilots, already experienced flying Soviet-era MiGs. The minister did not specify the initial size of the programme.
JUST AN AIRPLANE
Ukraine's Zelenskiy said last week he received "a serious, powerful" offer from leaders of countries ready to provide Kyiv with F-16 fighter jets and is awaiting final agreements with key allies.
The Netherlands, like other NATO members, is transitioning to newer F-35 fighters. The Dutch still have 24 F-16s in operation and more out of service which could be transferred to Ukraine.
It usually takes roughly 2.5 years to become a fighter pilot in the Netherlands. A U.S official, speaking to Reuters on condition of anonymity, said estimates on the training time are still being finalised, but that it could take as little as four months to teach basic F-16 skills to an experienced Ukrainian pilot.
Colonel Laurens-Jan Vijge, a Dutch F-35 pilot who flew F-16s for 15 years, including multiple missions to Afghanistan, is part of the team being assembled to train the Ukrainians.
"Flying-wise, well, technically, if you're a pilot, this is also just an airplane," he told Reuters at the Volkel air base in the southern Netherlands, the roar of landing F-35 jet planes in the background.
Ukrainian pilots would have to learn how to operate the F-16's so-called 'hands-on throttle and stick'.
"That means that both on the throttle which you use to accelerate and on a stick to control the airplane, there's a lot of buttons that you use to operate all the avionics. Usually in Soviet equipment that's non-existent, or at least less part of the design," he said.
The course will include language training and "simulator training where they learn how to deal with the different subsystems in the airplane," he said. "And that's before you start talking about how to operate it as a weapons platform. So that's really the last part of the training."
($1 = 0.9289 euros)
(Reporting by Anthony Deutsch in The Hague; Additional reporting by Phillip Stewart in Washington)
MORE FROM THE
OAF NATION NEWSROOM