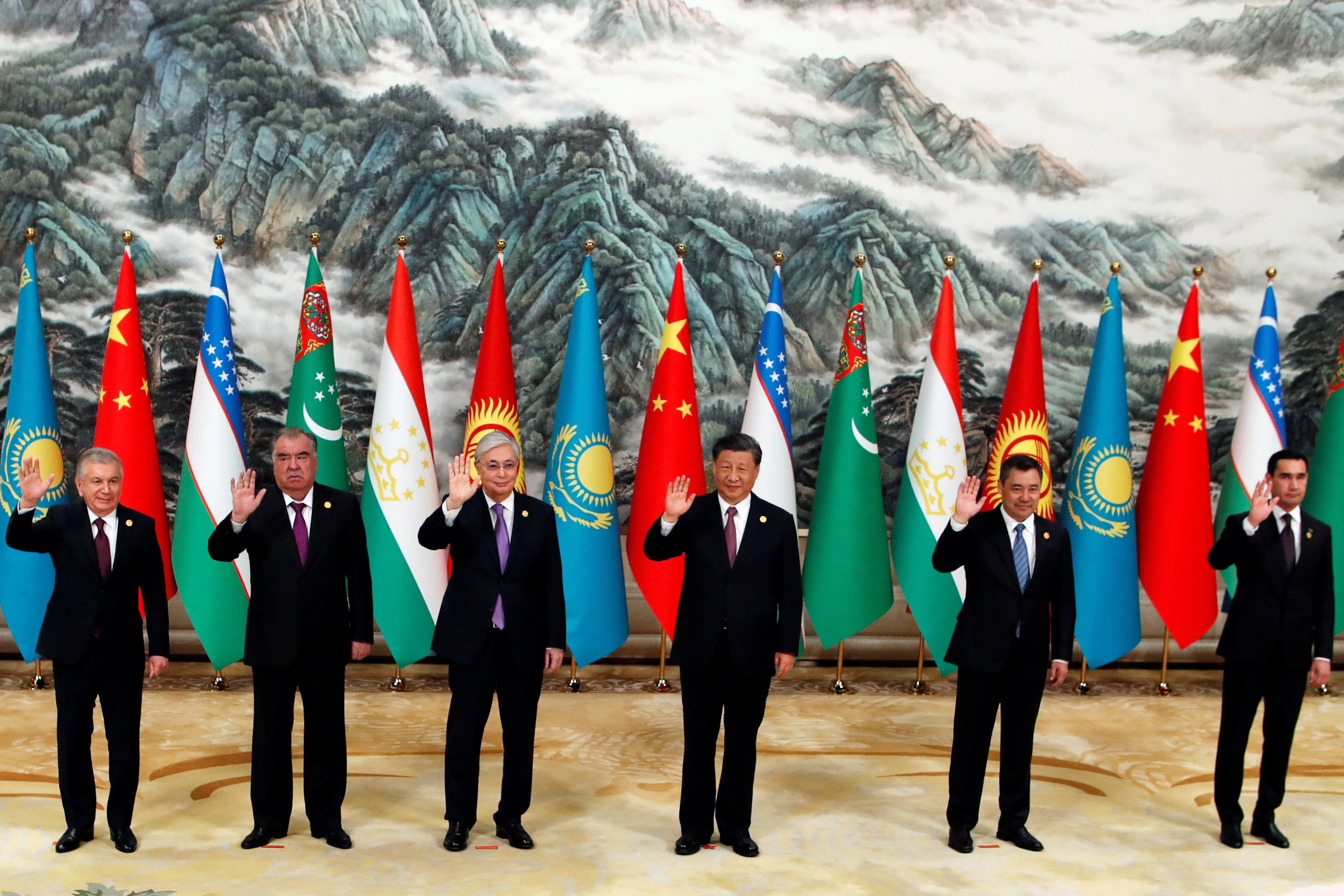 China's Xi unveils development plan for Central Asia
Chinese President Xi Jinping, Kazakhstan's President Kassym-Jomart Tokayev, Kyrgyzstan's President Sadyr Japarov, Tajikistan's President Emomali Rahmon, Turkmenistan's President Serdar Berdymukhamedov and Uzbekistan's President Shavkat Mirziyoyev wave as they pose for pictures at a group photo session during the China-Central Asia Summit in Xian, Shaanxi province, China May 19, 2023. REUTERS/Florence Lo/Pool
XIAN, China (Reuters) -Chinese President Xi Jinping on Friday unveiled a grand plan for Central Asia's development, from building infrastructure to boosting trade, taking on a new leadership role in a region that has traditionally been a Russian sphere of influence.
China is ready to coordinate development strategies with Kazakhstan, Kyrgyzstan, Tajikistan, Turkmenistan and Uzbekistan, and promote the modernisation of all, Xi said in an address to a China-Central Asia Summit in northwest China.
"This summit has added new impetus to the development and revitalisation of the six counties, and injected strong positive energy into regional peace and stability," Xi said later at a press conference with his Central Asian counterparts.
"We will jointly foster a new paradigm of deeply complementary and high-level win-win cooperation."
With its engagement, China has put itself at the forefront of the race for political influence and energy assets in the resource-rich region, with Russia distracted by its war in Ukraine and the withdrawal of U.S. forces from Afghanistan diminishing the U.S. presence in the region.
The five former Soviet republics, with a network of trade corridors, offer China alternative routes to transport fuel, food and other commodities in the event of disruptions elsewhere.
The pledges of support and cooperation at the two-day summit will present a contrast to a "negative" image of China invoked at a summit of Group of Seven leaders in Japan from Friday.
China's support for Central Asia also appear to be a counter-weight to U.S. accusations of its coercive diplomacy.
Xi said China and the Central Asian countries should deepen trust and offer "clear and strong support" on core interests such as sovereignty, independence, national dignity and long-term development.
He did not mention Ukraine, which like the Central Asian nations, was part of the Soviet Union.
"China is ready to help Central Asian countries improve their law enforcement, security, and defence capability construction," he said.
TRADE AND INVESTMENT
China would also upgrade bilateral investment agreements and increase cross-border freight volume with the region, Xi said.
It will encourage Chinese-funded businesses in Central Asia to create more jobs, build warehouses, and launch a special train service aimed at promoting tourism, he added.
"To bolster our cooperation and Central Asian development, China will provide Central Asian countries with a total of 26 billion yuan ($3.8 billion) of financing support and grants," Xi said.
Two-way trade between China and Central Asia hit a record $70 billion last year, with Kazakhstan leading with $31 billion, as China seeks deeper links in its quest for greater food and energy security.
Xi said the building of Line D of the China-Central Asia natural gas pipeline should be accelerated.
He also called on China and Central Asia to increase their oil and gas trade, develop energy cooperation across industrial chains, and boost cooperation on new energy and the peaceful use of nuclear energy. 
In the longer term, China supports construction of a cross-Caspian Sea international transport corridor, and would strengthen the construction of transport hubs of China-Europe freight train services, Xi said.
($1 = 6.9121 Chinese yuan renminbi)
(Reporting by Andrew Hayley; Additional reporting by Beijing newsroom; Writing by Ryan Woo; Editing by Jacqueline Wong and Michael Perry)
MORE FROM THE
OAF NATION NEWSROOM