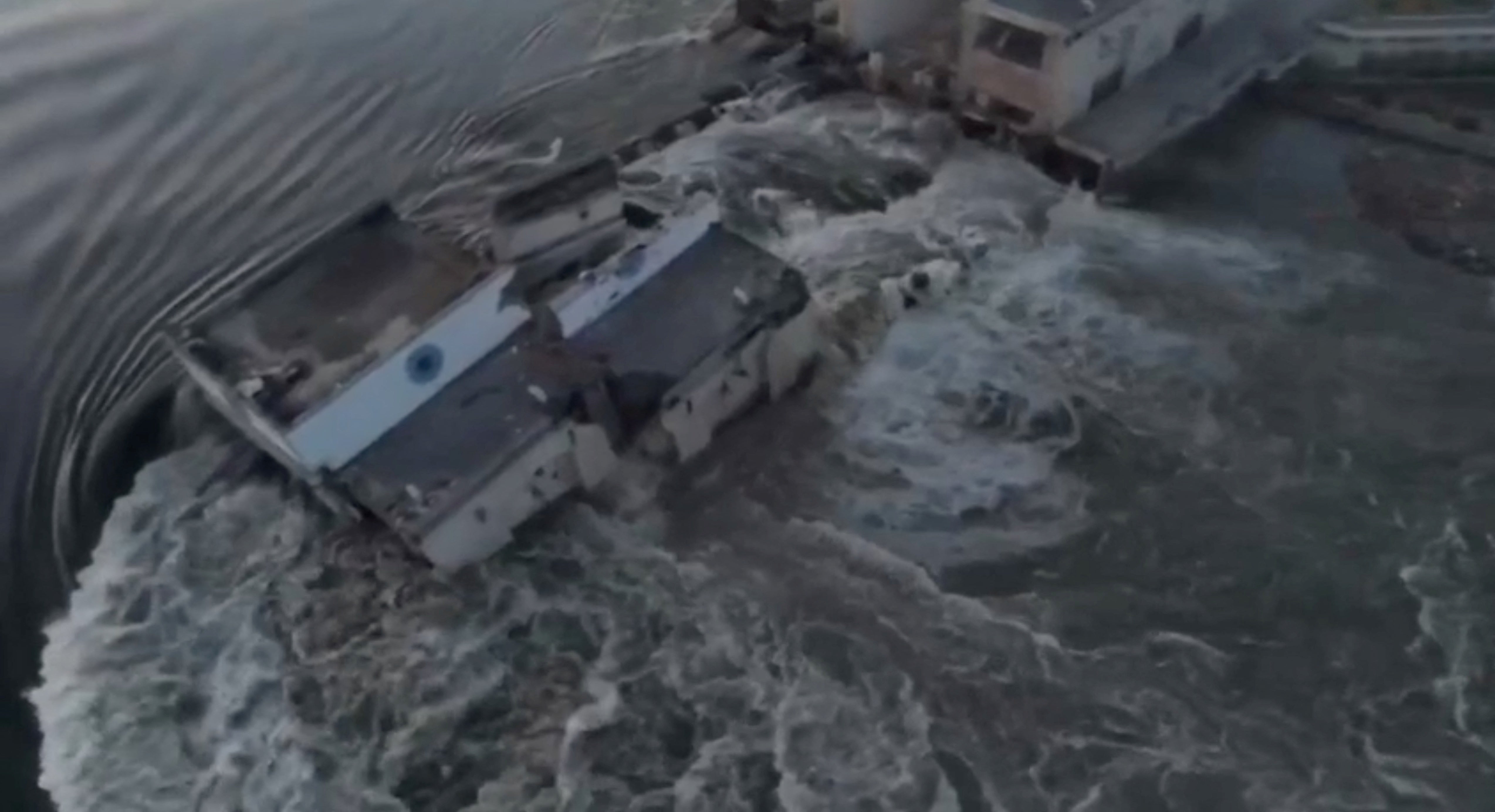 Canal supplying Crimea getting far less water after dam blast, Kremlin says
PHOTO CAPTION: A general view of the Nova Kakhovka dam that was breached in Kherson region, Ukraine June 6, 2023 in this screen grab taken from a video obtained by Reuters/via REUTERS
By Andrew Osborn
(Reuters) -A gaping hole punched in Ukraine's Nova Kakhovka Dam that unleashed a wall of floodwater means that the canal which has traditionally met most of Crimea's water needs is receiving drastically less water, the Kremlin warned on Tuesday.
Russia and Ukraine have blamed each other for the breach at the Russian-controlled dam, a human and ecological disaster which coincided with intensified efforts by Kyiv to retake territory seized by Russian forces.
Kremlin spokesman Dmitry Peskov alleged on Tuesday that one aim of what he cast as a Ukrainian attack was to deprive Crimea, which Moscow annexed in 2014, of fresh water. Kyiv, which wants to retake Crimea, says Russia was behind the incident. Neither offered immediate evidence proving who was to blame.
Unverified videos on social media showed water surging through what was left of the dam which straddles the Dnipro River and is part of a complex that includes an enormous reservoir which holds a volume of water - 18 cubic kilometres - roughly equal to the Great Salt Lake in the U.S. state of Utah.
The reservoir feeds the Soviet-era North Crimean Canal - a channel which has traditionally supplied 85% of Crimea's water. Most of that water is used for agriculture, some for industry, and around one fifth for drinking water and other public needs.
Kremlin spokesman Dmitry Peskov said the incident looked like a calculated Ukrainian attempt to choke off water supplies to the peninsula.
"Clearly one of the aims of this act of sabotage was to deprive Crimea of water - the water level in the reservoir is dropping and, accordingly, the water supply to the canal is being drastically reduced," said Peskov.
Russia had taken measures to alleviate Crimea's water supply problem before access to the canal was restored last year, meaning there was now a certain "margin of safety" however, he said.
Sergei Aksyonov, the Russian-backed head of Crimea, said there was no immediate threat to the peninsula's water supply or any risk of flooding, but flagged a potentially serious threat ahead.
"There is a risk that the Northern Crimean Canal will get more shallow," he said, an event that could reduce water supplies in time.
For now though Aksyonov said that Crimea's reservoirs were filled to about 80% capacity and that the Northern Crimean Canal currently held around 40 million cubic metres of water.
"There is more than enough drinking water. Efforts are underway to minimise water losses in the canal," he said in a statement on the Telegram messaging application.
The coming days would allow officials to get a clearer picture of what was happening and the risks, he said.
WATER GEOPOLITICS
The canal was blocked by Ukraine after Russia's annexation of Crimea in 2014, something which led to acute water shortages on the peninsula that ended only after Russian forces seized the canal when they invaded on Feb. 24 last year.
Russian officials cited restoring access to the canal as one of the advantages of what Moscow still calls its "special military operation" in Ukraine.
Before the war, President Vladimir Putin and other top officials held frequent meetings on Crimea's water problems, trying to devise plans - from drilling wells to building desalination plants - that would allow the peninsula to become fully autonomous when it came to its water supply.
Mikhail Razvozhaev, the Russian-installed governor of the Crimean city of Sevastopol, the headquarters of Russia's Black Sea Fleet, played down any immediate threat to water supplies.
"Water supply to the city will not be affected by damage to the Kakhovskaya hydro-electric power plant in any way. The city uses its own reservoir, water reserves are at a maximum, and there are also reserve sources of water supply," he said on Telegram.
In November of last year - when both Moscow and Kyiv accused each other of plotting to blow up the dam - Vladimir Konstantinov, a top Russian-backed official in Crimea, said the peninsula had enough water in its own reservoirs when they were full to meet its needs for two years even if it didn't rain.
He said however that the Russian-backed authorities were relying on the canal as "a source for Crimea's development."
(Reporting by Andrew Osborn;Editing by William Maclean)
MORE FROM THE
OAF NATION NEWSROOM